Clay Aiken sings 'O Canada' in Toronto Concert.
View montage by Ashes full screen at YouTube.
'O Canada' a Fond Memory
Fans Embrace Canadian Festivities
As Canadians celebrate the anniversary of their country's confederation, Clay Aiken fans recall fondly the night the singer -- and 18,000 fans -- spontaneously sang their anthem A capella during the Toronto Concert of the Jukebox Tour.
Officially, the federal holiday celebrates the July 1, 1867, enactment of the British North America Act. The Constitution Act of 1867 united two British colonies and a province of the British Empire into a single country.
Formerly known as Dominion Day and Confederation Day, the July 1 holiday officially became Canada Day in 1982. The weekend will be celebrated with fireworks, festivals, cookouts, and concerts.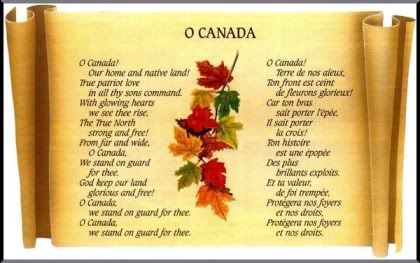 In the opening montage, video footage by
canfly172
rewinds Clay's Aug. 25, 2005, Jukebox performance at Toronto's Molson Amphitheater. Lyrics are provided in the expandable graphic by

Ashes

from her last Canada Day blog.

The singer's impromptu rendition of "O Canada" came during the "Stump the Band" request segment by the audience. As you can hear, the chorus of Canadians joined him.

Below, Clay Nation graphic artists spiff up the Carolina blog's Canada Day festivities with designs commemorating the occasion and recalling the Toronto Concert. Featured are expandable graphics by
AmazingCA
, 1, 2, 4
and
Fountaindawg
, 3, 5.
Happy Canada Day, Canadian friends! Happy Weekend, all!
Caro