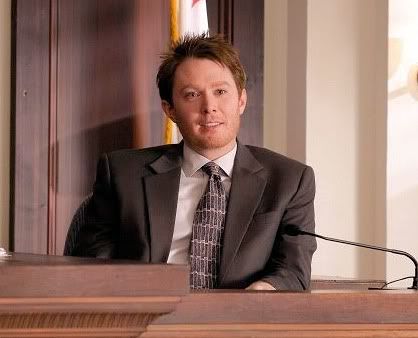 Clay Aiken guest stars in Sunday's DDD episode.
Photo by Bob Mahoney links to preview video on Lifetime Network.
Singer Guests on Sunday's Episode
DDD Parties Set for Clay Cyber
It's Drop Dead Diva Weekend in Clay Cyberspace, and preliminaries for the parties accompanying Clay Aiken's guest starring role in Sunday's Lifetime Network show (9 p.m. ET) are well underway.

DVR's have long been programmed and online viewing threads bookmarked, while an assortment of snacks are being assembled for virtual as well as "real life" fan gatherings.
Read all about this Sunday's show, including the Constance McMillen's story on which the episode is based
at
'Drop Dead Diva' Does Prom and Asks Lance Bass and Clay Aiken to Attend
. The photo below is from the site.

Hot off the press and not to be missed is Jamie Steinberg's in-depth interview with Clay at the Starry Constellation Magazine site: Clay Aiken - Drop Dead Diva.

Clay on the stand in DDD episode. Photos by Bob Mahoney.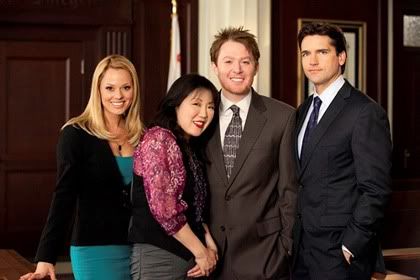 Among those featured in Sunday's DDD cast are April Bowlby, Margaret Cho, Clay Aiken, and Ben Feldman. Both photos are clickable.

'Stay Tuned' Showcases DDD Creator

In Wednesday's "Stay Tuned" column, Angela Henderson-Bentley shared an extensive interview with Drop Dead Diva creator/executive producer Josh Berman.
Read the complete piece -- Drop Dead Diva Creator: A Real Roller Coaster Ride Is On the Horizon -- at the author's Herald-Dispatch corner. Below are selected portions:
The hour is chock full of guest stars including Clay Aiken, who becomes a surprising part of the mail order storyline.





I talked to Berman about the episode, all of the show's great guest stars and what's ahead for this season.

[snip]



"One of the things I like about this season is that you have these guest stars who are playing against types. You had LeAnn Rimes in the season premiere and Clay Aiken in this episode playing characters they've never had the chance to play before.



"Absolutely and we talk to the actors beforehand and we really want to write them a role they can just sink their teeth into and have fun with.

"Clay Aiken, I just got on the phone with him and I said I really want you in this episode, here's a character I'm considering, and we kind of crafted his character together.

"Through the process we have become friends. He's actually flying to LA for the Outfest panel for the episode on Sunday.

"It's amazing. You have a show like this that's very empowering to women, empowering to humanity, it gets people excited. And that's a unique experience for me."
Monday Clay appeared on "The Talk" to promote this weekend's DDD episode. Below are videos his chat in two parts.

Clay talks about fatherhood. - The Talk, Part 1. (CBS)


American Idol, retirement Part 2 topics. - The Talk (CBS)

Fountaindawg

created the wallpaper below with screen caps from Clay's appearance on

The Talk

.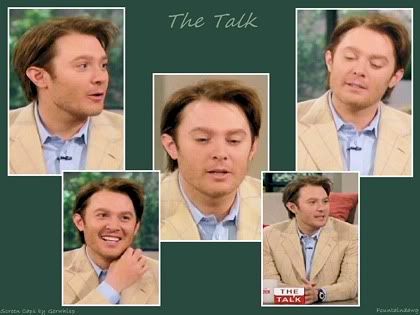 Click to expand graphic by Fountaindawg.
Have an awesome weekend, all! See you in a Diva thread somewhere!
Caro
With this week's Curtis Brown photo shoot in Raleigh, the retirement question and resulting hoopla appear to be distant thoughts. Below is a clickable picture tweeted and posted by the Raleigh photographer.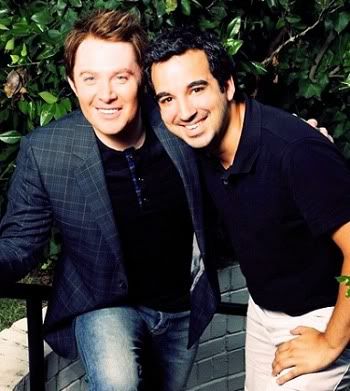 Clay with photographer Curtis Brown.
This entry is also posted at the OFC. Thank you for your comments at both sites. To leave a remark in the Carolina blog, click on the "comments" link below.