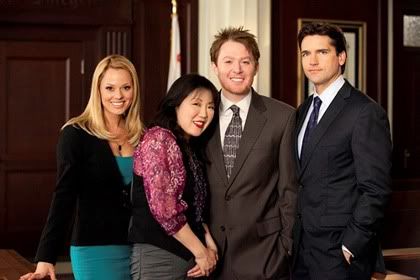 Clay Aiken joins Drop Dead Diva cast members for 'Prom' episode. Pictured from left are April Bowlby, Margaret Cho, Clay, and Ben Feldman. Photo by Bob Mahoney.
Singer Urges Somalian Support
Clay Debuts as Bad Guy on Diva
After weeks of media promotion, Clay Aiken joined the cast of Drop Dead Diva Sunday in a villainous role that is the direct opposite of his "good guy" persona.
US residents who missed the telecast can view the show on the Lifetime Network at Drop Dead Diva Episode 5: Prom. Canadians are streaming the episode at Free TV Online. You can purchase a high-def download of the show at iTunes for $2.99.
In the course of an hour, the program incorporated several storylines, the main being the real life incident of Mississippi teen Constance McMillen, who sued her high school after the school board barred her from going to the prom with her girlfriend.

Even though his "bad guy" role had nothing to do with the McMillen story, Clay spoke with Pop Culture Passionistas about appearing on this
Diva episode with a cause
.
" ... the storyline is something that resonated with me. Being a part of this episode was exciting for me."

In addition Aiken said he believes that beyond this episode, the show is truly unique to television. "The message of the show is different than anything that's on TV. It really tells a story that resonates with so many people.

It talks about the importance of how image should not be as important as often times we make it in society. And it does that while being really funny, so it's not preachy at all. It gives a really positive message without preaching, and that's really hard to find on TV."
In addition to Clay, guest stars included Wanda Sykes, Amanda Bearse, and Lance Bass. Read the complete article at
Pop Culture Passionistas
. You can also link to the episode and post a comment at DDD's Facebook
link.

The episode made Monday's AOL Top 5 TV Shows.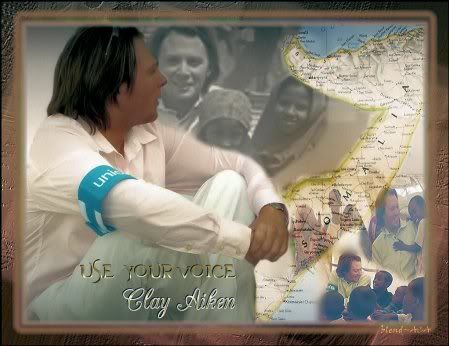 UNICEF Ambassador Clay Aiken visited Somalia in 2008. Expandable graphic by AmazingCA.
Singer Uses Voice for Somalia
Clay is helping to spread the word about the drastic need for funds for children affected by the famine in Africa. Everywhere you look, there are stories like the one below touting the dire need for assistance.
Clay Aiken Uses His Powerful Voice to Speak Out About Somalian Crisis for UNICEF
When he's not

busy belting out tunes, Clay Aiken is using his voice to speak on behalf of The United Nations Children's Fund as an ambassador for the organization.

The American Idol alumnus-turned-activist is particularly passionate about the humanitarian crisis in Somalia

.
The singer spoke at length with
AOL Music
in a Q&A about the African country in the midst of a two-decade ongoing civil war.
Clay also shared new PSA videos describing the crisis and how others can help with donations for ready-to-use therapeutic foods. See additional videos at the
UNICEF USA
YouTube Channel.


Ten dollars can feed a child for 10 days. Text FOOD to UNICEF (864233) to donate $10, or donate through the
UNICEF
website.
Read more about the disaster in this UNICEF press release: Horn of Africa is a Crisis for Child Survival.
Have a wonderful week, Clay Nation!
Caro