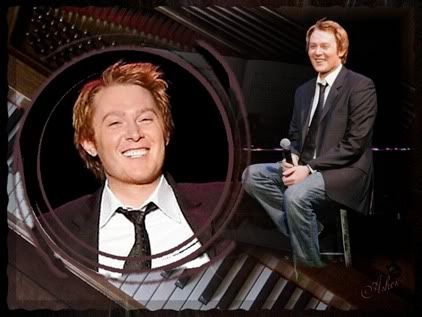 Clay Aiken - Expandable graphic by Ashes
Fans Set DVRs for The Talk, DDD
Clay To Appear on Drop Dead Diva

Throughout the Clay Aiken Cyberspace, fans are marking calendars, setting recording devices, and making plans to participate in person or via cell stream next weekend's 2011 Outfest Festival.

Outfest, the Los Angeles-based nonprofit organization dedicated to nurturing, showcasing, and protecting lesbian, gay, and transgender (LGBT) media, is in the midst of an outstanding July 7-17 lineup for 2011.

In addition to the 163 films (67 features and 96 shorts) from 25 countries, Outfest is hosting more than a dozen panels and special events at seven venues throughout the Los Angeles area, including Hollywood, West Hollywood, Santa Monica and downtown LA.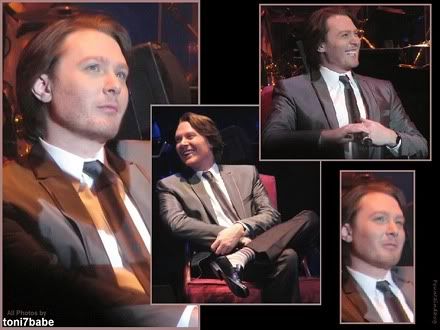 Clickable CA graphic by Fountaindawg, photos by toni7babe

The outstanding cast of actors starring in this year's movies include Kathleen Turner, Jason Ritter, Emily Deschanel and Richard Chamberlain ("The Perfect Family"), Dolly Parton ("The Best Little Whorehouse in Texas" and "Hollywood to Dollywood"), Margaret Cho ("Cho Dependent" and "Drop Dead Dive"), Julia Ormond, Cheyenne Jackson and Illeana Douglas ("The Green"), John Waters, Jennifer Coolidge, Heather Matarazzo and Leslie Jordan ("Mangus!"), Esai Morales and Judy Reyes ("Gun Hill Road").

Also Clay Aiken and Lance Bass ("Drop Dead Diva"), Chloe Sevigny ("All Flowers in Time"); and documentary subjects Carol Channing ("Carol Channing: Larger Than Life"), Chely Wright ("Wish Me Away"), Patty Schemel and Courtney Love ("Hit So Hard"), Chaz Bono ("Becoming Chaz"), and Bruce LaBruce ("The Advocate for Fagdom").
"This year's line-up is one of the strongest in Outfest history and we're excited to be showcasing work that is both exploring and expanding the possibilities of LGBT themes and challenging our audiences through their storytelling," said Director of Programming Kim Yutani. [SNIP]

Margaret Cho, Lance Bass, Clay Aiken, series creator Josh Berman and director Jamie Babbit will take part in a panel of Lifetime's "Drop Dead Diva."

The discussion follows a sneak preview of an upcoming episode inspired by the headline-making true story of Mississippi teen Constance McMillan who was denied access to her high school prom because she wanted to attend with her girlfriend.
Read more about the events at
Outfest 2011
.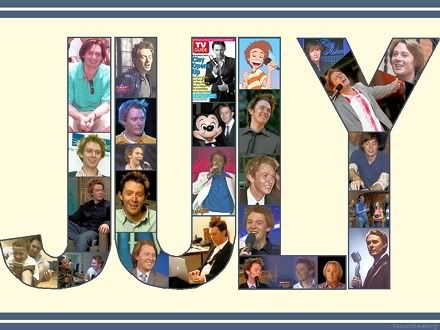 Expandable July Retro graphic by Fountaindawg

Mark Your Outfest Calendar
Sunday, July 17 (2:30 - 4 pm PT)

: Drop Dead Diva Screening/Panel Post Reception - HBTV Designers Lounge @ the Directors Guild of
America Theater Complex
(DGA). All ticket holders and badge holders. Featuring Margaret Cho, Clay Aiken, and Lance Bishop.
The screening will be followed by a panel discussion and Q&A with series creator/executive producer Josh Berman, director/co-executive producer Jamie Babbit, star Margaret Cho, guest stars Lance Bass and Clay Aiken, and Adam Waters (GSA Advisor of the Year). Moderator will be Ari Karpel.
Monday, July 18, 2 pm ET

: Clay will be on

The Talk

(CBS) to promote his appearance on DDD.
Sunday, July 24, 9 pm ET

: Drop Dead Diva episode co-starring Clay will air at on Lifetime at 9 pm ET Sunday, July 24.
This summer, Lifetime's popular dramedy/fantasy series is back for its third season and we have a sneak peek at a special episode.

Inspired by the headline-making true story of Mississippi teen Constance McMillan who was denied access to her high school prom because she wanted to attend with her girlfriend, the episode guest stars Wanda Sykes, Amanda Bearse, Clay Aiken, Lance Bass and Constance herself in a cameo.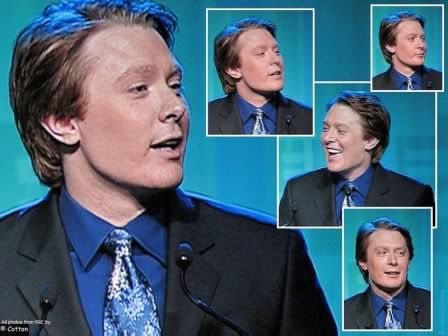 Expandable graphic by Fountaindawg, photos by Cotton
Scriptwriter Excited About Episode
Scriptwriter
Sarah McLaughlin
has posted an entry in the TVscriptdoctor's blog,
My episode is premiering at OUTFEST
!
My episode of DDD is premiering at outfest this sunday, 17th of July. It's going to be awesome. They'll show the episode, then there will be a Q&A with the director, showrunner and some members of the cast and guest cast… Including Clay Aiken!



Clay will be participating with Margaret Cho, Lance Bass, Josh Berman, and Jamie Babbit on a panel about the Lifetime's show. The panel discussion will follow a preview of an upcoming episode of the show.



I'm so excited to be a part of this incredible opportunity and have been honored to have been a part of this episode. Hope to see you all there!
Tune into the latest news at the DDD site on
Lifetime
where you can also stream or view previous episodes.

You can also follow DDD at
Facebook
and
Twitter
.
For further updates, see
the left sidebar of
Clay Aiken News & Articles
at the
Ideal Idol
and the current Clay Aiken News Network blog.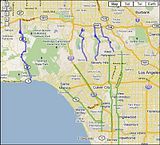 Clickable map of LA detours.

Those attending Outfest should be aware of altered traffic conditions on July 16-17. According to CA fan

Ann Stephens

, on these days of Outtfest Weekend, Caltrans will close 10 miles of freeway from the 10 to the 101 in LA, taking in the Valley to the Westside. Attendees should program GPS devices according to map and info provided by ABC7.

July is going to be fun. Have an awesome two weeks, Clay Nation!

Caro