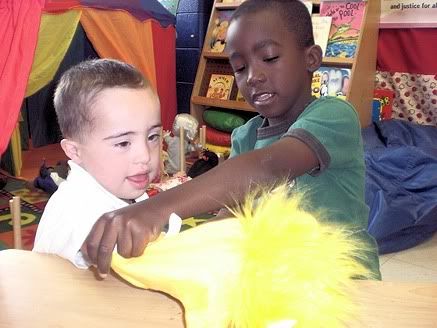 National Inclusion Project - Inclusion is giving people their rightful opportunity to participate. The NIP works every day to ensure no child sits on the sidelines.
For Pepsi Refresh Challenge
Inclusion Project Sets $50K Goal
Supporters of the National Inclusion Project are making an all-out effort to win a $50,000 grant for the charity in the Pepsi Refresh Challenge during the month of August.
Co-founded by singer Clay Aiken and Diane Bubel in July 2003, the National Inclusion Project seeks through a variety of programs, including the Let's All Play Camps, to ensure that no child sits on the sidelines. Read more about the NIP at the foundation's website.
The rules have changed since friends of the foundation successfully secured a Pepsi grant in 2010.
*

The Inclusion Project must win in August as there is no rollover from month to month.



*

Advocates can vote 3 ways: Via the Inclusion Project Pepsi Page, a Facebook account, and a daily text of #108169 to Pepsi 73774.



*

Supporters have 5 votes for each avenue everyday, but only one NIP vote per method (not counting Power Voting). Distribute the other four votes to charities supporting the foundation. They are posting in the comment section on the NIP Pepsi page.

* POWER VOTES: The biggest change in the Pepsi Challenge is the use of power codes found in the specified bottle caps and carton boxtops of canned drinks. The codes will convert a single Pepsi vote into between 5 and 100 power votes.

Locate the power codes on specially-marked Pepsi products listed below. When you enter the Pepsi Refresh site, click on "power votes," enter the codes, and you will be shown your total.

All of the power votes can be voted for a single idea. You can "cash in" 10 power vote codes daily. The number of power votes you win may be as few as 5 or could be 100 or more.

Click on the yellow

Power Vote

tab, enter the power code in the white area, and hit "activate." Just below the number of additional votes (5-100) are two links.

Click on the one marked

return to your last idea

, and you will be taken back to the NIP voting page to enter additional power codes -- up to 10 daily!
By the end of August, there will be 10 winners in the $50k category, now the highest award possible.


Currently #10, the National Inclusion Project has been in positions 9-11 this first week of the competition. As more supporters put voting into their daily routine, the foundation's prospects should grow exponentially.

The image below links to the NIP Pepsi page:
Fans Share Power Vote Possibilities
What if you are not a Pepsi connoisseur or avoid soft drinks altogether? According to several creative supporters, there are many ways to gather the all-important power codes.
all4luv
of Clayversity posted these suggestions:
1. Do you know anyone having a graduation party, barbecue, etc.? Check for power codes in the Pepsi 12-packs?
2. Locate them at sporting events. My son used to gather caps from Pepsi bottles at baseball games until the ushers finally kicked us out of the ballpark. He'd often get over a hundred, then come home, and enter all the codes to win free computer games!
3. In the workplace, there are Pepsi machines everywhere. Leave a note about the cause and a shoebox, and people will be happy to throw their caps your way!




PEPSI PRODUCTS WITH POWER CODES





10 oz bottle Pepsi, Diet Pepsi (bottle cap)




2 liter bottle Pepsi, Diet Pepsi (bottle cap)




12-can package Pepsi, Diet Pepsi (carton top)




20-can package Pepsi, Diet Pepsi (carton top)




24-can package Pepsi, Diet Pepsi (carton top)
Ask Friends, Family To Help
SICLAYFAN
: My daughter's best friend is not only voting in this challenge, but she's also posting about it on Facebook and asking her teacher friends to do so, too.

TNMTMAMA
:
I just got in 208 votes! My family has been collecting caps for me, so I used 10 power codes, one regular, one text, and one FB. I had a 100, 50, 15, 10 and six 5's in my power votes -- 205 pv on top of the three normal votes!
MUMM_FUMS
: I scavenged six more lids from the recycle bins in our break rooms today plus the ones friends give me.
This weekend I plan to contact family, friends, and music parents asking that:
(a) Texters send a daily text vote to Pepsi --

108169

to

73774

-- for the NIP. Last time around I was working with an ancient cell phone. This mode of voting is a snap with an updated mobile phone.

(b) People in my circle to email or gather Pepsi bottle caps/carton tops with power codes throughout the month of August.
What is your grand plan? Please post your ideas in the comments below, and I'll bring them into the blog. The National Inclusion Project needs to generate as many votes as possible in August!
Have an awesome weekend -- and vote, vote, vote for the NIP!
Caro