Clay Aiken: 'Where Do I Begin' from Tried & True Tour.
View montage by SueReu at YouTube.
Download video with this Sendspace file.
Fans Ferret Out Power Codes
Montage Replays Tour Opener

While coming home from camp, my son asked if I knew that everyone's brain was different. He explained that some kids at camp are different from other kids because they have certain disabilities.





When asked what he thought about that, he replied, "It's all good, Mom. We're all special and unique in our own way."

- Profound statement from a 7-year-old participant in a Let's ALL Play Camp.
Fans of Clay Aiken, co-founder of the National Inclusion Project charity that provides camps and a variety of activities for children with and without disabilities, are competing for a $50,000 Pepsi Refresh grant to fund more "special and unique" experiences.

What better way to open this blog than with the extraordinary new montage by

SueRue

of the singer performing "Where Do I Begin" (Theme from "Love Story") along the 2011 Tried & True Tour trail.

The montage should be inspiration for all inclusion supporters to seek new avenues for adding votes and the all-important power codes required to secure the Pepsi funds.

The video features footage by
MBlovesClay

,

Scarlett

,

goldarngirl

,

dlh7777

, and

Thankful4Clay
.


Below are three clickables

SueReu

provided from the montage.
Fan Successfully Dives for Codes
Less than a week ago,

Shamrock

took her own advice and attended a local minor league baseball game in search of yellow power caps. She and her sister located 32 yellow caps that night, yielding 500 points in the National Inclusion Project's August campaign for the $50k Pepsi Refresh grant.


Following lunch on the 20th, she and her sister had planned to drop by their state fair where Pepsi was the official drink. While driving to the fair, her car was struck by an inattentive driver and totaled.
Between them, the sisters have a cracked rib and a sore neck, and their power code mission was halted long enough for them to be checked at the emergency room.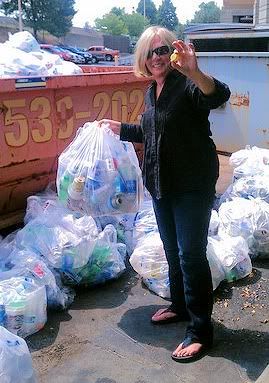 Shamrock dives for power codes.
By Sunday, the sister duo was back dumpster diving at the ball field. Here is

Shamrock

's story in her own words:
Well, I did it. I went dumpster diving today, and my sister helped me. I went back to the ball field to ask someone in authority if I could look in their recycle bins. The gentleman in the ticket office gave me the name of someone to call, but I couldn't reach him.

As we were driving away, we passed the recycle bin. All the little bins had been emptied into a dumpster. The bags were clear plastic, and we could see some yellow caps. We decided to open a few. We were able to find 111 caps before we had to stop.

Tomorrow I'm calling to get permission to continue. So far we were able to vote 60 caps by my mom, husband, sisters, and a friend. The first 60 caps were worth 700 votes.

Checking the bags in the recycle dumpster wasn't very messy. There were lots of yellow caps since the ball park only sells Pepsi products, beer, and water.

We couldn't reach all the bags because we were not prepared. We needed a step stool, a pole with a hook, old clothes, and rubber gloves. Tomorrow we'll be ready if I get the okay!
If you are reading this blog and drink Pepsi/Diet Pepsi or have a way to collect the power codes from yellow bottle caps or the carton tops of cans, send or take them to an Inclusion Project supporter via Facebook PM, Direct Message on Twitter, or some other means.

The NIP is in a real battle for a Pepsi grant position in the top 10. Power codes are the wild card in this competition, and efforts have been stepped up to locate them.

Online Power Vote Party Nets 965!
At 11:35 p.m. Sunday,
Scarlett
and I were chatting on Facebook and decided to enter as many codes from her stash as we could before midnight. Neither of us has seen the elusive "100," but we both hit an occasional "50." In 25 minutes, we cast 850 votes!

About five minutes before midnight, we started receiving messages asking if we were sure we wanted to continue as the day's deadline was approaching. Pepsi didn't realize how quickly we were moving.

I cast all my votes except one, which I saved for a few minutes into Monday. Just to be safe, I went back through and checked my list of codes to make sure they had all been used. Sure enough, there were five that I had skipped.

The early Monday votes amounted to 115 points, so in 30 minutes we logged a total of 965 votes. When you see supporters asking for you help in locating power codes, remember how many votes this 30-minute spree produced!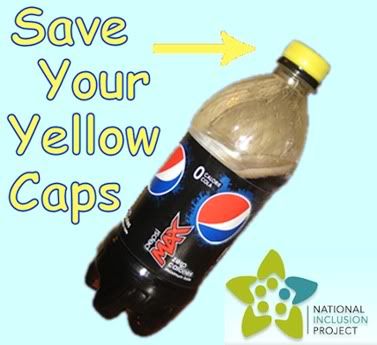 How Everyone Can Help
In a nutshell, here are ways fans, as well as friends, family, and associates, can help the National Inclusion Project continue funding programs for all children:

1. Text

108169

to

73774

daily.

2. Log into the Pepsi Refresh site and cast a vote for the National Inclusion Project through your Facebook account. See "sign in" at bottom left corner of the Pepsi page.

3. Email, PM, or deliver Pepsi/Diet Pepsi power codes to a Clay Aiken fan/NIP supporter.

4. Register all of your email ID's with the Pepsi Refresh site (bottom left corner again) and vote daily.

5. Scroll back through the August Carolina blogs for a variety of creative ideas shared by supporters.
The campaign is heading into the final week. Be creative and bold in gathering power codes. Please share your successes, as well as businesses conducting Pepsi sales this week, and I will be add the information to this entry.


Have a powerful week, Clay Nation!

Caro