Clay Aiken - Unchained Melody 2011
View montage by SueReu full screen at YouTube.
Download the video with this Sendspace.
NIP Swings from #8 to #11
Video Frames 'Unchained Melody'

This blog was supposed to be about the signature version of my favorite Clay Aiken song, "Unchained Melody," which
SueRue
this week fashioned into a beautiful new montage.

Since she uploaded the video a couple of days ago, links for the montage zipped through Clay Cyberspace and social networking sites faster than the speed of light. Video credits include
ClayIzzaQT
,
MBlovesClay
,
dlh7777
,
Scarlett
,
canfly172
, and
goldarngirl
.

If you are part of the minority who have not yet seen this montage, enjoy. If you have already played and downloaded it a zillion times, enjoy again. Included are five clickable screen caps SueReu created from the video.
NIP Supporters Set $50k Goal
With Monday evening's drop to #11, supporters of the National Inclusion Project scrrambled for new avenues to add to the foundation's total votes in the August drive for a $50,000 Pepsi Refresh grant.

For days the NIP has held onto the 10th position, the lowest a charity can be to win a grant in the $50k division. Renewed efforts paid off, and the foundation moved up to slots 8 and 9, slightly safer waters, before slipping back to #11.

What's your latest creative move to round up additional votes? Several of my music students and their parents are texting daily. Some have promised to bring power codes from yellow Pepsi/Diet Pepsi bottle caps.

Remember the wedding
queenmama247
attended this past weekend? Here is her report:
The wedding went off without a hitch. There were 210 guests. The DJ was so sweet when he asked everyone to take out their cellphones. He kept saying, "It's for kids."

We counted approximately 180 votes texted. Some people were having a hard time getting through, but it was a thrill to hear all the phones going off when the thank you messages started coming back!
Power Voting Can Be a Blast
Sunday
afternoon
Scarlett
and I enjoyed a Power Voting Party via Facebook Chat with codes from several 20-ounce Pepsi bottles she had purchased at a 99-cent store. Our grand total was
445 extra votes
for the NIP and was it ever fun!!!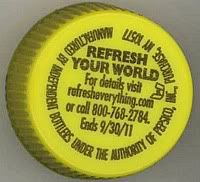 My friend doesn't drink Pepsi, but she used the liquid remains as a type of Draino in her sinks. This morning she said her tub was a mite bit sticky. I have located at least three "Pepsi suppliers," so I hope to contribute additional codes soon.
One of the NIP's new voting partners,
Nerdy Science
, seeks to foster an early love for the science through multi-week, hands on programs.
Check out
Exploding Soda
in the

Nerdy Baby

blog. The Pepsi geysers provide an excellent science experiment for young children and provide an alternative way to utilize power code bottles for those who don't drink soda.
This week CVS has 2-liter Pepsi bottles on sale for 88 cents. Just be sure the caps are of the yellow power code variety!
See the previous entry,
Clay Aiken Fans Pull Out Stops for Inclusion
, for detailed voting instructions. Partner links and text numbers are in the NIP Voting Widget now situated in the Carolina sidebar.
Please share your successes for enlisting more voters and gathering power codes in the comments.

Dr. Phil and Clay AikenTake on Bullying.
View 2005 video full screen at YouTube.
Bullying Headlines Google Search
Somewhere there's a workshop ... or teachers are making lesson plans ... or students already have a school assignment related to preventing or stopping bulling.
During an eight-hour period Monday, Feedjit, the tracking tool associated with the Carolina blog, registered visitors who arrived by googling the phrase
Clay Aiken End Bullying
. The hits came from all corners of the US, as well as Aruba in the Caribbean and the Republic of Mauritius, an island nation off the southeast coast of Africa.
It's heartening to think that individuals from 27 cities wound up at the October 2010 entry:
Clay Aiken Shares Insight on Bullying
. Even then, the blog was pointing out the relevancy of remarks the singer had made five years earlier on the

Dr. Phil Show

.
Recent suicides by young people who reached the breaking point from constant bullying, hatred, and harassment have spurred nationwide efforts to bring an end to this epidemic.





On Oct. 28, 2009, President Barack Obama signed into law the Matthew Shepard and James Byrd, Jr. Hate Crimes Prevention Act, giving the Department of Justice the authority to prosecute hate crimes, including attacks based on sexual orientation, gender, gender identity, and disability.





Paralleling the new legislation, more and more citizens have begun recognizing the epidemic of hate and are choosing to go proactive, becoming informed and getting involved. Too many, however, remain silent.
The information trail continued into the evening. For whatever reason, surfers in these cities were on the Net exploring the topic of bullying: Birmingham, AL; Bessemer, AL; Phoenix, AZ; San Diego, CA; San Francisco, CA; Santa Rosa, CA; Denver, CO; Seymour, CT; Millsboro, DE; Miami, FL; Orlando, FL; Hephzibah, GA; Round Lake, IL; Wichita, KS;

Also Arnold, MD; Baltimore, MD; Genesco, NY; Cleveland, OH; Lebanon, OR; Malvern, PA; Addison, TX; Chatfield, TX; Woodway, TX; Bothell, WA; Ellensburg, WA;
Oranjestad, Aruba, and Curepipe, Plaines Wilheme, Mauritus.

And they were still coming when I uploaded this blog. Hopefully, we are witnessing a nationwide -- maybe worldwide -- movement to end bullying forever!

Have a wonderful week, Clay Nation!

Caro