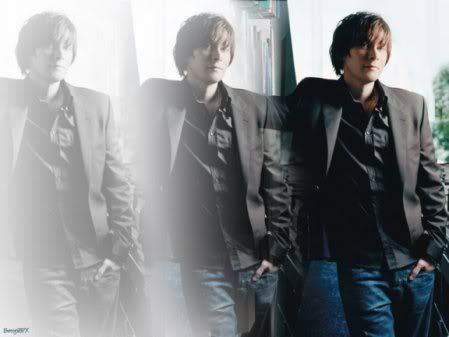 PROMO PHOTO -- Betty897X created this beautiful graphic from the publicity picture
by Miranda Penn Turin/RCA Records.

Hear That Buzz a Coming!

ATDW Promo Train Takes Off
As children, my siblings and I loved to visit our aunt and uncle in Elm City, a small town just outside of Wilson, NC, because their huge two-story home sat right across from the railroad tracks and, night and day, we could hear the distant whistle of oncoming trains and feel the house shake, windows rattling, as they roared past.

I believe we are hearing the oncoming whistle and feeling the earth start to shake as the Clay Train picks up speed and comes on down the track. The unbelievable worldwide media buzz surrounding Clay Aiken's surprise appearance on the American Idol 5 Finale is on the move again with the approaching Sept. 19 release date of his sophomore CD, A Thousand Different Ways.

Besides photo shoot footage and other mentions on various entertainment shows, Clay and the new CD have scored in a various mainstream media outlets. Typical is this excellent story about Clay that appeared in Thursday's Farr Side column of the Sturgis Journal.
The entire article -- How To Move Beyond 'Idol' -- is excellent, as these excerpts show:
Clay Aiken's "A Thousand Different Ways" is set to be released Sept. 19, but not without already making an impact on pre-sales on Amazon.com.The album is currently ranked No. 1, giving the "American Idol" Season 2 runner-up his third album to achieve such a feat.
Album Likely To Set Records
Aiken is likely to do it again [set a few records] with "A Thousand Different Ways." The album is said to feature 14 tracks, 10 of which are covers of well-known songs from the 70's, 80's and 90's.
Aiken became famous on "American Idol" for taking classic songs by such artists as Simon & Garfunkel, Neil Sedaka, The Righteous Brothers and Elton John and knocking them clean out of the ballpark.
One of the best moments ever on "American Idol" was when Aiken, backed by a choir, performed "Bridge Over Troubled Water."
Some of the tracks said to be included on Aiken's latest album are covers of Bryan Adam's "Everything I do ( I Do It For You), Celine Dion's "Because You Loved Me," and Elton John's "Sorry Seems To Be The Hardest Word."
MTV.com covered Parade's results in which Clay Aiken won the "best celebrity transformation" category, hands down:
Parade magazine asked 10,000 Americans to share their pop-culture opinions and — surprise! — those polled had plenty to say about Britney Spears, Paris Hilton and Jessica Simpson. Britney's darker hair is a hit — 6 percent call her blond-to-brown move their favorite big change — but her apparent parenting goofs scored 22 percent of the "stupidest celebrity stunt" vote. And 7 percent of those polled said they'd be happy if Britney disappeared from the public eye altogether — though Paris was the big "winner" in that category, with nearly one-third of respondents wishing they never hear her name again.
Jessica and Nick Lachey's divorce broke 18 percent of hearts (only the Hilary Swank/ Chad Lowe split was deemed a bigger bummer, with 22 percent of the vote), while Ashlee Simpson's "new nose" was the third-favorite transformation, coming in behind Clay Aiken's updated 'do (33 percent) and Janet Jackson's major weight loss (25 percent).
When The Insider asked "Which new release are you the most excited to hear?" CA fans whipped out their cell phones and text messaged the only correct answer.
Not only was Clay proclaimed the winner Wednesday, but the OFC's own Toni7babe of Chicago was quoted in the screen cap: "Clay Aiken, because his voice is so awesome." As she puts it, "The best 49 cents I ever spent!"
With special thnx to Dancermom2 for the hard copy, the Aug. 21 issue of Star Magazine features this unexpected ditty:
CLAY AIKEN'S HOT NEW LOOK!
Clay Aiken, 27, may have shot to fame as the American Idol runner-up with the clean-cut Howdy-Doody look, but for his third album (due out Sept. 19), he's had an extreme makeover. So what do Star readers think? In an exclusive poll, 69% say they like his sexy new look even better! And a whopping 67% (most of whom are female) say he now looks like hunky Jared Leto. Not bad, Clay!
Star's web site asks the question: "Do You Like Clay Aiken's New Look?" You can cast your vote HERE.
PHOTO INTERMISSION: Today's clickable interlude features graphics/blends of the ATDW promo shots by four visual artists: Cindilu2 (1); Amazing_CA (2, 4); Clayquebec1 (3); and Katt45 (5).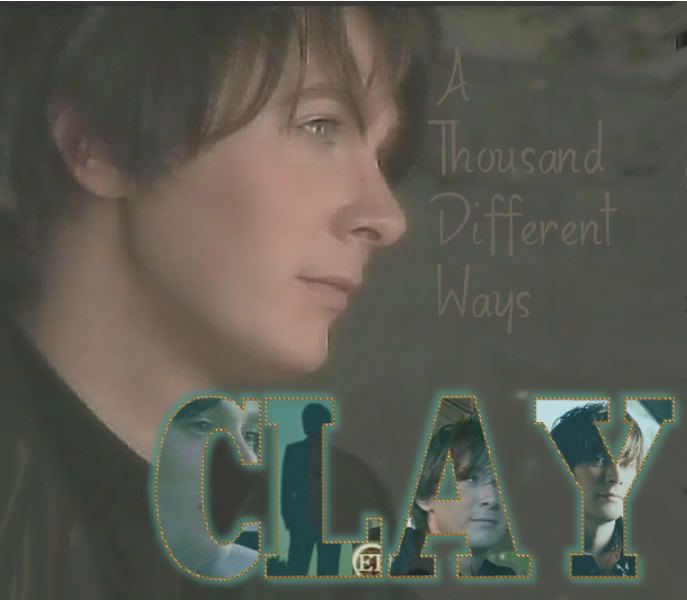 Ten days after being posted on Promosquad, CA's A Thousand Days has been voted by listeners as the #1 song on this week's Top 20 Countdown. Two other ATDW songs, I Want To Know What Love Is and Without You, are listed as #20 and Hit-Bound, respectively.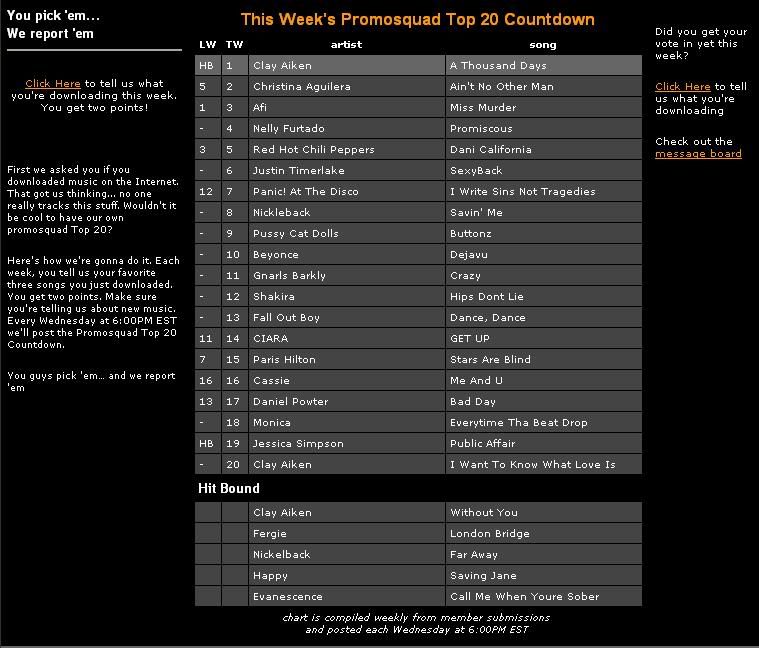 Clickable


Promosquad users listen and rate new music via the popular Jukebox feature. More importantly, major record labels use Promosquad to survey interest in upcoming releases. You can begin participating by registering HERE.
Chicago Magazine Lauds Clay
Lumino, Chicago's entertainment magazine, currently features two stories about Clay. One by Nick Powills, who reluctantly agrees that "cool" and CA are synonymous: Never in a million years would I have thought that the word cool and Clay Aiken would go hand-in-hand, however, after the last year, the cute little southern boy has grown on me, and seemingly, on many other people across the U.S. of A.
Another presents in depth coverage of The 16 Perfect Concerts of 2005:
If you took a look at Lumino's concert reviews from 2005, you would be surprised at some of the bands that were held off our best of list.
They simply didn't receive perfect dual four-star ratings. For instance, Clay Aiken is in, Dave Matthews is out. It makes no sense to me, but it certainly did for Lumino's versatile reviewers.
For 2005, 16 concerts scored perfect "8's" in Lumino's dual four-star system. They earned four stars for entertainment value, as well as for artistic value. Click on each name to read the full review. For a full 2005 recap of 72 concerts, visit Lumino's.
Be sure to link to Lumino's awesome review and photos from the Merrilville, IN, Jukebox Tour Concert. I particularly like the last paragraph:
For the entire 2 ½ hours of the show, never once did Aiken bore the audience, miss a note or fail to make a song seem as if it had never been performed better before. Criticized from day one for his style and appearance, Aiken has undoubtedly surpassed expectations and become more successful than anyone could have imagined. Still enjoying the success of "Measure of a Man", Aiken has proved that "Idol" judge Simon Cowell was clearly wrong when he stated back in season.


Luann Finds Clay Again
ATDW is paired with its predecessor, Measure of a Man, in Amazon's music section; but in the book section, Clay's new CD is coupled with Luann 3: Sixteen Isn't Pretty as a suggested dual purchase.As most CA fans know, 16-year-old Luann has had a crush on Clay almost as long as we have. If you look carefully, you can pick out his photo on her wall in the cover pix above. Written by Greg Evans, the Luann comic strip runs in 400 newspapers worldwide and has featured Luann's crush on CA from time to time. The Luanns Room web site receives 80,000 hits daily.All week ATDW has been ranked either #1 or #2 in Amazon's Bestseller List.


The Bubel/Aiken Foundation will be the Charity of the Day at Good Search on Monday, Aug. 14. If you have not already added the GoodSearch toolbar to your browser with TBAF as your chosen charity, this is a great time to do so.
Thursday night the OFC membership roll hit 12,000 strong. If 100 people complete two searches a day through GoodSearch for a year, TBAF receives $730; 1,000 people doing the same equals $7,300; 10,000 people completing two searches a day and the total is $73,000.
People, get ready. **Clickity-Clack, Clickity-Clack!** There's a Clay Train a coming, coming down the track!
Caro
RELATED TAGS:
Clay Aiken
,
A Thousand Different Ways
,
Sturgis Journal
,
Insider
,
Parade Magazine
,
Promosquad
,
Lumino Magazine
,
Amazon
,
Leann
,
Greg Evans
,
GoodSearch
,
The Bubel Aiken Foundation