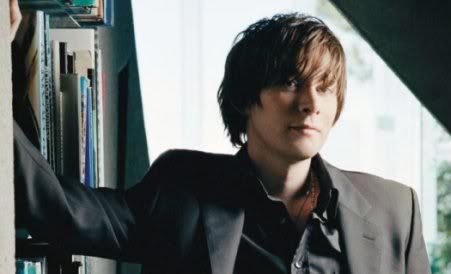 Clay Aiken -- Photo by Miranda Penn Turin/RCA Records

Here He Comes Again!

Clay Nation Covers the Bases

With the media roll-out barely underway for Clay Aiken's much-anticipated sophomore CD, A Thousand Different Ways, Internet fans spent Day 2 investigating and discussing all angles of the round disk headed our way.

Article links were shared from Thursday's press release as it appeared on typical news and entertainment sites like CNN, MTV, E-Online, and Billboard, as well as cyber sites around the globe -- Canada, Spain, and North Korea, to name a few.

The Billboard blurb -- Aiken Covers Elton, Adams, Celine on New Album -- already leads the Most Popular listings of the day for EMAILED, SAVED, and PRINTED:

Season two "American Idol" runner-up Clay Aiken tackles a host of enduring power ballads on his third album, "A Thousand Different Ways." Due Sept. 19 via RCA, the set features 10 covers and four new songs penned by the likes of Jon Bon Jovi and Desmond Child, Andreas Carlsson, Jeremy Bose and Aldo Nova. [More at the above link]

Expect Powerful, Sexy Vocals

The MP3.TV story closes with these paragraphs:

Fans won't be disappointed with Aiken's ability to really let his vocals out. This album displays the singer's talents vocally. But expect a more 'sexier' Aiken as some songs will call for a more relaxed style of singing.

As Aiken has grown up with these songs, he had a big hand in selecting the songs for the album. He as been personally involved with all the innings of this album unlike his first two albums.

'A Thousand Different Ways' is a follow up to Aiken's debut album 'Measure of a Man' which was released in 2003. It debuted at #1 on the Billboard 200 and sold 613,000 copies in its first week. Said to be the highest selling debut album for a solo artist in 10 years.

OUR THOUGHTS: Clay Aiken has a voice that will have the ladies swooning over this new album.

Because both Clay and Ruben Studdard, the runner-up and winner of American Idol 2, respectively, are releasing new CDs in September, headlines on a related story circling the web contain variations of this one: Former Idol Rivals to Compete Again. Three years later, journalists are still enamored with the competition aspect of Clay and Ruben.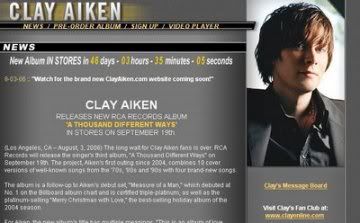 Clay Aiken.com uploaded a counter ticking down the seconds, minutes, hours, and days until ATDW is released.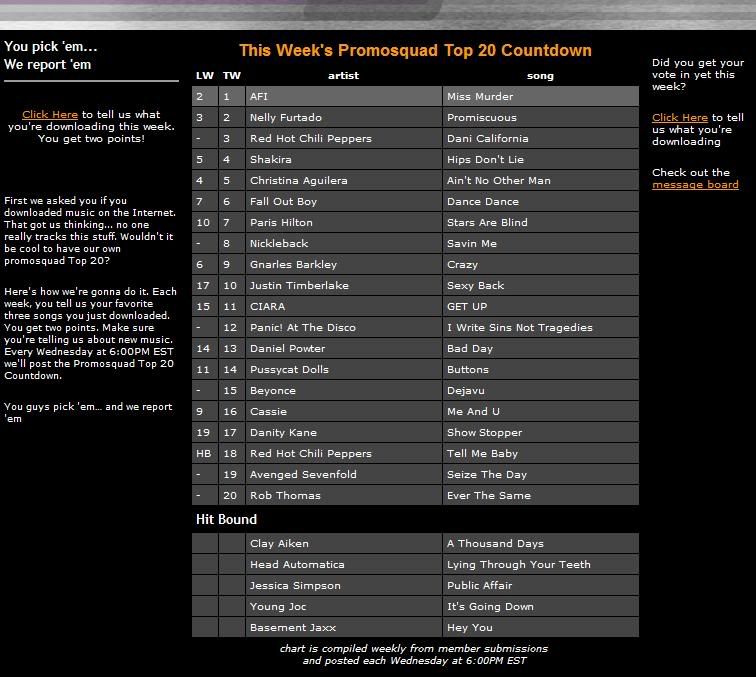 Clickable
Based on member reviews, Promosquad this week tabbed A Thousand Days, a single from the CD, as "Hit Bound."
In a matter of hours, Friday's online orders for ATDW catapulted the CD to the Top Seller position at both Amazon and Barnes & Noble.
PHOTO INTERMISSION: This clickable interlude features graphics/blends using images from the AI5 Finale, this week's ET appearance, and the CD press release. Visual artists include Drewsant (1); Amazing_CA (2); Shyeyewitness ( 3); Clayquebec1 (4); and Cindilu2 (5).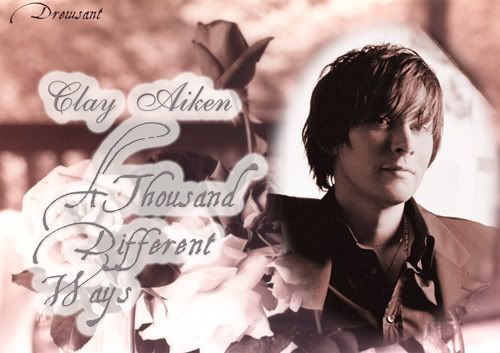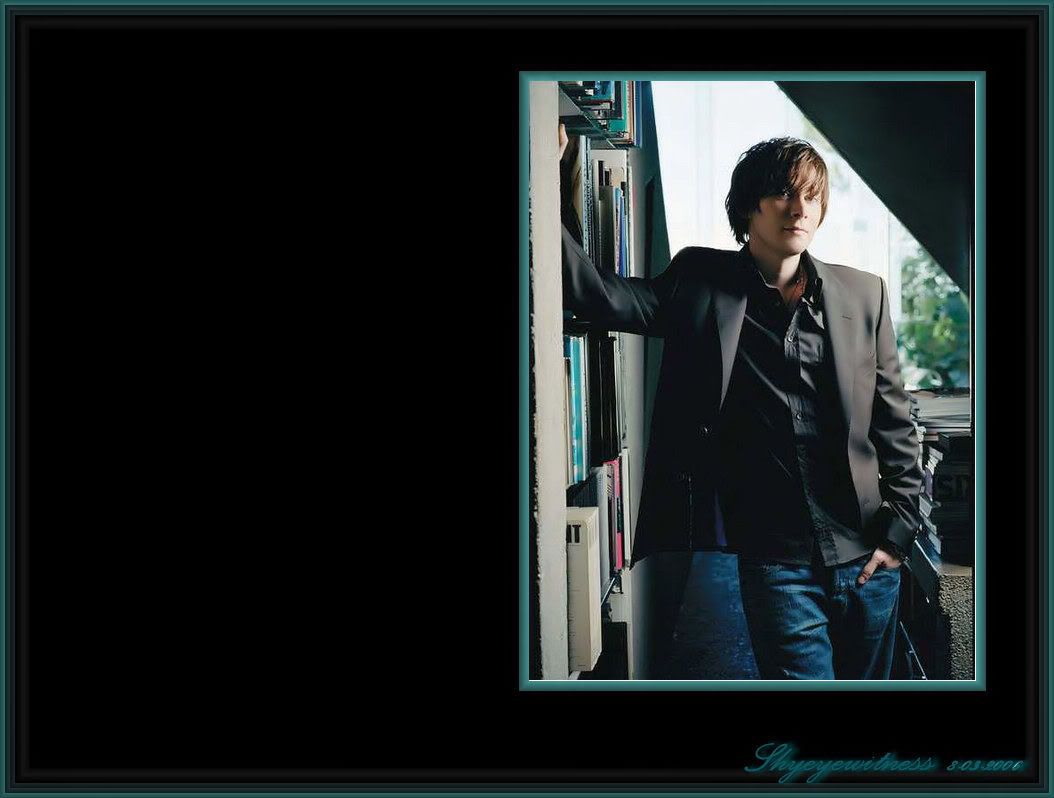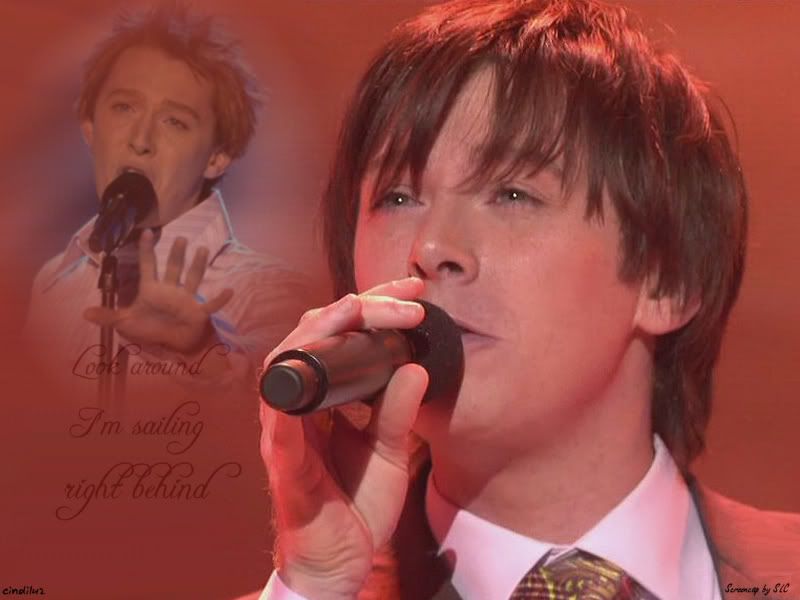 ATDW #1 Topic in Clay Cyberspace
Friday everything about ATDW remained the #1 topic on message boards throughout Clay Cyberspace, as fans shared lyrics, info, and links for listening to previous versions of the album's 10 covers; began memorizing the acronyms for 14 new songs; and kept each other abreast of news, DJ comments, Clay's new MySpace page, and ratings as they happened. Clay's ATDW was #4 on E News Daily's Top 10 Friday night and received very positive -- "hubba hubba" -- on-air comments.
Another order of business with CA fans has been setting up the network of CD Release Parties planned across North America for the eve of September 19. Thousands will gather at designated book or record stores for festivities climaxing at midnight when the album can officially be purchased.
Not.Just.Us Stories Shared
In typical Claymate fashion, CA fans have shared the CD track list and partial snippets of three songs with relatives, friends, and associates to the tune of mostly favorable reviews and high expectations -- possibly because retro 80s music is enjoying a cross-generational revival and because nobody can sing a song quite like Clay Aiken.
One of the most memorable scenarios making the message board rounds was relayed by CLAYPERFECT: I was sitting with WY blasting on the stereo when I thought I heard the door buzzer; ran to the office without turning it down; and, sure enough, there stood a couple in their mid-20's. Clay was blaring away, so I excused myself to go turn the volume down.
The man said, "No, wait! That is beautiful! Who is that?" I replied that the song is WY. More exclamations followed, and I told them the singer is Clay Aiken and that WY is a song on his new CD coming out 9/19. He turned to his girlfriend and said, "We have to get that." She replied, "I absolutely love it; it gives me chills and makes me want to cry at the same time."
Needless to say, I rented the room. They left; but before I could get back to the den, they were back in the office and asked if I could give them a copy. I told him I couldn't but they could borrow this one for the night. He thanked me, and right now I can hear Clay singing in the parking lot.
These are heady times for the fans of Clay Aiken. No telling what's next on this amazing ride on Clay Train!
Caro
RELATED TAGS: Clay Aiken, A Thousand Different Ways, Billboard, MP3 TV, Amazon, Barnes & Noble, Promosquad, Ruben Studdard, A Thousand Days, Without You, Claymates, Clay Train, Clay Nation