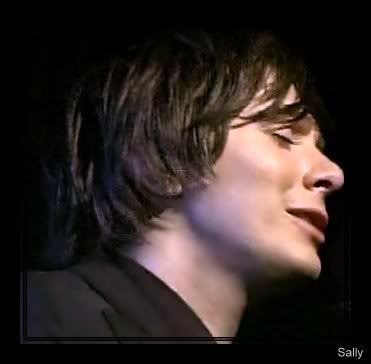 PROMO FOR ET-- Graphic of an Entertainment Today cap by Sally
NEWS BULLETIN: Complete ATDW Track List! (8/3/06)
USA Today's Idol Chatter by Ken Barnes includes the track list for A Thousand Different Ways, with this introductory paragraph:
Here's most of the scoop on the upcoming, and much-awaited, third album (if you're counting the 2004 Christmas album, which I guess you should). It's called A Thousand Different Ways, it's coming out Sept. 19 (beating the November Idol rush), and it consists of 14 songs, 10 of them covers of '70s, '80s and '90s.
ATDW Track List:
Right Here Waiting (Richard Marx)
When I See You Smile (Bad English)
Without You (originally Badfinger, hit by Nilsson)
Lonely No More (new song, co-written by Clay)
Sorry Seems to Be the Hardest Word (Elton John)
Every Time You Go Away (originally Hall & Oates, hit by Paul Young)
Everything I Do (I Do It for You (Bryan Adams)
I Want to Know What Love Is (Foreigner)
These Open Arms (new song, co-written by Jon Bon Jovi)
Because You Loved Me (Celine Dion)
Here You Come Again (Dolly Parton)
Everything I Have (new song)
A Thousand Days (new song)
Broken Wings (Mr. Mister, original artist)
Clay's remarks from the press release:
Clay Aiken: "These are songs I heard growing up. I loved them then and I still love them today, but we decided to do them a little differently. They have new arrangements, and we put our own style on some of them.
"This is an album of love songs, but they are about all different kinds of love. Romantic love, friendship, unconditional love. There are a thousand different kinds of love; a thousand different ways to tell someone you love them. And, on top of that, since so many of these songs are covers, it's realistic to say that many of them have been or could be sung a thousand different ways. -- Posted 8 a.m. EDT, Aug. 3
The press release is hitting online news sites and other media today. Yahoo printed the entire release, the track list (with songwriter and producer credits), and the following photo of Clay:


Clay Aiken - Miranda Penn Turin/RCA
The media blitz for ATDW is off and running, and the Clay Train has indeed left the station! -- Caro
This Fan Almost Misses Party!

Clay Train Leaving the Station

The Clay Train is finally pulling out of the station; and, due to a login glitch, this gal almost missed the lift-off for A Thousand Different Ways!

I worked all day Tuesday setting up a wonderful new specimen of the computer age, but spent most of that time unable to log into the Official Fan Club website for Clay Aiken. Thnx to the crew at Clique and my new best friend Steve, a late night Bell South techie from the Philippines, I was finally able to join the online celebration early Wednesday morning.

The lesson learned is that when the OFC folks suggest a member clear cookies, temporary files, and history, even on a brand new computer, take their advice. That minor tactic is finally what did the trick. Of course, right now I have a mighty involved password for getting into that place; but, hopefully, Clique is restoring my original code, which I can type in my sleep. Not to mention, there's the Dual Mode Touch Pad, which I either must master or disable.

This clever computer keeps trying to have me save the temporary password to a memory bank so I can finger-swipe my way in. I'm afraid that it would be like breaking into Fort Knox to undo all those unrelated letters and digits when I do get to change back.

Meanwhile, on with the show! How long the Clay Nation has awaited these three dates:

7/31 -- The OFC's official announcement of the release date for A Thousand Different Ways.

8/2 -- Opening curtain of the promo campaign for Clay's sophomore CD.

9/19 -- The actual day fans can finally purchase seven -- or eight! -- copies of ATDW.

In the midst of all my technical woes, I just happened to check into a couple of message boards where squeals and EEEEEEE's alerted me of the two-second Entertainment Tonight spot Tuesday. Probably no promo in history has received as much attention as that couple of seconds of Clay. In a matter of hours, new blends, animations, wallpaper, and video clips cropped up in Clay Cyberspace. Tonight's actual ET kick-off spot should keep the artistic CA fans occupied for days!

PHOTO INTERMISSION: This clickable interlude includes "timely" new blends/graphics from Tuesday night's ET promo, as well as recent Clay appearances. Featured are graphic artists Amazing_CA ( 1, 2,5 ), Katt45 (3), and Clayquebec1 (4).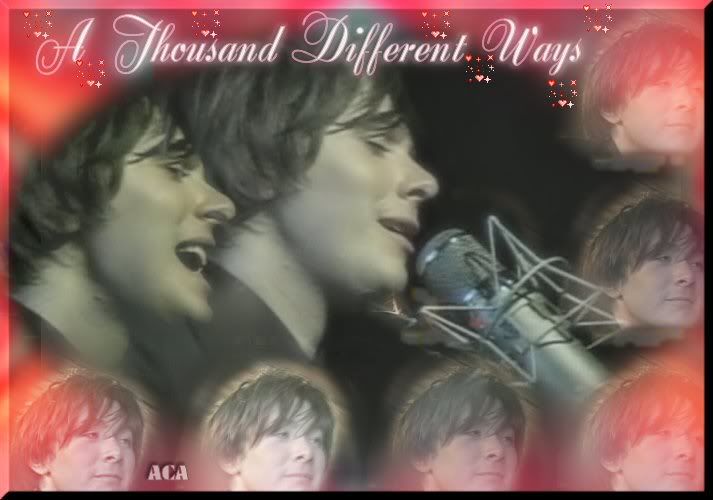 Promosquad Clips Enthrall Fans
Paralleling this week's announcements, partial clips of three songs from ATDW -- A Thousand Days, Without You, and the duet I Want To Know What Love Is -- appeared on Promosquad, which fans delightedly rated and now play on continuous loop wherever they go.
On the afternoon that IWTKWLI appeared, Clay Nation detectives took about four hours to determine the identity of our singer's duet partner, Canadian Suzie McNeil, a rocker with a beautiful voice and the last woman standing on the recent reality series Rockstar: INXS.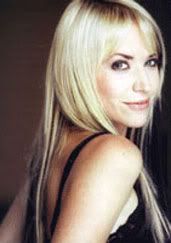 Suzie McNeil
Born into a musical family in Toronto, Suzie grew up singing with her mother and sister, learning to collaborate from a very early age. From that foundation, she evolved into a versatile, powerful artist, combining a magnetic stage presence with vocal and multi-instrumental (piano, guitar, harmonica) ability.
Besides the duet on Clay's upcoming CD, she has a solo album set to be released in the winter of 2006. More info is available at these sites: Suzie McNeil Official Website and Buddy TV-Suzy McNeil.
The excitement level around the fandom could not be higher for the impending promotion and release of this long-awaited sophomore CD on 9/19 -- which just happens to be the area code of Clay's beloved hometown of Raleigh.
Producer Sings OMC's Praises
On July 17, Clay's executive producer, Jaymes Foster, wrote in her blog: I have been very fortunate in my career to work with or along side of some of the greatest singers on the planet – Celine, Barbra, Andrea Bocelli. And I believe (as you already know) Clay is right up there next to those amazing singers.
You all expressed to me that you wanted me to be sure that his vocal shined through on his CD as if you were listening to him live. I think we accomplished that. And, I think he made great choices of songs on his album to showcase that. I believe you will hear him singing in ways that you have never heard or even dreamed of. His musical talent, instincts, and abilities have astounded me.
This trio of dates -- 7/31, 8/2, and 9/19 -- has been a long time coming for Clay, as well as his fans. If the song snippets are any indication, this 14-track CD is literally going to knock the striped socks off the pop music world. Bring on the blitz!
Caro
RELATED TAGS: Clay Aiken, A Thousand Different Ways, Entertainment Tonight, Official Fan Club, Suzy McNeil, Jaymes Foster, USA Today, Ken Barnes, Yahoo