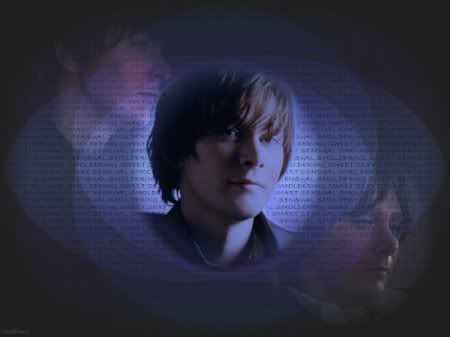 Cindilu2 entitled this beautiful graphic "SSS," as it incorporates repetitious adjectives in the background -- sexy, smart, sensual, smoldering, sweet, stunning. S.O.S. works, too!

GoodSearch 'Charity of the Day'

TBAF, CD Parties Highlighted
NOTE: GoodSearch info updated at 7 a.m. Tuesday, 8/15/06.
Surfing the Internet with GoodSearch was high priority for Clay Aiken fans Monday, Aug. 14, as The Buble/Aiken Foundation was the designated "Charity of the Day" with this Internet company. In 24 hours Monday, $20.10 was added to TBAF coffers, besting the amount generated in the year's first four months and almost matching funds raised in May via GoodSearch.

, a company that enables participants to fund hundreds of thousands of charities and schools through the simple act of searching the Internet, was founded in Nov. 2005 by brother and sister Ken and JJ Ramburg and dedicated to their mother, who lost her battle with cancer. Active in a number of charities, the Ramburgs wanted to provide an easy way for people to support their favorite causes.

Last year, online advertising generated $9.6 billion in revenue. Utilizing Yahoo technology, GoodSearch distributes a portion of its ad revenue (about a penny per search) to charities or schools selected by users each time they use the site.

If you have not already added the GoodSearch toolbar to your browser with TBAF as your chosen charity, this is a great time to do so.
This insignia appears on the main page at GoodSearch, designating TBAF as Monday's "Charity of the Day" and linking surfers to the site. As most CA fans know, TBAF was founded to provide services, awareness, and financial assistance for facilitating the full integration of children with disabilities into the mainstream life environment.

TBAF Three Years Old

The Bubel/Aiken Foundation grew out of the relationship between Clay, Diane Bubel, and Diane's then 13-year-old son Mike, who had been diagnosed with autism. Clay met the Bubel family while pursuing a career in special education. Following his run on American Idol, Clay officially announced the creation of TBAF on July 28, 2003.

Anyone who links to TBAF via GoodSearch Monday can read of the work being done, including four very special accounts under Our Stories: A Lesson Worth Living, The Group Shot, The Cheer of the Crowd, and The Heart of a Child.

What Clay Fans Can Do

You can add the GoodSearch toolbar to your browser in a snap. In addition, forms are available at the site to email others asking them to do the same in support of TBAF.

To date, only $648.30 has been raised for TBAF via GoodSearch, but Clay fans can make those numbers change. Thursday night the OFC membership rolled past the 12,000 mark. If 100 people complete two searches a day through GoodSearch for a year, TBAF receives $730; 1,000 people doing the same equals $7,300; 10,000 people completing two searches a day and the total is $73,000.

Suggestions from GoodSearch for getting the campaign rolling include:



Email 20 friends and/relatives telling them about this charitable search engine and asking them to either download the GoodSearch toolbar and/or make GoodSearch their homepage, designating TBAF as the cause they support.

If you work in an office environment, ask the IT department of your office to download the GoodSearch toolbar onto everyone's computer.



Those who have blogs can create an entry about GoodSearch and the Foundation.
The awareness raised at GoodSearch on Bubel/Aiken Day, hopefully, will continue to set records!
PHOTO INTERMISSION

: This clickable interlude features graphics/blends by three visual artists:

Amazing_CA

(1, 5);

Clayquebec1

(2, 4); and

Ambassador of Love

(3).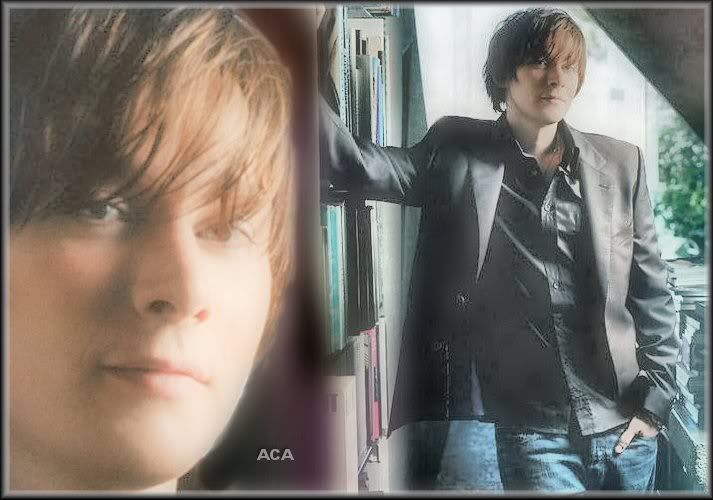 Fans To Celebrate New CD
Clay Aiken fans all around the globe are planning festivities in conjunction with the release of our singer's sophomore CD, A Thousand Different Ways. Most include fun-filled dinner parties the evening prior to the 9/19 CD drop, followed by a stroll to a nearby record store to purchase the new album at the magical midnight hour.


In October 2003, CD release parties were held in most major cities throughout North America and a handful of countries around the globe. This time the number of countries has increased, and an international message board was set up to coordinate times, locations, and contacts for the festivities at Clay Nation Central. Party plans began even before fans knew a release date; but with little more than a month to go, festivities are beginning to take final shape.
In northern Illinois, dinner at the House of Hunan will be followed by the all-important midnight adjournment to Tower Records when CDs can be purchased. Central Ohio, with freckled lemonade as the featured beverage of the night, and Kansas fans will be dining at Red Robin Restaurants, progressing to an 11 p.m. tailgate party in Walmart's parking lot prior to making purchases there.
Internet Fans Spreading the Word
Publicity -- getting the word to non-Internet fans, creating flyers for bulletin boards in various locations, coordinating activities with local radio and TV stations -- is well underway in most areas. Typical release party activities include games, goodie bags, giveaways, sharing CA music and videos with new and old friends. Many use this special time to fund raise for TBAF through the sale of Beads for Life, silent auctions, and other charity raffles.
Some music retailers like FYE in Tulsa have opted to bring the CDs to the party locale at the appointed time. Almost all will begin playing the CD throughout the store or restaurant sound system from 11 p.m. on. In several areas, the CDs are pre-ordered prior to the party, some with considerable discounts.
In Baltimore, dinner at an Italian restaurant will be followed by a party at Best Buy, which plans to donate CDs for the "CDs for the Troops" campaign.
Raleigh Sojourns Planned
No matter where they live, CA fans like to gather in Clay's hometown of Raleigh for important events. From as far away as Ontario, Canada, many supporters are planning the sojourn to "mecca" to fete the arrival of this much-anticipated CD.
Some Canadian fans are planning shindigs on the eve of the album release, while others are celebrating with a long luncheon the following Saturday, Sept. 23, i.e., Calgary at Tony Roma's and Toronto at the Hard Rock Cafe.
A few locations are still finalizing their party plans. The South Carolina Clay Fans asked this blog to run the following announcement:



ALL SOUTH CAROLINA FANS! PLEASE VISIT The SC CD Party Page! Come over, say hello, join in the discussion. WITHOUT YOU there is no party! Let's GET BUSY and have some fun celebrating in A THOUSAND DIFFERENT WAYS!!!


Anyone still seeking a nearby CD release party should refer to the Clay Nation Central web site. Won't be long before the good times roll in A Thousand Different Ways!
Caro
RELATED TAGS: Clay Aiken, A Thousand Different Ways, GoodSearch, Ken Ramburg, JJ Ramburg, The Bubel Aiken Foundation, Diane Bubel, CD Release Parties, Clay Nation Central