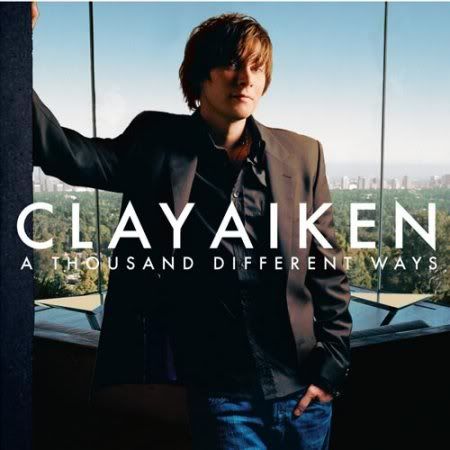 POSSIBLE COVER -- When Wal-Mart online used the above photo for their ATDW display, Clay fans automatically assumed this might be the actual album's cover. With word to the contrary, we are still on "cover watch."

Clickity-Clack, Clickity-Clack!

Clay Train Itinerary Ramping Up

Can you hear that "clickity-clack, clickity clack" steadily getting louder? With the release of A Thousand Different Ways little more than a month off, the Clay Train's dance card is filling up. These are just a few of the highlights from this week's itinerary:
Clay InStyle's Sexiest Singer Again!
Justin Timberlake's CD may be titled "Future Sex/LoveSounds," but CA fans firmly believe our man is the one who has brought the sexy back.
Voting took place in May, and Clay has held InStyle magazine's "Sexiest Singer" title for three consecutive years. Most likely the "baggage" mentioned in the blurb beneath the AI5 photo refers to the show that gave him his start, but there's no complaining about these results, which appear on Page 482 of the September issue on sale now:
Crooner Clay Aiken: Who doesn't have baggage? We'll just say this: It's his third consecutive win, and, no, our servers weren't hacked by "Clayheads." Not to mention you voted after the hairstyle!
CLAYHEADS?!?!?! Meanwhile, three years in a row -- WOOHOO!!!
Notes From Entertainment TV
* THE INSIDER: Results of another text-messaging poll -- Which music star would you want to perform at your reception? -- wer revealed on Wednesday night's telecast. Clay -- who else?
* ENTERTAINMENT TONIGHT: The InStyle poll results -- Who's Sexy Now? -- with Clay from the AI5 appearance are featured on Wednesday's telecast, as well as the ET web site.
Meanwhile, at ETonline, fans are correctly answering the query: Who is the sexiest male celeb? Clay is currently winning by a landslide over Jake Gyllenhaal, Orlando Bloom, Brad Pitt, and Johnny Depp -- and you can still vote!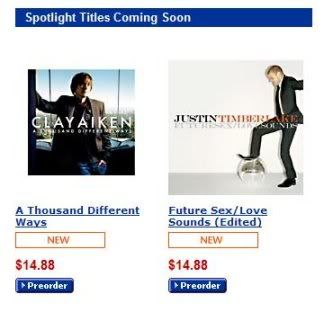 ATDW To Be in Soundcheck Spotlight
In the very near future, A Thousand Different Ways will be spotlighted on Wal-Mart's Soundcheck, both in stores and online, allowing fans to view and download behind-the-scene footage from the album-making process, interviews, and performances.
Soundcheck can be viewed at no cost, though there is a small fee for downloading the video. The current Wal-Mart Soundcheck features Five for Fighting and includes six songs "a la AOL Sessions" plus an interview.
Wal-Mart also airs the Soundcheck performances on TVs in the store's electronics department. CA fans are already planning Wal-Mart lunch breaks to watch Clay's Soundcheck on giant 52" TV screens. Reckon we should warn Wal-Mart of an upcoming Claymate invasion?
Top 40/Pop Betting on Clay
At Top 40/Pop, Bill Lamb penned a brief history of Clay's musical career, discussing the release of ATDW and providing a track listing complete with sound clips of the original performers of the 10 covers. I especially like this paragraph:
While collections of covers can be a risky proposition, and, in overall pop history, they don't have a good record of sales or critical acclaim, the covers album "The Greatest Songs of the Fifties" brought Barry Manilow back to the top of the charts earlier this year and Rod Stewart has turned covers into a franchise. Perhaps this is just what Clay Aiken needs to focus attention on his tremendous vocal instrument. With the legendary Clive Davis at his side, I wouldn't bet against him.
Even though this piece appeared on the 8/3 press release day, comments continued way beyond the publication. Making a very good point that bears more discussion is this one by June:
I don't think Clay Aiken is making any mistakes here as he will have a tremendous appeal to the younger folks (18-30). The trend now across college campuses is the 70s and 80s music, and Clay is giving them exactly what they want! I wish him the best!
PHOTO INTERMISSION: This blog's clickable interlude features the beautiful visual creations of three talented graphic artists -- Amazing_CA (1, 2), Cindilu2 (3), and ABeautifulMind (4, 5).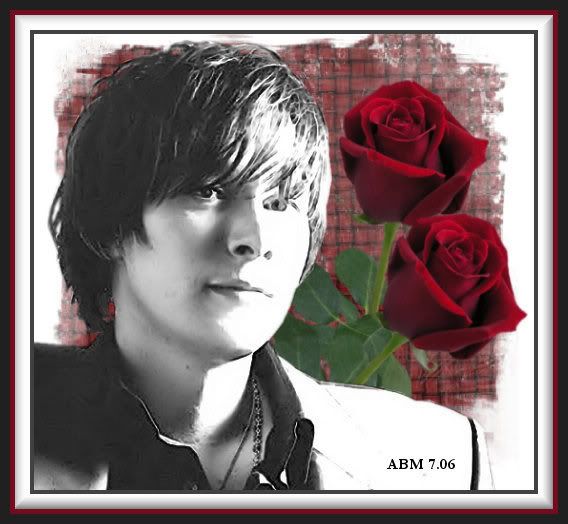 AI Magazine Reprises Finale Surprise
The phenomenal AI5 Finale moment involving Clay and Michael Sandecki, the CA wannabe from this season's Idol auditions, receives full-page treatment in the Fall 2006 issue of the American Idol magazine on news stands now.
Michael Sandecki, labeled as "Faiken Aiken" when he appeared on the American Idol Finale with Clay on May 24, was interviewed by the magazine in the article, "Having an Aiken Breakdown":
Sony BMG Sound Advice Survey
Many fans have registered to complete the Sony BMG Sound Advice Survey:
Will you be definitely buying in the first week, probably buying in the first week, buying at some time, probably not buying, or definitely not buying new releases of Alan Jackson, Ludacris, Jesse McCartney, AudioSlave, Mario Vasquez, Clay Aiken, John Mayer, Tony Bennett, Justin Timberlake, Beyonce, Vanessa Anne Hudgens, Lloyd Banks, Janet Jackson, Chingy, Fergie and Elton John.
The description for CA reads like this: Clay Aiken: American Idol's biggest second-place finisher brings out a collection of love songs, both new and old. (Release date: September 19).
In the past, Claymates have put our singer at the top of the list on such queries as:
* If you were stranded on a desert island and could have only one record, which would it be? Clay Aiken's Measure of a Man
* Who must you see perform live? Clay Aiken
More no-brainers!
Kimmel Date Sold Out!
There is no better chemistry on TV than when Clay joins Jimmy Kimmel on his late night talk show, and the two will be together again soon as CA is scheduled to appear on Jimmy Kimmel Live Sept. 26.
Within hours of this news hitting the fan boards, the JKL site had a bold red missive: THIS DATE IS SOLD OUT!
Lycos50 Leap for Clay
With all the buzz surrounding ATDW, Clay last week bolted from #32 to #17 on the Lycos 50. Then, for his 162nd consecutive week on the elite chart, our singer slipped one notch to #18. Fans, however, are currently searching with Lycos to rectify the step back.
MySpace holds the week's #1 slot, and one wonders if the new influx of pages by CA fans helped boost this online community from its previous #3 position.
Music Prof Responds to RS Blogger
Monday Elizabeth Goodman wrote a brief blog entitled Clay Aiken to Release Most Cynically Pop Album Ever? for the Rolling Stone web site. In her piece under "Rock&Roll Daily," Goodman knocked the CD covers plan, Clay's new hairdo, and -- well -- you get the picture.
As a music teacher, I am particularly fond of one of the earlier responses to the Goodman blog:
I'm 30, male & a music professor at a small east coast college. I have a lot of talented students, but if I had just one with the unique voice of a Clay Aiken, I would be over the moon. We've played some of his recordings in class & the live ones surpass the studio versions by far. I would say see him live first & then judge. His Jukebox Tour was phenomenal & if this CD is anywhere near the energy & emotion of that tour, it will be a huge hit.
My students are all fans, young men & women, because they as performers realize artistry & they hear it in spades in Clay's best work. He is the modern-day equivalent of a Sinatra or Bennett & for what it's worth, it's my opinion that the musical landscape in America is ready for a truly amazing entertainer of his caliber. Someone, another male fan, wrote a couple of years ago that Clay has the potential to become something of a cross between Beck & Bobby Darin & I totally agree.
I fully expect the next album to be packed with a lot of great original music after he succeeds with this particular Favor To Clive Davis CD. I already happen to know several top songwriters who want to get a track on Clay's next album. It's not only money in the bank for them, but they can be assured that their songs will receive the classy treatment they deserve.
**Clickity-Clak, Clickity-Clack** -- the Clay Train is definitely on a roll! Another awesome week for a very special singer and his fans in the Clay Nation!
Caro
RELATED TAGS:
Clay Aiken
,
A Thousand Different Ways
,
InStyle
,
Insider
,
Entertainment Tonight
,
Top 40/Pop
,
American Idol
,
Sony BMG Sound Advice Survey
,
Jimmy Kimmel Live
,
Lycos 50
,
Rolling Stone