12/4 UPDATE: ALL IS WELL for TBAF
--
Beginning today, anyone purchasing All Is Well on iTunes should access the site through GoodShop and designate The Bubel/Aiken Foundation as your charity. iTunes will give 3.75% of the purchase price to TBAF. That's almost 15 cents per EP!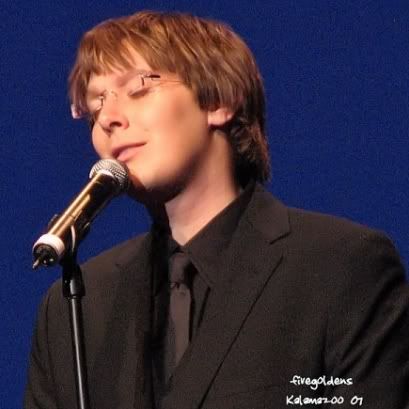 SPECIAL BIRTHDAY -- Clay Aiken fans commemorated the singer's birthday by gifting 1200+ books for Kalamazoo, MI, children at Friday's Christmas in the Heartland Concert. Photo by FiveGoldens.
Kalamazoo, Washington Clack Featured
Book Gifts Honor Clay's Birthday
For the past four years, Clay Aiken's birthday has been celebrated in extravagant style with a packed hall of adoring fans waving glow sticks on the finale, producing an "impromptu" colorful party hat for the honoree, and exuberantly singing a round of traditional greetings.
This year, the Nov. 30 event again coincided with a holiday concert, Friday's Christmas in the Heartland performance in Kalamazoo, MI, but was commemorated in a manner the singer known for his charitable work with children no doubt appreciated even more than the usual hoopla.
Minus flashy sparklers and kazoo choruses, Clay's 29th birthday was marked by the donation of 1,216 books and $685 in gift cards for the Bagels and Books program of the Kalamazoo Communities in Schools.
Fans Aid Literacy Project
Proposed in early November by Michigan resident Rohdy, the inspired idea was quickly adopted by other CA fans, who selected books from suggested lists and either took them to the Kalamazoo concert, shipped them via UPS, or mailed gift cards to be redeemed at book stores locally and online.
Sponsored by Kalamazoo Communities in Schools, the Bagels and Books project was designed to promote literacy and adult interaction with children. B&B events bring parents and community volunteers into the public schools to read one-on-one with students.
Each child selects a new book to read, share, and take home. Often the students ask to be the readers, giving them a chance to see reading as a pleasurable activity.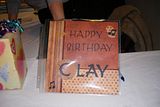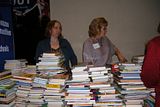 Birthday card, book table at Kalamazoo Concert
Prior to the downbeat, KSChristian4Clay reported to the Clayversity cellstream: The table is piled high with stacks of books reaching up to people's faces. There are boxes and boxes of books, and fans are still bringing in more!
Toni2marie shared: My sister and I arrived at the venue around 6:15, and we placed our books on the table and signed the birthday card. At that time there were only about 50 books on the table. It was incredible to see the table fill up with books over the next two hours.
Posting at CV, Canuck2010 added this: The book drive was stupendous. Communities in Schools personnel were thrilled, so excited, and didn't seem to believe it. I was proud to be a part of the project.
KCIS Staff Flabbergasted
Thanking CA fans at the OFC, Rohdy wrote: I will never be able to express how amazed, impressed, flabbergasted both the KCIS and Miller people were with the generosity of the Clay fans. The KCIS executive director was present, and I spoke with her for quite awhile during the second half. She was jaw droppin' happy with the turnout and very inquisitive about the Clay fandom and how everyone got the word.
People who don't "do" the Internet for non-work related things just don't realize the potential they are missing. You should have seen the look on her face when I told her the box was filled with gift cards for them as well. Until that time, she thought it was just the books.
There are large Hispanic and African-American populations in Kalamazoo, and the KCIS staff is planning to use the gifts cards to purchase appropriately-themed books in this area.
OFC members can read her entire post here.
Besides a few "Happy Birthday, Clay!" shout-outs, the only hint of the special date during the concert came when the singer chuckled on the "all grown up now" lyrics in "My Grown Up Christmas List" and mentioned heading into 2008 and his 30th year prior to "Don't Save It All for Christmas Day."
Saturday the books and gift cards were delivered to the KCIS offices in Clay's honor. Way to go, Clay Nation!
PHOTO INTERLUDE: Like the book donations, there is an abundance of outstanding photos from the Kalamazoo concert. Besides the five highlighted here, several will be featured in a slide show below. Interlude photographers include Invisible926, 1, 3; Toni7babe, 2; Jtgranny, 4; and SmartyPantsSuz, 5.
Performance Yields Clayversions, Kudos
During opening week of the holiday tour, concertgoers have praised the special lighting for the closing number. In the final verse of "All Is Well," a magnificent stream of light is directed towards Clay, converting to moments of darkness as the singer leaves the stage. Almost immediately, the light returns, shining on the lone microphone at center stage.
Notable reports from Friday night's concert include Clayversions, a birthday serenade after all, and props for a moving, well-planned show. Some are relayed here.
Clay Concert 'Virgin' Converted
NEKIA: What a great night! My daughter and her friend, a "complete concert and Clay virgin," upgraded their tickets to pit seats. We now have another convert. After the concert, the "virgin" said with a huge smile on her face, "I loved it, and now I need more of Clay."
Both she and my daughter were convinced that Clay was flirting with them because he was looking directly at them during the concert. I think we have heard that one before.
Also, a young man working at the venue said he had never heard Clay before last night. He kept repeating how awesome he thought the concert was.
GBMIFAN: We were sitting right next to three young men, juniors at the University of Michigan who were very complimentary of the whole show. One, a theater musical major, kept commenting on how incredible Clays voice is.
Clay sounded great, and the lights on him were amazing. My friend, who has attended only one previous concert last summer, left in a true Aiken Fog. I teased her all the way home, but I was in the same condition.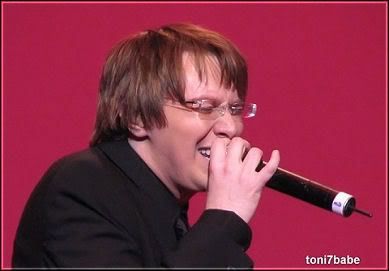 Photo links to Kalamazoo CITH Slide Show
Clicking on the above picture by Toni7babe will link to a Kalamazoo CITH Photo Slide Show. Other photographers represented include Invisible926, Jtgranny, FiveGoldens, Campari, SmartyPantsSuz, Snix, and KarenEh.
Evening an 'Unforgettable Gift'
BOTTLECAP: The show goes by so fast! Clay's first little speech about community involvement and whatnot was done in hyper-drive. I found the fan stories to be very heartfelt and generally well-written/read. It was obvious that a lot of effort had gone into finding appropriate stories.
Clay had a huge smile on his face all the way through DSIAFCD, and he wailed on that song. Standing O, and he reappeared sans jacket for the encore AIW. Long standing O at the end of that and then the lights came back up and the spell was broken.
This is truly a magical holiday story, and I'd love to see it adapted for a PBS special. It may be Clay's birthday, but I feel like I was the one that received the unforgettable gift.
HUUUGS: My friend Sharon called me from the venue. As Clay came out of the door and walked to the bus, they sang "Happy Birthday" to him. He acknowledged them with a wave or two, thanking them.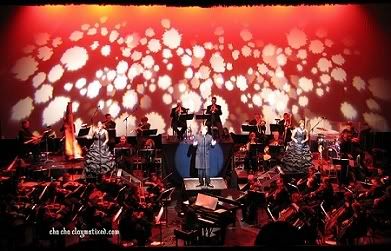 Photo links to Washington, DC CITH Slide Show
Clicking on the above picture by ChaChaTrusty will link to a Washington, DC CITH Photo Slide Show. Other photographers represented are Lisajluvsclaya, Irishbookgal, Okie4Clay, Heavens2, and Claybug71. Link here for the gallery view.
Also, here are You Tube links for a DC Sampler by ChaCha and two videos from the Monday night concert by LonelyNoMore44: Don't Save It All for Christmas Day and All Is Well.
In my opinion, the AIW vocals are the best yet; and Clay has already said as much about the orchestra.
Following a day off, Clay & Co. will resume the remaining 15-concert itinerary.
Upcoming CITH Tour Dates



12-04-07 Willkes-Barre, PA

The F. M. Kirby Center, 7 p.m. EST


12-06-07 New Brunswick, NJ

State Theater, 8 p.m. EST


12-07-07 Albany, NY

The Palace Theater, 7:30 p.m. EST


12-08-07 Poughkeepsie, NY

Mid-Hudson Civic Center, Main Hall, 8 p.m. EST


12-09-07 Uncasville, CT

Mohegan Sun, 7 p.m. EST


12-11-07 Red Bank, NJ

Count Basie Theatre, 8 p.m. EST


12-12-07 Easton, PA

State Theatre, 8 p.m. EST


12-13-07 Morristown, NJ

Mayo Center for the Performing Arts, 8 p.m. EST


12-15-07 Williamsport, PA

Community Arts Center, 7:30 p.m. EST


12-16-07 Erie, PA US

Erie Civic Center Complex, 7:30 p.m. EST


12-17-07 Cleveland, OH

State Theatre, Playhouse Square, 7:30 p.m. EST


12-19-07 Minneapolis, MN

Orchestra Hall, 7:30 p.m. CST


12-20-07 Minneapolis, MN

Orchestra Hall, 7:30 p.m. CST


12-21-07 Omaha, NE

Slosburg Hall/Orpheum Theater, 8 p.m. CST


12-22-07 Merrillville, IN

Star Plaza Theatre, 8 p.m. CST
Below is a clickable of the opening photo by FiveGoldens: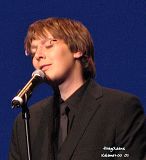 Special thnx to Margarert5828 for taking me along to Kalamazoo via a cellcert. In her recap, Margaret reported that she sat beside a very slender, be-speckled 10-year-old boy with strawberry blond hair. Throughout the concert, she shared her binoculars with "young Clay" and his mother.
Have an awesome weekend, Clay Nation!
Caro
RELATED TAGS: Clay Aiken, Christmas in the Heartland Tour, birthday, Bagels and Books, Kalamazoo Communities in Schools, Official Fan Club, Clay Nation