JOYOUS SEASON -- In this lovely graphic, ABeautifulMind combines the lyrics of a special song, a handsome photo by SmartyPantsSuz, and the holiday Clay Aiken's Christmas in the Heartland Tour celebrates.
'All Is Well' Climbs Charts
Aiken Delivers Holiday Greetings
Tuesday night I opted to cheer for the Carolina Tar Heels men's basketball team instead of listening to Clayversity's cellcert from the Christmas in the Heartland Tour performance at Wilkes-Barre. The Heels, who just happened to be playing in the state of Pennsylvania along with Clay Aiken, won the game, 106 - 71.
At first, CV's cellcert registered between no sound whatsoever to an unbelievable steady stream of static. Referencing the infamous dot-certs of previous years, one member nicknamed Wilkes-Barre the "static-cert."
Periodically, I checked the cellcert thread and was glad to note that the recption quality improved greatly in the second half. However, I still opted to wave pompoms for the men in blue, who will be on an exam break the next 12 days. I'll catch Clay & Co. again Thursday in New Brunswick, NJ.
Media Reviews Wilkes-Barre
Fan and media recaps abound, including articles from two Internet sources, the Citizens Voice and the Times Leader. Below are selected excerpts from the former by Kaylee Ziolkowski, Aiken Delivers Holiday Greetings:
WILKES-BARRE ­— Clay Aiken packed a punch with a score of passionate holiday favorites during his "Christmas in the Heartland" before a packed crowd at the F.M. Kirby Center for the Performing Arts in Wilkes-Barre on Tuesday night.
[SNIP]
Between songs, Aiken chose to bring a different vibe to his holiday concert by inviting audience members on stage to share their favorite holiday memories. In the months prior to the show, fans submitted their stories to his Web site, with the top four being selected. Stories included a parent's war romance, a childhood Christmas tree, a Christmas infant miracle, and a Christmas morning film tradition.
Aiken told the audience he wanted his fans to share their favorite holiday memories to help everyone remember the meaning of this time of year.
"My favorite holiday memory is being able to share this concert with everyone," Aiken said.
New Thursday is a review by Lisa Sokolowski, Aiken Spreads Some Holiday Cheer. The article is accompanied by a photo, so check out the full story:
WILKES-BARRE – Chatter filled the F.M. Kirby Center while the Lee Vincent Orchestra was onstage, quietly playing Christmas songs. The orchestra went virtually unnoticed until the concert master came onstage and took his place at the piano.
That's when the fans silenced. They knew Clay Aiken would be coming on stage soon.
[SNIP]
Aiken, the runner-up on Season 2 of "American Idol," didn't move on stage. He didn't let flashy costumes or neon lights take the focus away from his vocals. And, on songs like "Oh Come All Ye Faithful," his voice soared, causing the audience to wonder why he didn't win "American Idol."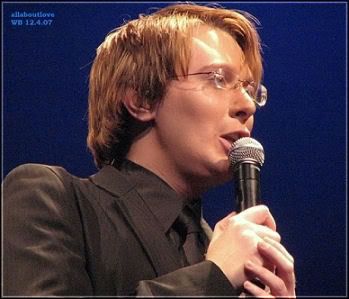 Photo links to Wilkes-Barre CITH Slide Show
Clicking on the above picture by AllAboutLove will link to a Wilkes-Barre CITH Photo Slide Show. Also featured in the collection are photos by FiveGoldens and PA4Clay.
Fans Applaud Wilkes-Barre Concert
This is a sampling of impressions shared by concertgoers on message boards following the Wilkes-Barre performance:
RIVERSEND22: I have seen an incredible number of shows, and I was blown away tonight by the quality and tonality of his vocals. Clay Aiken's voice seemed effortless. You could just tell he was singing from his heartand it truly shone through in the final product. Bravo Clay!
ALISONANGUS: Clay sang beautifully. He feels the meaning of the lyrics every time we hear his voice.
My middle school band teacher was in the orchestra on percussion, and we saw him come out of the Kirby. He told me that unlike last year with the banter and jokes, Clay's main intention was to spread Christmas joy and spirit through gentle and heartwarming music.
HEIDISEEK: Two men sitting next to me had gotten tickets from an acquaintance who upgraded. One liked Clay and voted for him during AI but had never seen him in concert. They had heard about Clay's personality during his concerts and were a little disappointed not to hear the banter.
However, they were impressed with the voice - no question there - and might go to his next concert to see more of the Clay we all know and love.
For those who have not been to their concert yet, you are in for such a treat. The glory of his voice will touch your heart. He is one amazing young man!
LYNNINNJ: I had the honor of reading my "I'll be Home for Christmas" story last night, and it truly was a blessing. I enjoyed the stories this evening -- from memories of a dad's videoing of Christmas to the miracle of Christmas for a baby grandson to the joys of seeing the holidays through a four-years old's eyes. They really are an awesome accent to Clay's musical talents.
I think what I enjoyed most about this show was that I was able to have Jesse and Clay right in the same view and could watch it all. Jesse is really a mastermind on the piano. It really was magical!

PHOTO INTERLUDE: This clickable CITH tour interlude features the talent of eight graphic artists and photographers including Amazing_CA, photos by Shortyjill, 1; Amazing_CA, photos by Farouche, 2; Ambassador of Love, photos by Caplet and Toni7babe, 3; Claysmelody, photo by PermaSwooned, 4; and Ambassador of Love, photo by Toni7babe, 5.
'All Is Well' Hits Top 100
Clay Aiken's Christmas EP, All Is Well, which officially went on sale at iTunes Tuesday, was listed at #67 in the Top 100 at press time (a phrase that dates you!) and has moved up to #37. I am checking the ranking for AIW periodically through an RSS feed: iTunes Top 100.
To order or send AIW as a gift, be sure to access iTunes through GoodShop and designate The Bubel/Aiken Foundation as your charity. iTunes will give 3.75% of the purchase price to TBAF. That's almost 15 cents per EP.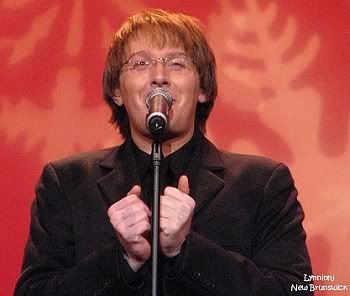 Photo links to New Brunswick CITH Slide Show
Clicking on the above picture by LynninNJ will link to a New Brunswick CITH Photo Slide Show. Also depicting Thursday's concert in New Jersey are photos by Toni7Babe, Dianagreeneyes, NJRP4Clay, FiveGoldens

, and

ScrpKym

.



Map Reveals Worldwide Readers
Encouraged by several CA fans, I began posting my OFC blogs at Carolina On My Mind on Blogspot in July 2006. One of the pluses is that family and friends who are not members of the fan club can read the journal.
In 17 months, the Blogspot version has received a grand total of 28 comments. I am blessed with a faithful readership at the OFC where the comments recently passed the 10,000 mark.
On a whim, I added a map counter to the Carolina blog a few days ago. Amazingly, this clever little device registers the locations of a site's visitors.

Talk about shock and awe -- you cannot imagine my amazement when the initial reports came in. Lo and behold, the Carolina blog is being read/hit by people from all around the world!
Since signing up on Sunday, the blog has received 681 visits -- not a huge number in normal blogosphere schemes, but a whole lot more than close family and friends! To view up-to-date visitor locations and numbers, click on the map at the bottom of the Carolina blog's sidebar.
According to the latest Clustr Map Report report and with the much-needed aid from a world atlas, there seem to be visitors (red dots) from the US and Canada, as well as the United Kingdom, Scandinavia, France, Spain, Greece, Saudi Arabia, Malaysia, China, Japan, the Philippines, Peru, Argentina, and -- I think -- Iceland.
What a mind-boggling revelation! Whoever you are I appreciate your visits. Remember, you don't have to be a Blogspot member to leave a comment.
I imagine our singing UNICEF Ambassador would be very pleased this little experiment inspired a full-fledged geography lesson for yours truly. Thnx for the visits, and I hope you'll keep coming back!
Below is a clickable of the opening graphic by ABeautifulMind: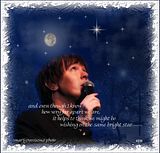 Have a wonderful week, Clay Nation!
Caro
RELATED TAGS:
Clay Aiken
,
Christmas in the Heartland Tour
,
All Is Well
,
iTunes
,
GoodShop
,
Carolina On My Mind
,
Blogspot
,
ClustrMap
,
geography
,
Official Fan Club
,
Clay Nation