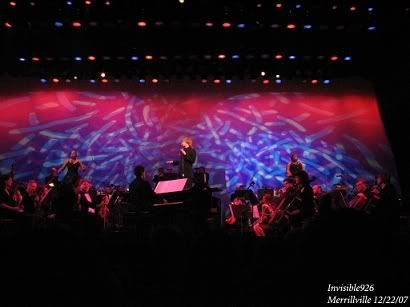 FESTIVE CONCLUSION -- Memorable music and ovations of appreciate applause highlighted the final concert of Clay Aiken's Christmas in the Heartland Tour in Merrillville, IN, Saturday night. Photo by Invisible926.
UNICEF Update: $52,720
Memorable Concert Closes Tour
Surrounded by family on and off stage, Clay Aiken closed his fourth holiday tour -- Christmas in the Heartland -- with a memorable performance at the Star Plaza Theatre in Merrillville Saturday night.
Accompanied by his mother and brother, Faye and Brett Parker, the singer departed Sunday for a special UNICEF tour through Mexico to survey the damage caused by the devastating floods in the Yucatan.
In final thank you's and introductions, Clay recognized the show's core musicians and backup singers, behind-the-scenes crew, as well as his immediate family members in the audience.
Brett, who was serving in Iraq last holiday season, was given a resounding standing ovation by the audience. After a few minutes, his older brother joked, "Okay, it's still my show! Look up this way!"
Warm Hugs Accompany DSIAFCD
Clay launched into a spectacular rendition of "Don't Save It All for Christmas Day" during which he put his arm around backup singer Angela Fisher for the crowd-pleasing lyric, "A hug is warmer when you're in it" lyric, immediately followed by the line that channels Elvis, "Oh, baby, that's a fact."
Quiana Parler, who will star in the Jan.12-20 Progress Energy "Dream Girls" production in Raleigh, also received a special hug in the middle of DSIAFCD.
To view tour introductions, Merrillville's DSIAFCD, and Clay's explanation of his family's holiday trip for UNICEF, Jojoct's video is provided in this Sendspace download here.
These three clickables by Toni7babe and Shamrock reenact the "warm hugs" for Angela, 1, and Quiana, 3, and the final concert's special introductions. Pictured in the center photo, left to right, are Jerome Bell, Jamie Braswell, and Mary Brennan, representing those who work behind the scenes.
Clay, Family on UNICEF Mission
During closing remarks, the UNICEF ambassador made the tour's one and only appeal for fund-raising assistance with projects launched to aid those affected by Mexico's worst floods in 50 years.
Destruction from Tropical Storm Noel was widespread and particularly difficult on children: 80% of the state of Tabasco was left underwater; approximately 70% of the schools were damaged; and 100% of the state crops were destroyed.
By making a donation, supporters can help Clay and UNICEF raise $100,000 before year's end. This same link keeps tabs on the total funds raised, which Thursday morning stood at $52,720 -- 53% of the target goal.
PRNewswire posted a Christmas Day story and photo of the UNCEF ambassador in Chiapas, Mexico: Clay Aiken & Family Celebrate with Survivors of Mexico's Floods.


Clay with children in Chiapas
During the Mexico trip, updates will be posted in UNICEF's Fieldnotes Blog. In the latest, Christmas Greetings From Clay Aiken in Mexico, the singer explains what he and his family have discovered on their mission, as well as some lost luggage woes.
UNICEF will reward 2007 donations of $50 and $1,000 with a photo album from his Mexico trip, the latter autographed.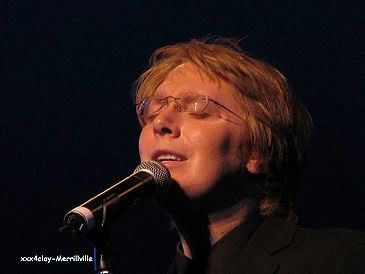 Photo links to Merrillville CITH Slide Show
Clicking on the above picture by xxx4clay will link to a Merrillville CITH Photo Slide Show. Also capturing Saturday's concert are photos by StarFishy2000, FiveGoldens, Mom4Clay22, Invisible926, Shamrock, and Toni7babe.

Recaps Replay Merrillville Concert
Fans reading CA message boards afterwards could find wonderful recaps of Saturday night's concert. Below are highlights from two at Clayversity.
YAKNELLE: My husband loved the concert in Merrillville. He was sitting in a sea of women, who all were amazed that I didn't have to drag him there.
During dinner he asked me if after listening to the concert for 20 nights, I thought that it would be as good tonight? After one concert, he was a believer. He was blown away by the professional presentation, the arrangements, but most of all by Clay. He leaned over after "Mary Did You Know," and said, "I love that song."
A strong arm around me and a kiss during "Don't Save It All for Christmas Day, " coupled with squeezing my hand for the entire song, let me know this was no ordinary concert for him. He was into it, and he was moved.
Later he would say, "Anyone can sing Christmas songs, but this was so different. I really felt the words."
DEMETER: I knew something was up with "My Grown Up Christmas List" because after Quiana finished her song, Clay looked at her and whispered, "Are you ready?"
And then they did a beautiful rendition of "My Grown Up Christmas List."
The standing ovation for Brett was so incredible. When Clay was talking about going to Mexico with the family for UNICEF, I could just feel the total commitment to service of them all.

'Aunties' Keep Kai in Pictures
Grandson Kai is blessed with several artistically-talented "aunties" and a generous fairy godmother. Creative surprises from these gifted graphic artists arrive unexpectedly in his grandmother's email box.
In each, the photographer is Kai's mother; and in all but the fourth ("My First Christmas") photo, the editor is his fairy godmother, who will probably add finishing touches to my efforts on that one, too.
Thank you to Ashes for the "virtual bear" blend, Sally for the "sweet" bib edit, and Amazing_CA for the Christmas "wishes" blend.


Wishing you and yours a joyous holiday season!
Caro
RELATED TAGS:
Clay Aiken
,
Christmas in the Heartland Tour
,
Mary, Did You Know?
,
My Grown Up Christmas List
,
Don't Save It All for Christmas Day
,
UNICEF
,
Fieldnotes Blog
,
Mexico
,
Tabasco
,
floods
,
grandson
,
graphic art
,
Official Fan Club
,
Clay Nation