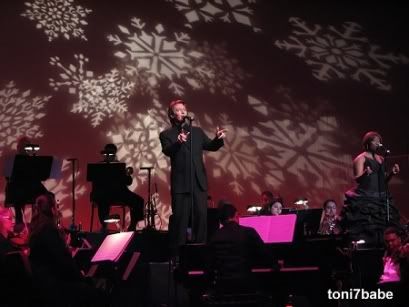 COLORFUL PANORAMA -- Photographer Toni7babe captured this scene from the Albany, NY, edition of the Christmas in the Heartland Tour Friday night.
Kai Fog Overtakes Grandma
Heartland Tour Wows Northeast
Very early Saturday morning -- between checking my oboe reeds and a last-minute run-though of a piece with five sharps prior to a 9 a.m. cantata rehearsal -- I caught a quick glimpse of the amazing photo clack fans obtained at Clay Aiken's Christmas in the Heartland Tour Concert in Albany.
A weekend of rehearsals and gigs usually has me running, start to finish; and this one was no different. I even left my oboe at the church following the rehearsal -- something I have NEVER EVER done in my life! -- and had to backtrack to pick it up. The piece with five sharps needs some work, plus that instrument is always with me.
We Clay fans know all about "fogs," but I have to blame today's unexpected haze on my grandson Kai. After the rehearsal, in order to share Kai's pictures with a violinis, I placed my oboe case on a pew. The friend in turn, she caught me up on her children, two of whom I taught orchestra in middle and high school.
My satchel was full, even without the oboe; and I didn't miss it until I stopped to get a haircut. Fortunately, my hairdresser was running behind; so I hightailed it back to the church. My BIL, the minister of music conducting Sunday's concert, will never let me live this one down.
So when I say I've been running all day, you get the "picture." Speaking of which, this blog is not only featuring Albany/Poughkeepsie photos, but -- for those who have registered persistent requests -- new Kai clack, too.
PHOTO INTERLUDE: These five photographers are also featured in an Albany Slide Show. First, here are clickables by each: Toni7babe, 1; Gerwhisp, 2; FiveGoldens, 3; Riversend22, 4; and LynninNJ, 5.
Fans Replay Albany Concert
Recaps are an excellent source for the complete story about a performance, both the events on stage and the many NJU instances shared by Internet fans. Below are some impressions from Albany concertgoers.
LYNNINNJ: Clay's WTOW is an amazingly haunting song. Sung in almost a whisper, it really ends the first half with a statement. I love how Clay has evolved with this song; it's an amazing addition to the show. Perfect!
DSIAFCD and AIW were as powerful as ever. I'm surprised the Palace's Roof is still in place. I'm sure he blew the newcomers away. The sweet lady next to me from New England was pretty speechless. It was her first and only show of the tour, and i think she was very impressed.
SNARKYSTRIPES: In Albany, I sat next to an absolutely lovely young woman and her son. We talked casually about the evening ahead, the Palace Theater renovation, etc. Before the concert, she said, "All I hope is that Clay sings 'Mary Did You Know?' That's all I want." When he started to sing it, she was so happy.
Clay's voice was so pure, gentle, and reverent. And other times so playful and sexy. His intonation and the emotion are impeccable. Brilliance throughout!
Mr. Snarky went to one concert last summer but sat away from me in the balcony. Last night, after the Albany performance, he said, " Now THAT is a concert." He liked the flow, the continuity, the message ... and the fact that there wasn't silly banter with fans up front and so many inside jokes.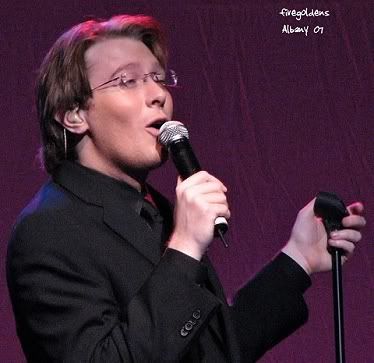 Photo links to Albany CITH Slide Show
Clicking on the above picture by FiveGoldens will link to an Albany CITH Photo Slide Show. Also featured in the group are photos by Gerwhisp, LynninNJ, Riversend22, and Toni7babe.
Poughkeepsie Reporter Cites Voice
Sean McMann, a reporter who also writes a blog for the Poughkeepsie Journal, posted a brief journal entry after attending the second half of the CITH tour Saturday night.
Read How About That clay Aiken??? in its entirety at Sean's Space. Here is an excerpt:
In short, the hour I was there for was an amazing hour of music! In just that hour, I decided Clay has the best voice of anyone I've ever seen in concert. Barry Manilow is the greatest overall performer and showman I've ever seen (you remember my GF and I are seeing him Monday night, right?) and is the total package on stage, and Britney Spears is the most beautiful singer I've ever seen in person, but Clay has the most singing ability of anyone I've seen ... and I've seen a lot!
Though inclement weather changed McMann's plans to attend Sunday's concert at Mohegan Sun, he again featured Clay in the succeeding blog. Here is an excerpt from It's the day after Clay ...
... and I don't know about you, but I'm still in awe of what I saw and heard last night. In one sentence: I was blown away by Clay Aiken's "Christmas in the Heartland" stop at the Mid-Hudson Civic Center in Poughkeepsie.
Now, this wasn't just a concert (and certainly not a run-of-the-mill pop concert), it was more like what I'd expect a night at the Kennedy Center to be like: It was classy, it was elegant and it was fitting with both Clay and the music singing and the season he was celebrating.
The comments in McMann's blogs also make for excellent reading.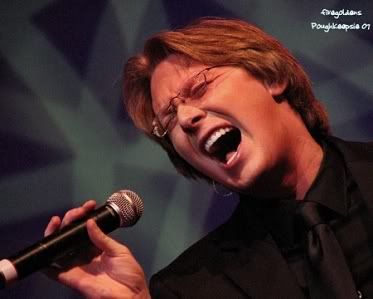 Photo links to Poughkeepsie CITH Slide Show
Clicking on the above picture by FiveGoldens will link to the Poughkeepsie CITH Photo Slide Show. Also featured in this collection are photos by All4Clay2004 and Toni7babe.

No Grandma Fog Friday
Unlike Saturday's Grandma daze, there were moments on Friday that my work station was a whirlwind of remarkable multitasking. Concurrently refreshing an all-day Woot 0ff for possible holiday gifts, writing harmony parts for a violinist to perform with his piano-playing younger brother, downloading new videos of grandson Kai -- this laptop's dual processor was pushed to the max and ended the afternoon panting.
The same gifted visual artists who create graphics and montages of Singer Man soon helped me fill this segment. Kai loves his new Rainforest Peek-A-Boo Waterfall, which is attached to his playpen. The set list includes classical music, as well as lullabies and sounds of the forest.
Friend Sally, also my grandson's fairy godmother, prepared two delightful screen caps from the videos (2, 4); and Aunt Amazing_CA wasted no time sending a link for two beautiful blends from the Rainforest movies (1, 3). Monday morning Aunt Ashes rounded out Kai's own interlude with a holiday blend (5).

Auntie Makes 'Munchkin' Montage
Aunt Aspiegirl converted the huge avi files to WMV's. When I returned home from the morning rehearsal, she had also surprised me with a new montage: Munchkin Kai.
His lineage of musical genes in play, Kai almost seems to be trying to sing with the Brahms Lullaby in the original videos: Rainforest 1 and Rainforest 2. Kai clack is located here.
Enjoy the Saturday-Sunday reruns of the Atlanta Auditions on AI2 Rewind. Have an awesome new week, Clay Nation!
Caro
RELATED TAGS:
Clay Aiken
,
Christmas in the Heartland Tour
,
Oboe
,
Grandson
,
Official Fan Club
,
Clay Nation