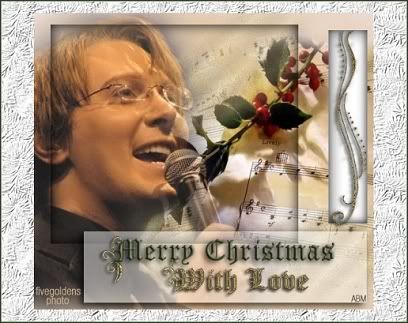 MERRY CHRISTMAS WITH LOVE -- Graphic artist ABeautifulMind has created special season's greetings with a photo by FiveGoldens.
Clay & Co. in Final Concerts
Tour Plays to Enthusiastic Fans
NOTE: Clack from CITH concerts in Omaha and Minneapolis has been included.
Packed houses and appreciative audiences have greeted Clay Aiken & Co. on the final leg of the Christmas in the Heartland Tour with a performance at the Orpheum Theater in Omaha, NE, Friday and consecutive concerts at Orchestra Hall in Minneapolis, MN, the previous two nights.
Present at all three shows was Faye Parker, Clay's mother, who, in addition to the concerts, reportedly enjoyed some holiday shopping at the famous Mall of America, this country's largest retail and entertainment complex.
Jaymes Foster-Levy, the singer's executive producer, joined Ms. Parker for Thursday's performance. According to Omaha concert recaps, Brett Parker, Clay's brother, will accompany his mother to Saturday's 8 p.m. show at the Star Plaza Theatre in Merrilville, IN. The family will then depart for their Christmas UNICEF trip to Mexico. [More on this below.]
Final Concert Set in Merrillville
Philip Potempa's advance story from the Northwest Indiana Times can be read in its entirety. Here are the opening paragraphs for Clay It Again:
Singer Clay Aiken isn't worried about any shortage of holiday songs to perform for his Christmas show Saturday at Star Plaza Theatre in Merrillville.
He has plenty of his own favorites to pick from to share with fans.His first Christmas album, "Merry Christmas with Love," came out on Nov. 16, 2004, and immediately was hailed as a new holiday classic.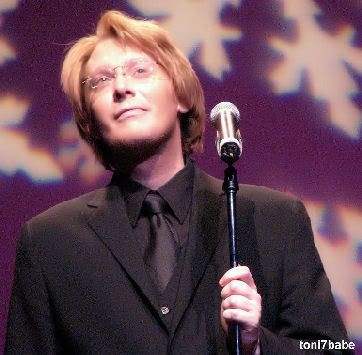 Photo links to Omaha Slide Show
Clicking on the above picture by Toni7babe will link to an Omaha CITH Photo Slide Show. Concert photos by Invisible926 are also included in this slide show.
In his review, Omaha World-Herald staffer John Pitcher presumes that Clay wants to be the next great American Christmas crooner. The article contains props as well as digs:
The singer, who brought his "Christmas in the Heartland" tour to the Orpheum Theater on Friday night, has been making the holidays his specialty ever since his second-place finish in the 2003 "American Idol" competition.
In just four years, he's released a best-selling Christmas album ("Merry Christmas With Love"), starred in his own prime-time TV Christmas special and launched a series of successful live Christmas tours.
[snip]
Musically, Aiken's show was sumptuously produced, nicely paced, professionally played (the Omaha Symphony proved to be an outstanding swing band) and mostly well sung.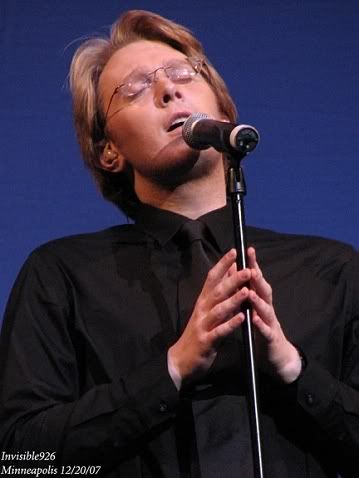 Photo links to Minneapolis 2 Slide Show
Clicking on the above picture by Invisible926 will link to a Minneapolis 2 CITH Photo Slide Show. Also included from Thursday's concert are photos by FiveGoldens, LauraQ, and Toni7babe.

CITH Concert Stirs Emotions
Fan recaps complete the story for those around the globe "attending" via cellcert and clack downloads. Here is a sample of fan reports from Wednesday night's concert in Minneapolis:
MAD4CLAY: Clay sang beautifully and looked amazing. I took my mom and my son with me tonight. My mother was in tears most of the time, and she even did a little bit of a cellcert with a dear friend of hers that just loved what she heard.
The venue was well-packed with many men in attendance. I adore the jazzy medley and love the sentimental medley. MDYK and MCWL just melt my heart, WTOW was so reverent, MGUCL was as if he were talking to a friend in the beginning; then he pulled out his magic and soared to the end.
The four stories were both funny and heartbreaking. This show goes by much too fast. I'm so glad I get to see it one more time tomorrow.
THANKFUL4CLAY: The show needs to be experienced live. My mom is a casual Clay fan, and she was really impressed.As we were leaving, Faye was walking right past us and my mom stopped Faye and asked her if Clay's singing gave her goose bumps. Faye looked a bit surprised and then said, "Yes, it does."
CHRISTELKLEIN: I thought Clay made the readings fit very well into the concert. I loved the way he sang the songs as medleys. DSIAFCD was a smash, and AIW was delicious icing on a Wow Pow Christmas Cake.
Due to Carolina's basketball game on ESPNU, which is not included in my cable package, Wednesday's cellcert was an interesting exercise in multitasking.
Listening to the concert, I also read the accompanying thread on two boards and kept ESPNU's site open where the score and play-by-play action were constantly updated. The Tar Heels won, 88-78.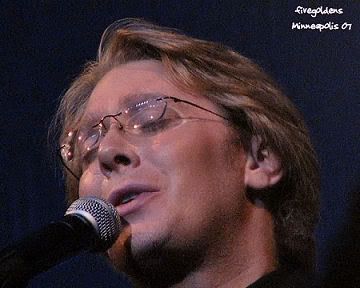 Photo links to Minneapolis 1 CITH Slide Show
Clicking on the above picture by FiveGoldens will link to a Minneapolis 1 CITH Photo Slide Show. Also capturing Wednesday's concert are photos by Invisible926, Lindspe, Lindylo, PinkCocoa, Clayla919, and Toni7babe.
Clay Plans UNICEF Trip to Mexico
Following the CITH Tour, Clay, his mother, and his brother will spend the holiday season traveling in Mexico to help more than one million people affected by the country's worst flooding in 50 years.
According to UNICEF, the destruction from Tropical Storm Noel was widespread and particularly difficult on children: 80% of the state of Tabasco was left underwater; approximately 70% of the schools were damaged; and 100% of the state crops were destroyed.
By making a donation, supporters can help Clay and UNICEF raise $100,000 before year's end to assist those affected by flooding in Mexico.
The same UNICEF link also keeps tabs on the total funds raised. Sunday afternoon donations stood at $30,625 -- 31% of the goal.
During the UNICEF trip, updates will be posted at the website's Fieldnotes Blog. In Packing My Bags for Mexico, Clay explains that UNICEF will reward 2007 donations of $50 and $1,000 with a photo album from his holiday trip, the latter autographed.
For more information on Clay's Christmas UNICEF trip, see Take a Clay Ride for Christmas, an interview with the Minneapolis Star-Tribune. The story has been picked up by newspapers nationally and in many includes a 2006 snowflake lighting photo. For example, see The Charlotte Observer.
PHOTO INTERLUDE: Graphics featuring fan tour photos are highlighted in this entry's clickable interlude. Visual artists represented include Amazing_CA, photos by ShineinNC, 1; Amazing_CA, photos by KarenEh, 2; ABeautifulMind, photo by SmartyPantsSuz, 3; Amazing_CA, photos by Riversend22, 4; and Ambassador of Love, photo by Toni7babe, 5.
Students Play to Packed House
Similarly, my music students presented the first of two holiday class concerts Tuesday afternoon to a living room packed with a friendly audience of receptive parents, siblings, and grandparents.
Every possible seat in my house was crowded into the "concert hall" for the occasion. Appropriately, an old stool once belonging to Mama Mac, our family's musical matriarch, was even called into service. Three students down, these audiences surely would have been swinging from the rafters had all been present.
Tuesday's recital featured the advanced class of violin and woodwind students performing solo literature from the Baroque Period, as well as several three-part Christmas carols. Our closing number was a special arrangement of the three tunes for "Away in a Manger."
This teacher is always pleased when musicality shines through; and, despite some nerves, dynamic differences, shadings, and echoes were present. High fives to Tori, Gloria, Zach, and Gracie!
Elementary Ensemble Grooves
Wednesday's program starred elementary violin/cello students, as well as a young pianist. Like the concert in Minneapolis, video clack began rolling on the downbeat.
Baroque solos, folk songs, and carols were performed. Younger students tend to stick with the melody, but much appreciation to Zach and Anna for sharing harmony lines. Other performers included Natalie, Maddie, and Matt with applause to all!
A very heartening note from this concert was that the young ensemble, playing together for the first time ever, sounded as if we had at least a week of intense rehearsals under our belts.
Our cellist, who studies with me in another city, was immediately welcomed as a member of the group. Music is indeed a universal language.
Other pianos students -- Jospeh, Layla, Emily -- presented holiday songs for audiences of parents, sibilings, and/or friends in their private lessons.
Special Effects Join Accompaniments

In my experience, preparation for these holiday events usually involves extra elbow grease in the housecleaning department, as well as a much-needed piano tuning. On Tuesday morning, my technician also was asked to fix a click in my damper pedal.

During a quick run-through of Tuesday's accompaniments, I realized the click was gone but had been replaced by a "chirp"; so I called the tuner, who suggested we slide a book under the pedal lyre until he could come back by.
My old "Teaching Brass Methods" didn't work, and the high-pitched sound was evident -- to me at least -- throughout Tuesday's performance but, for whatever reason, never appeared on Wednesday.

Bright and early Friday morning the technician stopped by and elimnated my piano's strange, unscheduled sound effects.
Arts Talent Skips Crafts
This week I learned that musical talent does not necessarily transfer to arts and crafts. Student holiday gift bags always include a sharpened pencil for the young musicians and a varied assortment of treats.

I thought decorating lunch bags with colorful ribbons, stickers, and bows would be a neat idea and a snap. LOL, I probably spent more time punching holes and making ribbon handles than I did dusting. Hopefully, the students enjoyed the thought and what was inside their amateurish gift bags!

Many miles away, but always in my heart, is my grandson Kai. Wearing one of the new Old Navy outfits sent by Grandma Caro, this is the next musician -- or basketball fan -- in our family.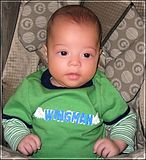 Wingman Kai
Photo edited by Sally
Unusual Choir Croons 'Wonderland'
The Eighth Day website presents an unusual "choir," including this site's favorite singer, crooning "Winter Wonderland." Clay's line is "and pretend that he's a circus clown ... "
In order, choir members are Frank Sinatra, Elvis Presley, William Hung, The Partridge Family, Willie Nelson, Macy Gray, The Andrews Sisters, Stryper, Dean Martin, Manhattan Transfer, Barney, Neil Diamond, Barry Manilow, James Taylor, Clay Aiken, Jewel, Johnny Mathis Brian Setzer, Eurythmics, Tony Bennett, and Ringo Starr.
Several of these singers, including Clay, are featured on the "Crooner's Christmas" CD. Kai's great-grandmother will be 85 on Dec. 24; and I made sure she knew to open her birthday gift early. She's been listening to old -- and new -- favorites ever since.
Below is a clickable of ABeautifulMind's opening graphic: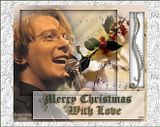 Have a wonderful holiday weekend, Clay Nation!
Caro
RELATED TAGS:
Clay Aiken
,
Christmas in the Heartland Tour
,
Merry Christmas With Love
,
Mary, Did You Know?
,
My Grown Up Christmas List
,
Don't Save It All for Christmas Day
,
All Is Well
,
UNICEF
,
Fieldnotes Blog
,
holiday recitals
,
Winter Wonderland
,
Carolina Tar Heels
,
Official Fan Club
,
Clay Nation