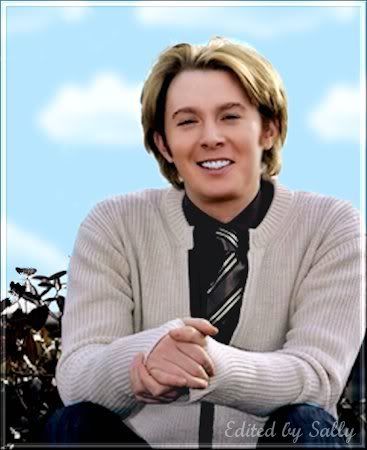 AP Photo by Richard Drew, edited by Sally
Clay Aiken, TBAF in the News
Textisms Huge Headache So Far

Since Tuesday's unveiling of Clay Aiken's new fan club format, I have studied so many links, blogs, and tables trying to unlock the secrets of Textism lingo that the left side of my brain literally aches. Not that I have too much on that side -- after all, I am a musician.

Due to a terrible case of laryngitis (we are talking everything from a three-octave speaking range and squeaky partial phrases to no voice at all!), I was forced to reschedule three new piano students for next Friday. The head of the music academy where I teach even made the phone calls for me.

Meanwhile, I don't feel bad -- no fever, no cold, just no voice. So I literally devoted much of Friday to trying to break the new Textism system of the Official Fan Club.

There has been some progress. Translation: several of us now know how to post images, clickables, links, photo links, and make minor bold/italic type adjustments. Nothing like the arsenal of HTML directives normally in hand.
UPDATE on TBAF Charity Badge: Only a few days remain for The Bubel/Aiken Foundation to secure one of the four winning positions in Parade Magazine's Giving Challenge. To earn $50,000 for five Let's All Play Camps, TBAF needs more donors of at least $10.50 (Paypal fee included) by 3 p.m. Jan. 31.

Make your donation towards the total at this link. Monday morning TBAF dropped to 5th place with 1,254 donors.
Other charities vying for the 4th spot include the Idea League, now leading with 1,380 donors, and Engineers Without Borders, 1,180 donors. Up-to-date tallies can be viewed here and periodically in this blog.
'Test Zone' Yields Some Success

English teachers tell us we are allowed a measly number of dashes in our lifetime, the quota for which I long ago surpassed. In the Textism order of things, I quickly learned that if I accidentally use a double dash, it becomes a strike-through. That, however, is a minor detail in this new scheme we fans are trying to crack.

It's all the other stuff like font face, color, size, placement that have me in a spin, so much so that Friday morning I began a running "lab" in an OFC blog entry entitled "Textism Test Zone." Throughout the day I tested, altered, scratched, and saved a variety of codes from this crazy language now controlling the OFC blogs.

It's a good thing I have a hard head because I don't give up easily. Anyone with a super duper tutorial for this "computer speak" is welcome to share the link.

We bloggers at Clay Aiken's fan club would be most grateful. I wouldn't doubt this stuff is a snap on Singer Man's cute little iPhone!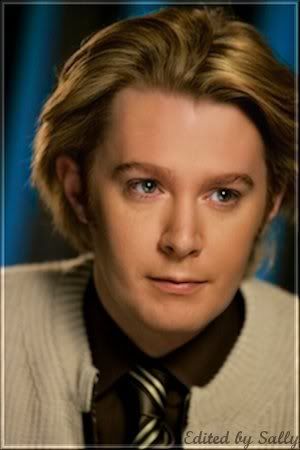 AP Photo by Richard Drew, edited by Sally
'Spamalot' Star Makes Headlines
After closing the books on the day's "foreign language" studies, I gathered some of the awesome publicity Clay and "Spamalot" have received from this week's Internet and print interviews, as well as mass media appearances. Links to on-site videos and two Sendspace downloads are included below.

Mark Kennedy's Associated Press story is still making headlines throughout North America. For longtime and new fans alike, the article is well worth the read.
These nuggets are taken from Yahoo's link: Ex-Idol Clay Aiken Slips Into 'Spamalot'. The same article with a different picture can be read at CBS News Online.
NEW YORK - Clay Aiken is trying to become the next American Idle.

The singer, who burst to fame during the second season of "American Idol," has made his Broadway debut in "Monty Python's Spamalot" - in creator Eric Idle's old role.

"There's a lot of pressure," Aiken says. "To think about how many people dream of doing something like this and to have the opportunity is pretty humbling."
[snip]

Associate director Peter Lawrence says Aiken has been no idle diva; the singer asked to be treated like any other company member and has been surprisingly fearless.

"Clay really surprised me. When you meet him, he's this sweet kid from North Carolina with an accent. And you think there's no way he can do Cambridge material. And then he does," says Lawrence.

"It's been a total delight and a surprise for me and everyone in the company to work with Clay because he can do things you'd never imagine he could do."

[snip]

"There's not really a market in North Carolina to sing for a living. There's not that career path for people. So I never really assumed or had any dreams or aspirations to sing," he says.

That changed in the seventh grade when his mother took him and a friend to a local production of the musical "Big River," starring Martin Moran as Huckleberry Finn.

"It was the first time ever that I looked on stage and saw people — you know, adults — singing. And I thought, 'Wow, wait a second. You can actually sing for a living?'" he recalls. "From that point on, I kind of allowed music to be a part of my what-I-want-to-be-when-I-grow-up scenario."

PHOTO INTERLUDE: The featured clickables parallel some of Clay's media appearances promoting "Spamalot" and his upcoming CD. Represented are visual artists Amazing_CA, 1, 2, 5; ABeautifulMind, 3; and MNmeesh, 4, screen caps by ClayIzzaQT.
Clay Appears on Morning Shows

Video of Clay's interview on the WPIX-TV Morning Show can be seen on the station's website under Celebrity Interview. Here is a Sendspace download of the CW11 interview.

The singer-actor stopped by The Morning Show with Mike and Juliet Thursday morning. A Sendspace of the appearance can be downloaded here.

Clay also discussed 'Spamalot,' his new CD, and American Idol in an excellent interview with ABC News Radio. Under "Video Search Results," click on Clay Aiken's 'Spamalot' Stint for the audio playback.

Froggy Throat Keeps Me Legal

On one front, having laryngitis during a stretch of some unusually cold weather probably saved me a traffic fine. I don't know when my new license plate arrived, but I can't tell you how surprised I was to find it while sorting through a lost stack of mail.

The new tag is dated Jan. 15, and the last time I drove my car was the 14th to teach music lessons in High Point. Because of bad weather and the Martin Luther King holiday on the 21st, my car and I have not budged.
With new pianos students on schedule, I made a music store run Thursday. With a depleted pantry, I also included the the grocery store in the morning errands.

First stop, however, was my service station. Sure enough, despite having the new plates on the front seat, if I had been caught driving with outdated tags, I would have received a ticket and - horrors! - an insurance point.

There's at least one benefit to having a resident frog camping out in one's throat!
Kai Survives Four-Month Shots
Grandson Kai passed his four-month checkup with flying colors. He now weighs 12.2 pounds and is 25 inches tall.

The pediatrician said Kai is very strong and very alert. Of course, he wasn't too pleased about the requisite six shots that accompanied this trip to the doc.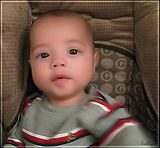 "Are you really pulling your hair
out over Textisms, Grandma?"
Photo edited by Sally
Sally's Photo Editing lessons can be viewed in the Paint Shop Pro Forum at Clayversity. Board membership is required, and other programs are discussed.

Many thnx to Ashes for including the Carolina blog in her current entry about Clay's fans from around the world. You can read her journal at Clay - The Man.

Have a wonderful weekend, Clay Nation!

Caro
RELATED TAGS:
Clay Aiken
,
Spamalot
,
Broadway
,
Sir Robin
,
The View
,
The Morning Show with Mike and Juliette
,
WPIX-TV Morning Show
,
ABC News Radio
,
The Bubel/Aiken Foundation
,
Parade Magazine Giving Challenge
,
Let's All Play Camps
,
Textisms
,
Official Fan Club
,
Clay Nation