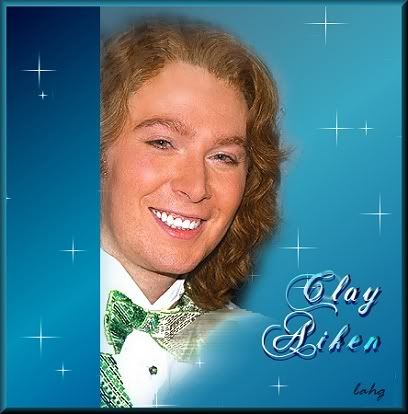 SPAMALOT STAR -- Clay Aiken opened a four-month stint as Sir Robin in the Broadway show "Spamalot" this weekend. Graphic by Claystruck.
$50,000 Goal for TBAF
Talking-a-Lot About 'Spamalot'
As Clay Aiken begins his first full week of "Spamalot" performances, fans are still sharing opening weekend experiences and enjoying watching the singer-actor promote the Broadway musical on two popular TV shows, "The View" Tuesday and "The Morning Show with Mike and Juliette" on Thursday.

In addition to the all the "Spamalot" talk-a-lot, CA fans are participating in a fund-raising project that could net The Bubel/Aiken Foundation an additional $50,000 donation.
TBAF Competes in Challenge
With less than 10 days remaining in
Parade Magazine's Giving Challenge
, the goal is to inspire enough people to donate at least $10.50 (includes Paypal fee) so that TBAF will be among the top four U.S. based groups winning $50,000.

Like last year's Kevin Bacon Six Degrees fundraiser,
TBAF
is competing with other US-based charities for one of the top four spots. There is a similar competition in play for global-based charities.

The top four charities in the two categories will be determined by the highest number of donors, NOT the total funds collected. To participate, click on the DONATE BUTTON on
TBAF Badge
with this link or the badge picture below.
Goal: Five More Camps

Winning $50,000 will translate into five more Let's ALL Play inclusive recreational camps for children with disabilities.

Currently in fourth place, TBAF Badge has registered 822 donors. The badge in fifth place badge is close behind with 730 donors. To track TBAF's progress among the charities vying for the top four spots, check here.

Make your donation soon. Parade's Giving Challenge will close at 3 p.m. EST on Jan. 31.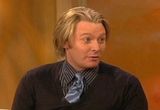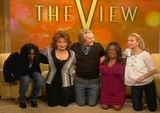 Clickable caps from 'The View' by Gerwhisp
'The View' Ladies on Their Knees

Clay made a splash on "The View" Tuesday morning, promoting "Spamalot," displaying a bit of his British accent, and answering questions from all four gal hosts at once. In one of the funniest moments on TV, he and the four women -- Whoopi, Joy, Sherri, and Elizabeth -- got down on their knees for a bit of the Russian dance he performs in the Broadway show.

Elizabeth added, "Only Clay Aiken could get us all on our knees." A video of the appearance is featured on The Huffington Post. Clay and "The View" gals are also leading AOL's Top 5 List. Drop by, and cast a vote.

You can download Tuesday's interview with this Sendspace link: The View.

Check local listings, and set those recording devices for the singer's Thursday appearance on The Morning Show with Mike and Juliette.
Opening Weekend Events Shared

Clay's debut weekend of a four-month "Spamalot" run can be termed an all-around, rip-roaring success. In these recaps, the singer-actor's supporters share their New York City experiences, conversations with Not.Just.Us fans, and surprise accolades from current cast members.
SOUTHERN BELLE: I struck up conversations with people sitting next to me at Friday's show, and they were all Not.Just.Us. I overhead a man telling his wife that "Clay Aiken is playing Sir Robin." I asked if he followed Clay, and he said he liked him on AI.

After I told him much of what I know about our singer-actor, he was very serious when he then asked me if I was Clay's mother. I told him no, but that she was there. I guess he thought no one other than Clay's mother would know so much about him.

The other man and woman next to me were from Connecticut. She followed Clay on AI, watches videos of him on YouTube, and chatted on about him. She even brought up Kimmel and how Kimmel was mean to him and now is friends with him. She is not on the boards, but I suggested she join the fan club.

The guy with her said he is such a nice, regular guy who is a star but represents us regular people. This man had seen "Spamalot" recently with the same cast, and he was blown away by the energy of the crowd which transferred to all the performances on his stage. He said the difference between the other performance and this one was startling.
It's a Small World

LIBRA1014: It's a small world. In a conversation with a patient, I mentioned that I had seen "Spamalot" on Sunday; and he said, "Oh my cousin is in it."

His cousin is Brad Oscar (played Sir Galahad's mother), and he previously was a lead in "The Producers" for a long while. He talked about how hard it is for actors to get work, his cousin is now known and has kept busy, but it is very tough for so many.

This reinforced for me what an honor for Clay to be given this role. He is surrounded by seasoned actors, and his role is that of a lead character. Stunt casting or not, for him to do so well right off the bat is pretty cool.
PHOTO INTERLUDE: This clickable collection features the talents of eight visual artists, including Amazing_CA, photo by Joan Marcus, 1; Amazing_CA, photo by Irishbookgal, 2; Katt45, photo by Marcus, 3; MNmeesh, photo by Marcus, 4; and Artz11, photos by Irishbookgal and BigAppleforClay, 5.
Cast Applauds CA Fan Support

PERMASWOONED: I think that the cast is starting to "get it" about one of the best aspects of the Clay fandom, which is many of us are willing to spread the love around. There are lots of wigs and makeup in this show, so it's easy to miss some of the cast. However, by the third show day, our intrepid band of frozen fans were able to start to pick them out.

The cast members exit and start to pass the crowd, but people call out to them and ask for autographs. They call them by their real names. They tell them how much they enjoyed their performances.
Tonight someone called out to Christopher Sieber that she enjoyed his appearance on "Pushing Daisies." He was stunned that someone would have known that he had done that and acknowledged him for it.

One of my favorites in the cast is Tom Deckman, who plays Prince Herbert and various other hilarious parts. I dearly hope that all of you still coming to the show get to see him. Most of the stage door fans love him. He got stopped for autographs and people wanted their pictures taken with him. One person after another told him how great he was in the show.

As he was signing a playbill for the person in front of me, he said, "You guys are amazing!! You are so supportive. I can't tell you how appreciative all of us are for that."

ROCKYS MOM: One of the funniest things that happened to me was at the Sunday matinee. I showed my ticket to the usher and as she was handing me my playbill, she looked at me and deadpanned, "You again???"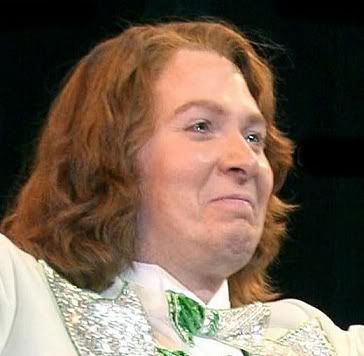 Photo links to Debut Weekend Slide Show
The above Spamalot Debut Weekend Slide Show contains photos by Irishbookgal, Toni7babe, Scrpkym, Solitaire30, Butterflyshine, BigAppleforClay, as well as professional photographers J.Pellegrini, Steven A. Henry, Joan Marsh, and Bruce Glikas.
More 'Spamalot' Headlines

Clay's debut is featured in People's "Star Tracks": Getting Spammed.

In the video Spamalot Royal Tour, David Birrell takes the viewer on a tour backstage at the Palace Theatre with intros to his fellow cast members and glimpses of a some scenes and props. Hannah Waddington, who debuted as Lady of the Lake in the Broadway show on Friday night, is among those featured in the video.

Opening weekend photos by Bruce Glikas are featured in an album on Broadway.com. See more debut photos by Walter McBride at Broadway World.
Below is a clickable of

Claystruck

's opening graphic.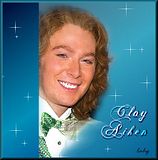 Have a wonderful week, Clay Nation!

Caro
RELATED TAGS: Clay Aiken, Spamalot, Broadway, Sir Robin, The View, The Morning Show with Mike and Juliette, The Bubel/Aiken Foundation, Parade Magazine Giving Challenge, Let's All Play Camps, People Star Tracks, Broadway.com, Broadway World, Official Fan Club, Clay Nation