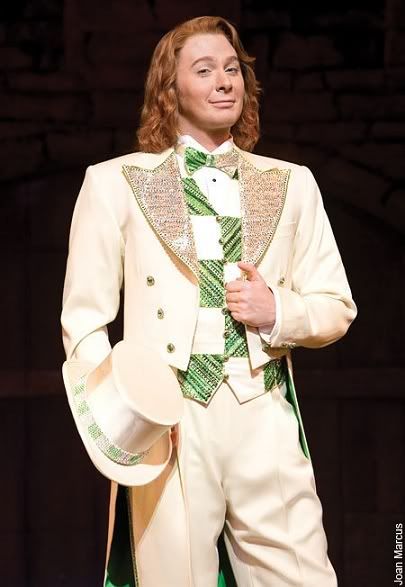 Clay Aiken as Sir Robin in 'Spamalot' -- Photo by Joan Marcus
New CD Slated for Spring
Clay Aiken Debuts as Sir Robin
Early reports Friday night were that Clay's Broadway opening was fabulous. Much, much more to follow. -- Caro
On every street corner, there's news of Clay Aiken's Broadway debut as Sir Robin in Monty Python's Spamalot plus promising talk of a spring release for the new CD of original material. Needless to say, the excitement gauge throughout the singer's fan base is registering record peaks.
Joan Marcus' lead photo from Sir Robin's final scene in "Spamalot" has accompanied several media reports this week, one of the first being Wednesday's Page Six story.
This first "look of Clay" has already found its way into message board avatars, banners, wallpapers, and many news releases.
Clay Aiken's Big Knight
New Friday -- and a great read! -- is the column by Joe Diemianowicz in the New York Daily News, Clay Aiken's Big Knight on Broadway:
Pop singer, how-to author and now, Broadway hatchling, Clay Aiken debuts Friday as Sir Robin in "Monty Python's Spamalot," the squirrely musical spoof of the Arthurian legend.
[snip]
Aiken has been relishing working with legendary director Mike Nichols. "He knows so much you have to be a sponge around him," he says. "He's the funniest person I ever met, so dry and wise."
'Spamalot' Welcomes Trio of New Stars
According to Playbill.com, the "Spamalot" curtain rises for three new Broadway cast members Friday night.
On Jan. 18 Monty Python's Spamalot, the Tony-winning musical at the Shubert Theatre, welcomes "American Idol" finalist Clay Aiken, West End leading lady Hannah Waddingham and the return of original cast member Christopher Sieber.
Aiken is making his Broadway debut in the roles of Sir Robin/Guard/Brother Maynard, which were originated on Broadway by Tony winner David Hyde Pierce. Aiken's stint is currently scheduled to continue through May 4.
Fans gathering in New York for opening night have reported that Clay's image as Sir Robin is gracing city buses advertising his starring role in "Spamalot." These are clickables of the Shubert Theatre marquee and a NYC bus.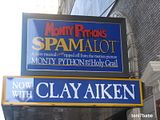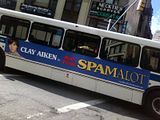 Photos by Toni7babe and Butterflyshine
Like the story in Broadway World, press releases prasie Clay's impressive biography as a multi-platinum singer and best-selling author with six successful tours under his belt.
Another good read is The New Yorker's GOINGS ON column: The Holy Grail From Eric Idle to Clay Aiken.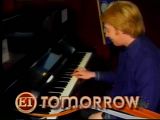 Screen caps and photo editing by Sally
ET Features Final Rehearsals
Last-minute rehearsals for Friday's "Spamalot" opening and Clay's take on the press are featured in Thursday's ET appearance, which can be downloaded with this Sendspace here.
Clay emcees the very interesting video accompanying the story at ET Online. This is part of the story appearing on the site:
CLAY AIKEN makes his debut amid the bright lights of Broadway on Friday, January 18, in the musical version of "Monty Python's Spamalot," but first, the former "American Idol" contestant chats with ET about his news-making interview with "Newsweek" magazine, his take on Britney Spears, and the new season of "American Idol."
Gerwhisp capped the preview video for Thursday's segment. Here is a Sendspace download of the preview.

Clay Aiken Invades Broadway
Below is an excerpt from from Clay Aiken: The pop idol makes a surprising Broadway debut, currently featured at Time Out New York:
On the phone, though, the lightning rod sounds utterly harmless, talking a mile a minute in a Southern accent and often bursting into high-pitched laughter.
Before making his Broadway debut in Spamalot this month, Aiken called TONY from a tour stop in Jersey City to gab about "Claymates" and stage crapping.
SO SPAMALOT ISN'T HOW ONE EXPECTS CLAY AIKEN TO INVADE BROADWAY?
And tell me why not! [Laughs]
WHAT WILL YOUR FANS THINK OF THAT?
If I've learned one thing in the past five years, it's that you'll never please everybody. But the people who've been so supportive of us, they trust us enough to have some fun here and there, and be a little irreverent. I won't be soiling myself for the rest of my life.
People: Clay Aching from Prepping
On Thursday, Stephen Silverman weighed in on at People.com with Clay Aiken Aches from Prepping for New Role:
It may be a long leap from Raleigh, N.C., to the kingdom of Camelot – with a memorable stop on American Idol in between – but Clay Aiken is apparently ready to take his seat as Sir Robin at the Round Table.
[snip]
It will remain to be seen if Aiken's acting and dancing can measure up to his singing, CD-selling (6 million) or even his candor – as well as who's really tougher, Simon Cowell or New York theater critics. Aiken is due to remain with the show through May 4.

PHOTO INTERLUDE: Graphics and a mosaic celebrate Clay's "Spamalot" debut in this clickable interlude. Four feature the photos of Joan Marcus. Graphic artists include Amazing_CA, 1; mosaic by ClayIzzaQT, 2; Ashes, photo by Katy4Clay, 3; Artz11, 4; and Shyeyewitness, 5.


An Album of Original Material
The upcoming CD was discussed in an interview published in American Idol News earlier this week. In addition, the story covered Clay's "Spamalot" debut, his charity work with The Bubel/Aiken Foundation and UNICEF, and the support of his loyal fans, the Claymates.
Even with a grueling rehearsal schedule for his upcoming role in the Broadway show SPAMALOT, Clay Aiken conveyed nothing but high energy and endless enthusiasm during his interview with American Idol.com.
This certainly isn't due to him getting a lot of rest these days, however. As Clay so bluntly put it, the rigors of Broadway are "kickin' my butt!" With the debut of SPAMALOT on Friday, his schedule will only get busier.
The show will run once a day from Tuesday to Friday and then twice on Saturdays and Sundays! As Clay relayed, having to put together all the acts of singing, dancing, playing piano, and speaking in an accent is more than he ever expected!
[snip]
"Claymates," as his fans are often called, can expect something huge in return for their loyalty-a new album by Clay! While his last album was something that was desired by others, Clay says that this album contains music that is definitely desired by him. It is also the first time he is having one producer help him to put out the entire album.
The result, he says, will be an album of original material that is consistent in its sound and its message to his fans-look for it to hopefully be released this May.
Clay Corner on 44th Street
Fans can keep up with Clay's blogs at the Monty Python Spamalot website by clicking on "All Things Aiken."
Singer Man has now been added to the show's roster of characters.


Meanwhile, back on the message boards, "Spamalot" debut celebrations continue to accelerate amidst last-minute packing, coordinating alarm clocks for 3:30 a.m. train departures, and all the what-nots of traveling in winter.
At Clayversity, members have captured the excitement and spirit of the occasion with an outpouring of limericks. With permission, the three featured here were penned by ncwannabe, roadnottaken, and clayalwaysandforever, respectively.
The lights on Broadway shine bright
As behold -- the magnificent sight
Clay soars in this show
No denying -- we know
He's amazing -- THIS is the Knight!



There once was a novice to Camelot
Where they ate bread and jam with their Spam-a-lot.
His fans came to cheer
As he busted his rear --
In just a few days he had to cram-a-lot!




I can see it now
Robin's takin' a bow!
The audience screamin'
Sir Robin is beamin'
The Shubert is shakin'
It's been takin' by Aiken!
Want to add a verse to the festivities? Technically, a limerick has five lines with three metrical feet in the first, second, and fifth lines and two metrical feet in the third and fourth lines. The rhyme scheme is usually AABBA.
In this clickable, grandson Kai is celebrating his four-month birthday with one of his favorite toys.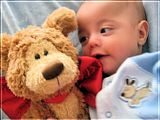 Have a wonderful weekend, Clay Nation ... and break a leg, Clay!
Caro
RELATED TAGS:
Clay Aiken
,
Spamalot
,
Monty Python Spamalot
,
Broadway
,
Sir Robin
,
Joan Marcus
,
Broadway World
,
Entertainment Tonight
,
Time Out New York
,
People
,
American Idol News
,
limerick
,
Claymates
Official Fan Club
,
Clay Nation