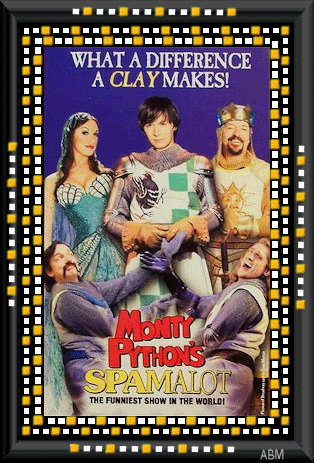 Graphic by ABeautifulMind
Aiken Fans Counting Down
'Spamalot' Curtain Rises Jan. 18
With digital precision, message board countdowns are steadily ticking off the seconds until Clay Aiken's opening performance in the Broadway show "Spamalot" Friday, Jan. 18, at the Shubert Theatre.
Fans -- especially the "southern magnolia" variety -- are cautiously packing layers of long underwear for the initial weekend's predicted temperature span of 21-degree lows to a three-day average high of 33. If I were heading to New York City for the big opening, I would probably follow suit.
Publicity for the new Sir Robin this weekend has rivaled that of state presidential primaries, claiming at various times a spot among Top Picks on MSN and other media sites.

Show Anticipates Feat of Clay
'Spamalot' Has Feat of Clay wrote Liz Smith in Sunday's New York Post:
GET READY! "American Idol" superstar Clay Aiken joins the Tony Award-winning musical "Monty Python's Spamalot," making a line at the stage door of the Shubert Theatre on West 44th Street beginning Friday. And he'll stick with this hilarious show through May 4.
Director Mike Nichols: "Clay is amazing, beyond that glorious voice. Turns out he is an excellent comic actor and a master of character. People are going to be surprised by his wide-ranging talent, since the first impression is of great country charm and a singer to remember.
"This guy is not only a star; he is a lot more. We're lucky to get him for 'Spamalot'!"

Singer Discovers Unused Muscles
Appearing on many news sites throughout North America is the Associated Press story Clay Aiken Didn't Get 'Python' at First, an example being reports at Mercury News and CNN:
NEW YORK -- Clay Aiken, who joins the cast of "Monty Python's Spamalot" this week, says its humor was initially lost on him.
"The first time I saw it I thought it was the stupidest thing I'd ever seen in my entire life," the "American Idol" runner-up told Newsweek. "My tour drummer is the 'Spamalot' drummer, and (he) said you've got to see it again."
Describing how sore he is from January rehearsals, Clay added, "It hurts so bad. I don't know if it's I'm not coordinated or using muscles I never had to use before."
Aiken Fans Applaud Quiana's Debut
Accompanied by his touring family and many area fans, Clay accorded Quiana Parler well-deserved kudos at her debut performance in the starring role of Effie White in the NC Theatre's production of "Dreamgirls" Saturday night.
With Clay at the opening of the show's two-week run in Raleigh were Sean McDaniel, Mary Brennan, Jamie Braswell, Angela Fisher, and her son Ivory.
Bravos, recaps, and photo-audio-video "quack" of Quiana's performance have been shared throughout Clay Cyberspace since Friday's dress rehearsal-preview show for students and educators.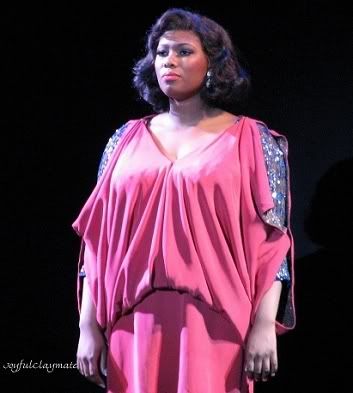 Photo links to Quiana Parler's performance.
The above photo by Joyfulclaymate links to a YouTube video of Quiana singing "I'm Telling You" from "Dreamgirls."
Unfortunately, the video has since been removed; but here are Sendspace downloads for the song in small wmv video and mp3 audio files.

'Quiana Is Effie!'
In his OFC blog, Clay praised his singing partner's opening night performance and declared "Quiana IS Effie!" Urging his fans to procure tickets to one of the remaining shows, he also related his epiphany regarding rehearsal routines for musicals.
"When I was spending my last week in Raleigh before moving to NYC, Quiana was in rehearsals, coming home at night so tired and going straight to bed. I complained at the time that she was exaggerating. She COULDN'T be THAT tired.
"But when I got to NYC and started my rehearsals, I had to call her back and apologize because I completely understood what she was going through."
Remaining performances of "Dreamgirls" include Jan. 15-18, 8 p.m.; Jan. 19, 2 p.m. and 8 p.m.; Jan. 20, 2 p.m. and 7 p.m. For ticket information, contact Ticketmaster. For production information, visit NC Theatre.
PHOTO INTERLUDE: Represented in this clickable interlude are nine talented visual artists, including MNmeesh, photos by Tangerinee and dc4clay, 1; Invisible926, photos by Toni7babe, 2; ABeautifulMind, photo by KarenEh, 3; Ambassador of Love, photo by KarenEh, 4; and Amazing_CA, photo by KarenEh, 5.
Football Plays Havoc with 'AI2 Rewind'
Due to professional football playoffs, it took me all weekend to stumble onto AI2 Rewind, Group 2. A little after 2 p.m. Sunday I turned on my TV thinking there would be a football game and found myself in the midst of Rewind at a most unusual time.
Ruben Studdard sang "Superstar"; Kim Locke, "Over the Rainbow"; and Clay, "Open Arms." As CA fans know, America voted Ruben and Kim through to the next round. Clay went home to Raleigh but, thankfully, was called back a few weeks later for the Wildcard competition.
If you missed the show, you can download Clay's portions in AI2 Rewind with this Sendspace link: Group 2.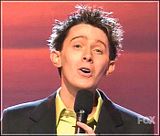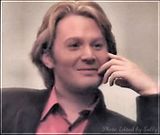 FIVE YEARS -- The screen cap at left is Clay singing "Open Arms" in
AI2's Group 2 Round. At right, he is pictured during last weekend's
Golfing for Inclusion fundraiser in Palm Beach, FL.
Season 2: Then and Now
In Clayversity's main thread, "Clay Matters," Foothillgirl composed an excellent summary of this week's Rewind segment. With her permission, here is a portion of her post:
Even after Simon gave Kim a hard time, he managed to pimp her and Ruben for the rest of the episode, repeating those two names over and over.
Then Rube admitted that he and Michael Orland couldn't get their timing in synch with his original song, so he reverted to one he had already sung. Kim did the same song she sang in Hollywood, too.
It must have been so difficult for Clay to get his hopes up to be in the Top 3 of his group only to be denied the chance to go on. He was very brave and a good sport, grabbing Rube's hand when he was announced, holding it high like a boxer who had just won his fight.
And then in the current day interview, Ruben says he thought Clay was heavy competition and he thought to himself: "All right; he's goin' home!"
But look where they all are now.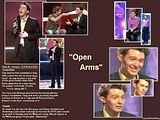 'Open Arms' Wallpaper
Compiled by Fountaindawg
In preparation for Tuesday's start of the seventh season of American Idol on FOX, Erika Ray of the Toledo Blade reviewed past AI stars in her column Sunday. This is Clay's paragraph, and you can read about others at the link provided:
The wildly successful Clay Aiken, who ultimately finished in second place behind Ruben Studdard in Season 2, was cut early, and then brought back for the wild card round. Since his time on Idol, he has released four albums, has gone on twice as many tours, and has seen remarkable commercial success.
And look where they all are now ...
Totally unrelated, here is a clickable of grandson Kai and Gabby, photo edited by Sally. *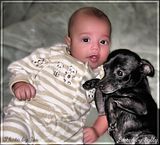 * A "before" picture and step-by-step editing techniques she applied are outlined in Clayversity's Photo Editing Thread. You can read more about CV's Paint Shop Pro Forum in the 1/6/08 blog below.
Have a wonderful week, Clay Nation!
Caro
RELATED TAGS:
Clay Aiken
,
Spamalot
,
Broadway
,
Sir Robin
,
Mike Nichols
,
Quiana Parler
,
Dreamgirls
,
NC Theatre
,
AI2 Rewind
,
American Idol
,
The Bubel/Aiken Foundation
,
Golfing for Inclusion
,
Official Fan Club
,
Clay Nation