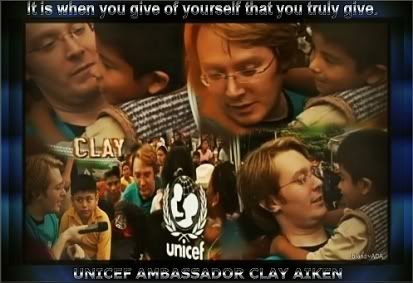 MAKING A DIFFERENCE -- This beautiful graphic by Amazing_CA portrays scenes from Clay Aiken's holiday trip through the devastating flood areas of Mexico. His challenge for assistance with UNICEF projects there currently stands at $109,850 -- 110% of the original goal.
Aiken Fans Replay 2007
Soup Recipes Ease Winter Chill
Only a few hours old, 2008 blew into Carolina with blustery winter conditions for the mountains and bone-chilling, gusty winds for the middle of the state.
As I watched reports of the atypical southern weather, my thoughts naturally transitioned from the continuous parade of wind chill factors to favorite soup recipes. In a previous blog, I shared some of these cold weather dishes; but, typically, the versions printed below have endured many alterations.
While excitedly anticipating Clay's Jan. 18 Broadway opening as Sir Robin in "Spamalot," I, like most CA fans, have enjoyed this week's steady stream of 2007 replays by montage creators and graphic artists. The photo interlude below also reflects attention to the annual rewind.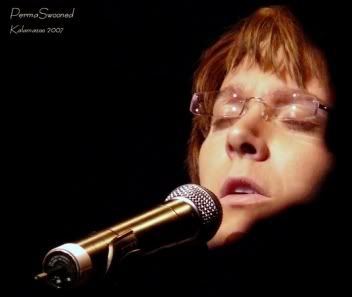 Photo links to '2007 Year in Review'
An outstanding example of the many memorable montages is Dreamlarge's "2007 Year in Review." Clicking on the above photo by PermaSwooned will link to the video at YouTube.
To download of the montage, visit Clack Unlimited. Also, here is a Sendspace wmv file: 2007 Year in Review.
Crock Pot Knocks Correct Notes
Several years ago when my week included 55 private students and a growing family, my slow cooker was probably the most used appliance in the kitchen, making it possible for me to fulfill dinner preparation and an afternoon of music lessons at the same time.
Enticing aromas from the trusty crock pot wended their way into the studio and almost always had the latest students thinking more about supper than key signatures, much less correct notes.
Kicking off this winter sampling is Cabbage Bean Soup, a family favorite from the beginning. The "framework" for this recipe can be located in the Harpeth Valley Elementary School Cookbook, purchased during a PTA fund-raiser in Nashville, TN.
Typically, I experimented with the original from the get-go. Since our family enjoyed hot, spicy flavors, I don't think I ever prepared this soup the same way twice.
There are several variations available for Cabbage Bean Soup on the Internet. For example, the recipe can be prepared in a slow cooker (4 hours on high or 6-8 hours on low) or in a Dutch oven on top the stove. An array of substitutions can be applied, and some of my alterations are provided within the ingredient list.

CABBAGE BEAN SOUP
1 T. vegetable oil
1/2 to 1 pound low-fat ground turkey, beef, or meatless ground burger [Best combination is part ground turkey and part turkey sausage, chopped. The sausage adds lots of flavor.]
1 large onion, chopped
1 small head cabbage, chopped
1 can (16 oz) can stewed tomatoes (Mexican, Italian, Cajun)
[Optional addition: 1 can tomatoes with green chiles]
2 (16 oz) cans red kidney beans [mix or substitute pinto, navy, black beans]
2 cups (or cans) water
1 can (16 oz) can tomato sauce (chunky, garlic, plain)
1-2 beef/chicken-flavored bouillon cubes or Better Than Bouillon equivalent [Option: the original recipe called for 2 cans beef or chicken broth; if I use bouillon, I make up for the liquid with water.]
1 1/2 teaspoons ground cumin
Spices to taste: garlic, Italian seasonings, red pepper flakes, cilantro, etc.

Brown ground turkey or beef with onion in a skillet, using 1 T. vegetable oil. Cook until meat is well browned and crumbled. Drain fat; transfer meat and onion to a large pot along with all other ingredients except the cabbage. Cook for an hour and a half. Add the cabbage at the halfway point. Serve with cornbread or crackers.
Makes 10 servings, which -- for me -- means lots of leftovers that can be frozen and reheated in the microwave for lunches and/or dinners.

MEXICAN CORNBREAD WITH GROUND MEAT
I was given this recipe by a dear friend in Odessa, TX, years ago. The 3x5 recipe card is now splotched from time and spilled ingredients, as I prepared this dinner often after being transplanted to Texas.
The main dish consists of cornbread with a center of ground meat, onions, green chiles, and shredded cheese. A side salad with the cornbread dish has been a popular combo in our home.
At first, I prepared Mexican Cornbread as printed below. However, with time constraints as a teacher and mother, in later years I substituted instant cornbread mixes. Prepare according to the mix recipe, adding the cream corn of the scratch version.
CORNBREAD

1 C. yellow corn meal
2 eggs, beaten
1 C. milk (any per cent)
1/4 C. yellow cream corn
1/2 tsp. soda
3/4 tsp. salt
1/3 C. vegetable oil

Mix all of the above well, and set aside; or do the same with the cornbread mix and cream corn.
FILLING
2 T. vegetable oil
1/2 to 1 lb. ground meat (turkey, beef, meatless burger)
1 large onion, chopped
1 small can chopped green chile peppers
Grated 2% cheese

Saute 1/2 to 1 lb. ground meat and one large chopped onion with one T. vegetable oil. Drain on paper towel. Mix with one small can copped green chile peppers (mild or hot). I have even prepared this dish one half hot peppers and the other half mild (even bell peppers).
Grease the bottom and sides of a large iron skillet with remaining tablespoon of vegetable oil. Sprinkle with corn meal, and brown briefly to help form a crust. Pour half the batter into the pan.
Sprinkle grated cheese evenly over the batter. Add a layer of the meat, onion, and peppers. Pour remaining batter on top. Bake 45-50 minutes at 350 degrees.
What does all this have to do with Clay Aiken? Nothing -- unless he wants to try an alternative to his favored tacos!
PHOTO INTERLUDE: These clickables include fall/winter events, a full-year recap, and a look toward Clay Aiken's upcoming starring role on Broadway. Featured are graphics by Artz11, photos by SmartyPantsSuz, PinkCocoa, and FiveGoldens, 1; Cindilu2, photos by BigAppleForClay, 2; Fountaindawg, 3; Katt45, photos by FiveGoldens and KarenEh, 4; and Artz11, photos by Toni7babe, Snix, and Tangerinee.


Cooking for Just One
Though less time-consuming, preparing meals for just one can sometimes be a challenge. Always seeking ways to simplify, I created a winter soup recipe with that in mind.
My bywords in cooking are "simple" and "substitution," so feel free to create your own variations. Just be sure to share your findings, LOL!
These ingredients can be multiplied to yield servings for any number of people. Preparation time for just me is around 10 minutes.
SIMPLE SOUP for ONE
Cook the following -- approximately 1/4 cup for the vegetables -- in a microwave-proof bowl for 2-3 minutes:
Onion
Frozen bell pepper strips (red, yellow, green)
Frozen corn
Frozen lima beans
Three-inch link of turkey sausage, chopped

Variation 1: Use one inch of the turkey sausage and a portion of shredded chicken, meatless burger meat, ground turkey, shredded chicken alone, etc.

Variation 2: Add of a little bit of wine -- or a few drops of vinegar -- when the vegetables are cooking. Both yield a distinctive flavor difference.
Add these ingredients, and microwave all for another two minutes:
3 T. canned black beans (or another variety)
Half a can of Mexican-flavored stewed tomatoes (alternates include stewed tomatoes, Italian-flavored stewed tomatoes, etc.)
Water or small amount of tomato juice
Spices to taste -- I use cumin, red pepper flakes, and Mrs. Dash Italian seasonings
2-3 T. shredded 2% cheese on top

Result: A warm, tasty one-dish meal in record time!
BAKED POTATO PLATE
One large baking potato
Onion
Frozen bell pepper strips (yellow, red, green)
Frozen (or fresh) broccoli
One serving of turkey sausage, crabmeat substitute, or meatless burger crumbles Canned black beans
Heart-healthy margarine
Seasonings to taste: Mrs. Dash (Italian Medley, Southwest, Lemon Pepper), cayenne, etc.
Shredded 2% cheese
Wash, punch holes in the skin, and microwave the potato on a plate until done, about 6-7 minutes. Cut in half, and refrigerate one portion for another meal. In a bowl, microwave onion, bell pepper, frozen broccoli, and meat.
Drizzle 2 T. black beans (with juice) over the potato half. Dot with margarine. Spread the vegetables and meat over this, and top with shredded cheese.
Run the "loaded" potato back through the microwave for 1-2 minutes. If desired, add a dollop of fat-free sour cream.
Result: A simple, healthy, delicious meal-in-a-dish for one!
Variation: Cube or slice the potato, and it will cook faster. Instead of broccoli, use frozen peas with onion and bell pepper strips.
Instead of the heart-healthy margarine, mix together (1-2 tsp.) mustard and low-fat mayonnaise. Toss with the cubed/sliced potato, sausage, peas, and the spicy seasonings. I sprinkle 2% cheese on top and nuke until melted.
Grandma's Swinging Morning
Reviewing cold weather recipes only took up part of my morning. Despite the expected holiday depletion of funds, my credit card and I marched into Amazon and with a couple of clicks sent a much-needed swing westward to grandson Kai.
His mother happily grew up swaying in the old wind-up variety that apparently has departed the planet in the manner of a dinosaur. I notice that many young parents writing reviews about the new-fangled replacements are also questioning the reasoning for the demise of the good ole wind-up version.
No matter, Kai will soon be swinging side to side and front to back to gentle sounds of nature and 12 different songs that range from soothing nap accompaniments to upbeat playtime tracts.

Meanwhile, Grandma Caro enrolled two new students and is steering the budget back into a safe stratosphere. Still, a Publisher's Clearing House win would be most welcome!
Below is a clickable of AmazingCA's lead graphic:

Have a wonderful week, Clay Nation -- and tell us what's simmering on your back burner!
Caro
RELATED TAGS:
Clay Aiken
,
UNICEF
,
Mexico
,
floods
,
montage
,
2007 Year in Review
,
Spamalot
,
Broadway
,
Sir Robin
,
crock pot
,
Cabbage Bean Soup
,
cooking for one
,
swing
,
Official Fan Club
,
Clay Nation