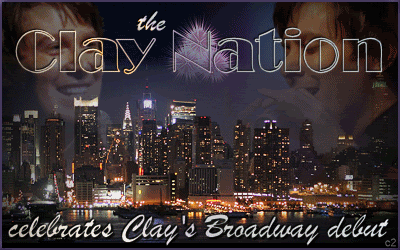 OPENING NIGHT -- Cindilu2's animated design with photos by KarenEh commemorates Clay Aiken's Jan. 18 debut in the Broadway show "Spamalot."
Countdown to Broadway Debut
Aiken Fans Set for 'Spamalot'
Clay Aiken is heading to the Great White Way ... From "American Idol" to Eric Idle's "Spamalot" ... Clay Aiken has found his Holy Grail: musical theater ... Clay Aiken Gets Medieval ... From tour-a-lot to "Spamalot" ... American Idol runner-up Clay Aiken is tackling the boards on Broadway ... "Spamalot" Rolls Out the Red Carpet for Claymates ...
Remember these clever leads from the October press releases announcing that Clay Aiken will join the hit Broadway show "Spamalot"? In rehearsals now, Clay will play Sir Robin Jan. 18 - May 4.
With a book by Eric Idle, "Spamalot" is based on the screenplay from the wisecracking film "Monty Python and the Holy Grail" and won the 2005 Tony Award for best musical. Although Sir Robin was played by Idle in the original film, the Broadway role was originated by David Hyde Pierce.
For CA fans, a memorable paragraph from most releases was this quote by director Mike Nichols:

"Clay Aiken is amazing beyond that glorious voice. Turns out he is an excellent comic actor and a master of character," original "Spamalot" director Mike Nichols said in a release.
"People will be surprised by his wide ranging talent, since the first impression is of great country charm and a singer to remember. This guy is not only a star, he is a lot more. We are lucky to get him for Spamalot."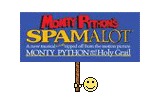 Internet Boards Bouncing
With less than two weeks before opening night, "Spamalot" threads on CA message boards are beehives of activity as fans finalize show tickets, accommodations, and gatherings for their time in the Big Apple.
Scroll through Clay Cyberspace, and you will be met by "Spamalot" emoticons and avatars bouncing throughout posts and threads, leaving no doubt about this month's headline topic.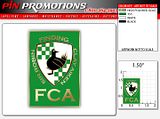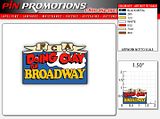 Clickable proofs of FCA's 'Spamalot' pins
FCA Celebrates with Special Pins
Clay's four-month run on Broadway is longer than most tours, which are usually commemorated by special pins. Finding Clay Aiken is doing just that with a selection of two "Spamalot" pins designed by Cindilu2.
According to Couch Tomato, all fans are invited to participate. You can place an order for the "Finding Sir Robin" and/or "Doing Clay on Broadway" pins at the linked site.
FCA ships to all countries. A donation from the proceeds will be made to The Bubel/Aiken Foundation.
Guests are welcome at FCA. For a tour of the site, use these links: FCA Forum (main thread: "Let's Talk About Clay"); FCA Website; and FCA Media.
Adding to the excitement in Clay Cyberspace are increasingly more frequent print, mass media, and Internet advertisements. The clickables below are a New York Times flyer and an ad on the Yahoo site:
'Spamalot' Playbill for Opening Night
A Spamalot playbill designed to coincide with Clay's opening night is available for pre-orders of $10, regular, and $17.95, collector's display. The Playbill Store is taking orders as described below:
By popular demand, PlaybillStore.com is pleased to make the Spamalot Playbill featuring Clay Aiken in the production credits available to his fans who will not be able to attend the Broadway show at the Shubert Theatre in New York City; or who wish to have more than the one copy audience members receive at each performance.
Inside the Playbill you'll find Clay Aiken billed on the title page of the production credits section. In the production credits section you'll find Clay's headshot, along with the headshots of the other cast members, as well as his bio and the bios of the rest of the cast and the production team.
The Spamalot Playbill featuring Clay Aiken in the credits is guaranteed authentic, sealed in a custom fitted vinyl bag, and mailed in protective packaging. Shipping and handling are included in the purchase price. PlaybillStore.com does not ship outside the USA.

PHOTO INTERLUDE: These clickable graphics feature graphics by nine visual artists, including Amazing_CA, photos by KarenEh, 1; Ashes2, photo by PinkCocoa, 2; Artz11, photos by Toni7babe and dc4clay, 3; Amazing_CA, photos by Invisible926, 4; and Ambassador of Love, photos by KarenEh, 5.


Paint Shop Pro Forum Remodels
This weekend Clayversity's Paint Shop Pro Forum unveiled the first of several remodeling phases, and we invite all who use or want to learn more about photo editing and graphics creation to join us there.
Moderators of the forum include Sally, Cindilu2, and yours truly. Very much a novice, I am pretty sure I am there to edit any misuse of commas and semi-colons, LOL!
Membership at Clayversity is required. Located in CV's Department of Fine Arts, the PSP Forum was created in 2005 by Sally to share techniques, tutorials, and resources.
Many graphic artists who began as students have become teachers, and the forum is designed for sharing and problem-solving at many levels. Questions are encouraged and usually answered promptly.
Gallery, 3-T, Photo Editing Underway
Among the new threads is the GALLERY, a virtual display theater where graphic artists can post their work. A "view only" thread, no comments appear here. Typical of the creations on display are selections in this blog's regularly featured Photo Interlude.
A second new thread -- TIPS, TREASURES, and TRIBUTES -- is a place where artists/students (and we are all learning!) post thumbnails of their latest design with a brief description of techniques used. The main purpose of this section is to share knowledge; thus the subtitle reads "Learning and Sharing Together."
PHOTO EDITING focuses on the sharing of techniques for this aspect of photography. Its subtitle is a promise: "Turning Good Photos Into Great Ones!"
Below is a clickable of the Golfing for Inclusion photo taken by Katy4Clay that Sally edited. You can see the BEFORE and AFTER plus read what she did in the Photo Editing thread of the PSP Forum. I liked it so much that I made it my new avatar.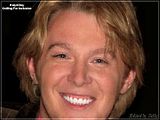 Clay at Golfing for Inclusion
Photo by Katy4Clay
Edited by Sally
Feedback and comments are welcome in both the 3-T and Photo Editing threads.
New Aspects Outlined in Overview
The places to start, however, are the pinned Introduction and Sally's Jan. 4 overview in the Announcements thread.
As a new grandmother regularly receiving digital photos from a distance, I am very interested in photo-editing. Besides the new thread, there are plenty of tutorials and lessons to keep everyone busy.
I have not tried creating blends or graphics. While my daughter has picked up several photo tips from Sally, I have learned a little about photo-editing/enhancement. This is from my recent PSP post on the subject: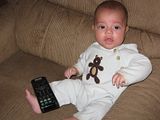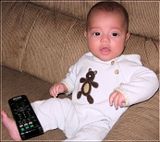 Original and edited clickable photos of Kai
These are BEFORE and AFTER versions of a new photo of grandson Kai. We have his mother shooting with her camera set at a very high resolution, so the photos are gigantic.
The first thing I had to do was crop and resize the picture. Among the editing tools I used under ADJUST were Smart Photo Fix and Skin Smoothing.
Left Click To Soften
I had sharpened too much, so Sunday I received a lesson from Sally using the Soften Brush. The first time I took the brush all the way around Kai without holding down the left-mouse button, so you pros can imagine my wondering why nothing seemed to be happening.
When I discovered my error, I repeated the step, holding down the left-mouse button, also softening the bear on Kai's outfit and the remote control. I understand my grandson is quite adept at punching those buttons.
Since Kai's head was so close to the top of the picture, I added a very small bevel frame from my plug-ins, using a small "6" pixel setting under EFFECTS.
Come join us in Clayversity's PSP Forum. Plan to share what you know and learn something new!
Music lessons resume Monday. Have a wonderful week, Clay Nation!
Caro
RELATED TAGS:
Clay Aiken
,
Spamalot
,
Broadway
,
Sir Robin
,
Mike Nichols
,
Eric Idle
,
pins
,
Spamalot Playbill
,
Paint Shop Pro
,
photo editing
,
graphics
,
Official Fan Club
,
Clay Nation