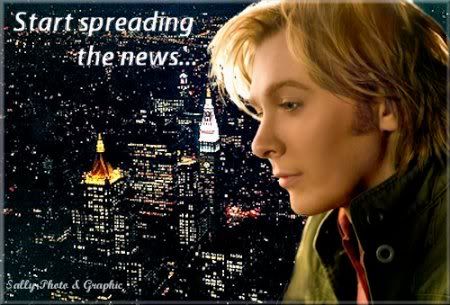 SPREADING THE WORD -- With "On My Way Here" cover art and her picture of New York City, photographer-graphic artist Sally captures the week's theme of many Clay Aiken fan sites.
Clay On His Way Here!
CD News Permeates Web
It's amazing how a picture says in one blink what this blog will reiterate in a collection of words, hopefully totalling no more than the photo's 460 glorious pixels.

My friend Sally shot the beautiful photo of New York City's skyline on her recent trip to see Clay Aiken perform in "Spamalot." Last week she combined it with the cover art for the singer's upcoming CD, "On My Way Here," in a graphic with a timely theme already in vogue on most fan boards: Start spreading the news!
'USA Weekend' Spotlights Clay
In Lorrie Lynch's USA Weekend "Who's News" column, Clay Aiken Talks Music, Acting, and Talk, the singer discusses a variety a topics: Acting, Touring Other Countries, Touring in General, Producing Others, Talk Show, NYC vs. NC, the New Album, and Music vs. Lyrics.


I have some disappointing news for all the true Clay Aiken followers out there — the man is going to take some time off. His run in Spamalot comes to an end May 4 and his new album, On My Way Here, comes out May 6. He'll do some album promotion and, yes, he will eventually tour in support of it, but not anytime soon. Because my time with him was limited I did not take all the specific questions I got from you (we got more than 350 posts). So I organized the relevant ones by topics. Here's what he said on:

ACTING: "I enjoy being myself more than I enjoy being somebody else." In other words, he has enjoyed working in Spamalot but he's not looking for another Broadway role, nor is he looking to do movies, as some of you wanted to know. Clay always leaves the door open — so he says that if the right opportunity came along he would look at it — but made clear he is not actively pursuing acting.

TOURING IN GENERAL: "I'm taking a break," Clay said. He knows that you all want to see him again, and acknowledged that there were some press reports that he would tour this summer but "we never said we were planning on touring this summer. Do we plan on touring for this (new) album? Yes. But not this summer." Clay says he hates to be "a bubble-burster" for those of you looking forward to it but, for one thing, "there hasn't been enough time to put (a tour) together."

THE NEW ALBUM: "I know a lot (of the fans) like to like everything I do," Clay says, but on the new album there will be something everyone won't like, but also something everyone WILL like. A lot of you want Clay to rock out, or as he calls it "do rockin' songs" — and he says on the new album he does — but it's hard for him to find such songs. "I can't find one I'm comfortable with." He was reluctant to pick a favorite or signature song from this album but eventually said the song "Something About Us" could be it.
The entire article can be read here

CD Promos Roll: AI Extra, Official Release
The singer's "Spamalot" interview with American Idol Extra aired on the Fox Reality Channel Thursday. If you missed the show, here is a Sendspace download: AI Extra. You can also view the clip on YouTube.
The official press release announcing the album release hit the wires around noon Friday: Clay Aiken To Release Brand-New Album on May 6. The lead single, "On My Way Here," will premiere as an "AOL First Listen" on Monday, April 7.
Start spreading the news!

Widgets Counting Down to May 6

Fans Roseviolet and Pixieglitter created several countdown widgets that quickly found niches on message boards, blog sidebars, and desktops. Some can even be included in emails.

Here are links if you would like to join the CD news campaign in Cyberspace. For Roseviolet's designs, see countdown codes. Pixiegliter's widgets for Windows XP and MAC OS 10.4 can be located at the appropriate links.

Also, see the Spring Widget Engine download page if you would like to create your own countdown and explore further possibilities.

All aboard -- start spreading the news!
PHOTO INTERLUDE: Graphics in this clickable interlude reflect Clay's upcoming OMWH album and his smash run as Sir Robin in Broadway musical "Spamalot." The CD photos are by Eric Ogden. Featured are designs by ABeautifulMind, 1; Amazing_CA, photo by eandpmommy, 2; ABM, 3; ACA, stage door photo by Irishbookgal, 4; and ACA, 5.

Aiken Sites Feature OMWH
This week three main CA sites
--
Clay Aiken.com
, the singer's
My Space blog
, and
RCA Records
-- began getting out the word with an article about the much-anticipated CD. Each links to the
PopEater
webisode of Clay discussing the recording process. (See March 26 blog entry.)
In addition,
Reality TV News
has included a story about Clay's upcoming CD with the webisode link:
Clay Aiken's 'On My Way Here'

When Clay Aiken and his executive producer Jaymes Foster began the search for songs to record for Aiken's first album of original material since his 2003 chart-topping debut Measure of A Man, they both fell in love with a song written by OneRepublic frontman Ryan "Alias" Tedder called "On My Way Here."

The message of the lyrics — how the lessons we learn while growing up shape us into who we become as adults — struck such a deep chord with Aiken that it wound up inspiring the theme (and title) of his new collection.
Yep, the news is getting out!
April Brings Autism Awareness
Wednesday, April 2, is
World Autism Awareness Day
, and you can join the celebration via several links to events scheduled around the globe.

In addition, the site provides an informative brochure of warning signs and other materials plus the opportunity to take a Virtual Walk on the Web marking this special day.

Note these facts about autism:


Autism affects as many as 1 in 150 children and 1 in 94 boys.

Autism is the fastest-growing serious developmental disability in the world.

More children will be diagnosed with autism this year than with diabetes, cancer, & AIDS combined.

Boys are four times more likely than girls to have autism.

There is no medical detection or cure for autism, but early diagnosis and intervention improve outcomes.

Autism does not discriminate by geography, class, or ethnicity.
April is World Autism Awareness Month, and the emphasis will continue. Autism, a topic on many April 2 newscasts (CNN), will also be featured on Larry King Live.

Cindilu2 designed the beautiful April calendar with OMWH cover art.
Have a wonderful week, Clay Nation!
Caro
RELATED TAGS:
Clay Aiken
,
On My Way Here
,
Spamalot
,
Broadway
,
Lorrie Lynch
,
USA Weekend
,
American Idol Extra
,
countdown widgets
,
Spring Widget Engine
,
Eric Ogden
,
Clay Aiken.com
,
Clay Aiken My Space
,
RCA Records
,
PopEater
,
webisode
,
Reality TV News
,
Autism Awareness Mond
,
Official Fan Club
,
Clay Nation