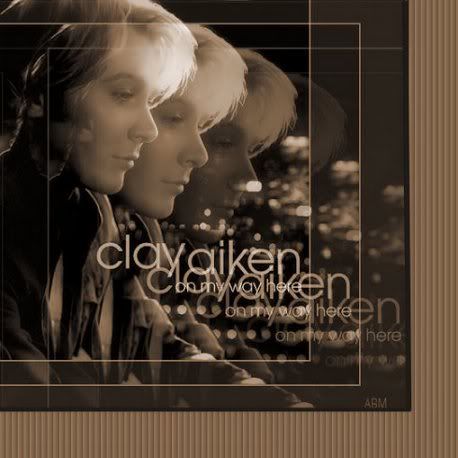 MORE IS BETTER -- ABeautifulMind proves that "more is better" with her handsome graphic of Clay Aiken's On My Way Here album cover.
Sharing OMWH Excitement
Savvy Aiken Fans Go 'Viral'
For years, Clay Aiken fans have shared their enthusiasm for the singer's career and charitable endeavors by passing along to others information, CD's, DVD's, photographs, and extra concert tickets.

In message board lingo, these activities are known as Claying It Forward. In the modern business world, the current term is viral marketing, referring to advertising techniques that use pre-existing social networks to produce increases in awareness, sales, or other objectives.

How many fans can relate to this scenario?



COOPERSGIRL

:

I sent the link to Clay's new single to my first CA friend -- the person who introduced me to the fan boards, took me to my second concert, once had her office covered in his pictures, but whose interest has cooled along the way.This was her reply:




OMG!!! Love this song! When will the new CD be released? Can't wait to see his precious face sing this!!! I'm in love all over again!!!
COOP: I talked to my friend tonight, and she told me she kept playing the song all day. She has a job where she comes in contact with lots of college students, and she said she saw several of them lingering by her office door. She passed the link on to two of her friends ... and so it goes.

Marketing Suggestions Outlined

In her posts about Clay's upcoming CD, Yaknelle, a former journalism teacher and now an advertising consultant, has become the unofficial viral marketing advisor at Clayversity. I'm pretty sure Coop received an A+ on her latest foray onto the viral sphere.

Earlier this week I asked Yaknelle to share some ideas and parameters for fan involvement in spreading the word about On My Way Here. Almost on cue, a bonanza of promotional activities and appearances for the new CD and "Spamalot" materialized with widespread media coverage.
These are some of Yaknelle's suggestions:
Fans should keep it personal by staying in their own sphere of influence. E-mailing people a link to PopEater, an article or YouTube clip, or just general information about when OMWH is being released. Send the album cover or floor Clay to people. Don't bombard people especially those who aren't interested.

Fans with active MySpace, and Facebook pages should put up Clay's song on their players as soon as it is legal to do so. They should also post links to YouTube and some of the wonderful fan pictures. Again, pictures of the album shoot should be displayed. The RCA webisodes can be embedded on these sites too.

Many Clay bloggers are doing a great job with a mix of personal reflections, articles, YouTube, and links to sites like PopEater. Getting Google recognition is important for bloggers. Fans should be encouraged to make as many hits as they can on the Clay blogs. Adding a link to a particular blog in an email is also a good idea.
New CD pictures released on Wednesday should be shared. These clickable wallpapers were created by Amazing_CA:



Amazing_CA, photos by Eric Ogden
Links to the lead single are plentiful and can be shared via email. Three such sites include Clay's MySpace Page, AOL First Listen on PopEater, and Gupta Media.
The description The Voice That Captivated Millions Returns with an Album of All New Songs! is prominet on Gupta, which also includes Webisode #2, a word jumble widget that can be added to web pages, the cover photo, and pre-order buttons for Amazon and Wal-Mart.
In addition to the second webisode at Gupta Media, "Clay Aiken - Creating the Album" webisodes are located at PopEater (#1) and mp3 (#2). The webisodes are generally referenced in news stories about the CD and at Clay's official website, ClayAiken.com.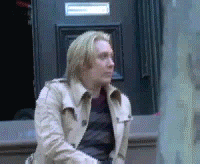 Webisode Cap by SueReu
A Spamalot Webisode (#3), which appeared Sunday in "Videos on Demand" on radio station websites throughout the US, accompanied Monday's Broadway World article about the show paralleling Clay's recording of the CD.
For international fans who cannot access the webisodes on these sites, here is a Sendspace download of the new Spamalot video.

An RCA widget featuring a cover photo, video, game, pre-order buttons, and codes can be added to web pages and emails.

PHOTO INTERLUDE: These clickable album graphics feature the creative talent of five visual artists, including Amazing_CA, 1; Clayquebec1, 2; ABeautifulMind, 3; j4clay, 4; Ambassador of Love, 5.
PR Team Creates Mighty Buzz
In Clay Cyberspace, heads are spinning from the stupendous buzz swirling in the media and online about On My Way Here and the singer's appearance at Planet Hollywood. All this activity parallels another point Yaknelle made in her "cliff notes" course on viral advertising:

The big viral marketing is really done by professionals. I think in the last few days we have seen some really important moments. The ad in Playbill, the single preview, the iTune pre-sale and bonus cut, the webisodes, QVC and the Insider, for example. I really hope Clay gets some prime TV exposure.
Like most CA supporters, I send links of online videos and articles to casual fans. This is a small sample of what's available just from the past few days:


Articles with Photos
Broadway.com: Spamalot Star Clay Aiken Lends a Hand to Planet Hollywood
Clay Aiken stopped by the Planet Hollywood in Times Square, just around the corner from the Shubert Theatre where he's playing Sir Robin in Spamalot. The American Idol runner-up and pop phenomenon joined the likes of Jack Nicholson and Whitney Houston by preserving his hands for display on the restaurant's wall of fame. The adorable Aiken surprised lunchtime diners who looked on as he plunged hands-first into the cement.
LA Late: On My Way Here Fan Reaction
Fans everywhere are going wild for "On My Way Here", the new single from Clay Aiken LALATE first reported to you yesterday. The reaction from fans has been overwhelming with everyone loving the sound and message of the song, across Aiken fan message boards, celebrity news sites like lalate.com, and others.

That's exactly what Aiken thought of the song when he first heard it. "I went through a bunch of songs and found On My Way Here by (OneRepublic's) Ryan Tedder, and it hit me in the gut."

Whether it's the gut or heart, the song is really hitting touching everyone online in the last 24 hours since the song first got played.

A very clean, simple, fluid, and beautiful flowing song that seems almost timeless in its melody makes "On My Way Here" definite number 1 material. And that's irrespective of the fact that it's so good it doesn't resemble any other current sound getting airplay currently.
Just Jared: Look Ma, No Hands!
Clay Aiken promotes his starring role in the Tony Award winning Broadway musical Monty Python's Spamalot with a handprint ceremony at Times Square's Planet Hollywood on Tuesday in New York City.
Photo Sites
WENN
: Planet Hollywood
UK lfi
: Planet Hollywood


Globe Photos
: Tyra Banks and Clay Aiken at Shubert Theatre
Other Videos Online
Insider:
Clay Aiken in NYC
(scroll)

Entertainment Tonight:
Would Clay Aiken Join DWTS?
(scroll)

Fox 5 News:
NYC Planet Hollywood-Spamalot Sendspace
Final Thoughts: Share, Share, Share!
For the latest news, stay tuned to CA message boards, official sites, and blogs that update several times a day. One of the best is Clay's Daily Double right here on "Aiken Alley."
Special thanks to Yaknelle for her excellent suggestions. This paragraph cannot be emphasized enough:

In my opinion, fans should pull back from negative comments to music critics, deejays, bloggers, and entertainment sites. Negativism is a bad way to be viral. It takes the focus off of Clay and his new album, puts it back on the "Claymate." We need to be positive in the sharing of information.

The mantra for Clay fans should be, " SHARE, SHARE SHARE."
For the OMK Fan Club
A bad cold followed a rough bout with his six-month shots, but today grandson Kai -- or OMK, as

Margaret5828

calls him -- returns in his speedy baby walker. His "fairy godmother"

Sally

created the graphic.
Have a wonderful weekend, Clay Nation ... and SHARE, SHARE, SHARE!
Caro
RELATED TAGS:
Clay Aiken
,
On My Way Here
,
ClayAiken.com
,
viral marketing
,
Planet Hollywood
,
RCA Records
,
Spamalot
,
Broadway
,
Official Fan Club
,
Clay Nation