ON MY WAY HERE - Amazing_CA includes two photos by Eric Ogden in this handsome graphic.
Here, There, and Everywhere
CD Promos Fill Clay's Calendar
No doubt about it, Clay Aiken will be "here, there, and everywhere" over the next few weeks.

Promotion for his new CD, On My Way Here, not only permeates countless crooks and crannies of the Internet, but it has soared into other media markets.
A couple of interviews not to be missed are Thursday's
Billy Bush Show
on radio. You can listen on the Westwood One site or with this
Sendspace
download.

Also, be sure to read Mary Colurso's column for Friday's Birmingham News:
Feet of Clay? Not for Aiken, who's proved to be a malleable singer, Broadway actor
.
CA fans are hanging onto their hats as their favorite singer begins a busy round of promotional appearances on TV. Meanwhile, he will continue to portray Sir Robin in Broadway's "Spamalot" through May 4.

Season 2's runner-up and Tamyra Gray, finalist from Season 1, were featured in a musical theater segment on American Idol 7 Wednesday night. With Andrew Lloyd Webber in the house, no less!


Not only were their Broadway shows -- Spamalot and Rent -- highlighted, but Clay also talked about the May 6 drop of his new CD, OMWH. You can view the Broadway segment on YouTube and with this Sendspace download.
Wednesdays would probably win "hands down" as the favorite day of the Clay Nation as one new headline, stream, appearance, or photo after another has been the norm for the past two weeks. "It's raining Clay" has been the byword both Wednesdays.
A highlight this week were the new OMWH promo photos appearing on the singer's MySpace page. The clickables above advertise the CD at K-Mart, iTunes, and WalMart, respectively. K-Mart's CD will include a poster of the upper left picture as long as supplies last.
WOW, WOW, WOW!!! Just to be fair, Thursdays are pretty cool, too. We now have snippets at
Amazon
. Here is a Sendspace download.

Mark Those Calendars!

DVR's are being set as we speak. Many fans have already secured tickets to the appearances listed below. Here goes:

04-28-08 QVC, 7 p.m.
Clay Aiken has been capturing the hearts of music fans everywhere since he shot to pop superstardom nearly five years ago. Since then, Aiken has sold more than six million CDs, authored a best-selling biography, performed on Broadway and has left fans "Aiken" for more. The multi-platinum artist will once again be exciting fans when he makes his QVC debut on Monday, April 28 at 7 PM (ET).

Aiken is scheduled to perform songs from his much-anticipated new album On My Way Here, giving viewers exclusive insight into the inspiration behind the album. QVC shoppers will also have the opportunity to order On My Way Here, with a bonus CD/DVD created especially for QVC, eight days before its scheduled release.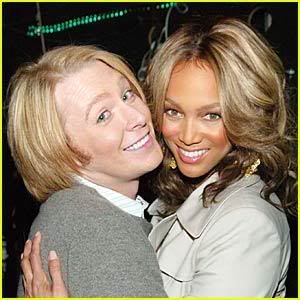 Clay and Tyra - People Magazine
04-30-08 Tyra Banks Show (syndicated)
Clay stops by The Tyra Banks Show Monday to help Tyra celebrate her 500th episode at the show's New York studios. His segment involves surprising a fan who has never met him with tickets to "Spamalot" and a meeting with Clay.
05-02-08 Entertainment Tonight


ET's in the studio as Clay lays down tracks for his latest album.
05-07-08 Good Morning America (ABC)

05-08-08 The View (ABC)

05-12-08 The Tonight Show (NBC)

05-16-08 Jimmy Kimmel Live (ABC)

05-19-08 Late Late Show with Craig Ferguson (CBS)

TBD: Rachael Ray


Big events and contests are only part of "Rachael Ray's" biggest May Sweep ever. The show is also welcoming V.I.P. celebrity guests; including, Barack and Michelle Obama, Regis Philbin, Maria Shriver, Patrick Dempsey, Valerie Bertinelli, Clay Aiken, Mario Batali, Ty Pennington, Michael Buble, Gordon Ramsay, "Ugly Betty's" Eric Mabius, Mary J. Blige, Elisabeth Hasselbeck, Carrie Ann Inaba, the Jonas Brothers' mother and chef Ming Tsai.
And that's just what we know now. Hang on - the Clay Train is in for an awesome ride!
PHOTO INTERLUDE: OMWH is the central theme of this clickable interlude, both with CD photos and screen caps from an album webisode. Included are graphics by Amazing_CA, 1, 2, 3; ClaytonAikenFan86, 4; and Claystruck, 5.


OMWH Covers the World
Three weeks ago SmartyPantsSuz began creating personalized CD covers for the hometowns of Clayversity members. When I posted about the new countries hitting/reading Carolina On My Mind, she offered to complete the international collection with our current 60.

This project is barely out of the starting gate. Ron Kanipe, the blog's geography advisor, keeps an eye on the red dots/countries on the Carolina On My Mind ClustrMap. Accordingly, Suz has created many additional OMWH covers for Carolina/OFC readers and is working through the current list of 60 countries.
The large cover photos (450 x 450 pixels) are being posted at Carolina Special, this blog's extension site, with countries arranged by continent: Africa, Asia, Australia, Europe, North America, and South America.

If you would like a cover from your area or city, just give us the information in a comment at the Carolina or OFC blog. Membership is not a requirement for leaving comments on Blogspot, but be specific about your location. The ClustrMap only identifies your computer's location with a small red dot.

These are clickable examples of Melbourne, Australia; Singapore; London, England; and Thunder Bay, Canada:
After you request your city, state, or province, a cover will be added to the appropriate continent entry at the Carolina Special site as soon as possible. Those who live in smaller, more remote locales may want to submit a link to a background photo. Our lucky graphic artist is headed to New York City for a weekend of "Spamalot," so be patient.
Many thnx to Ron and Suz for their assistance. I know we two gals have learned global lessons from the project. Even the "geography prof" has had to research more detailed maps to identify some countries.

No doubt Clay would be proud of the geography lessons he has inspired. Soon he will indeed be "here, there, and everywhere"!
Although grandson Kai seems to be taking a break from packing his bags for his upcoming NC visit, his grandmother has a full calendar of rehearsals, gigs, student spring recital, and spring cleaning before the arrival.
In fact, the first of two Brandenburg-fiddle tune medley rehearsals took place Thursday afternoon. The teacher is glad we have three more weeks to practice!
Below is a clickable of Amazing_CA's opening graphic: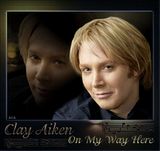 Have a great weekend, Clay Nation!

Caro
RELATED TAGS:
Clay Aiken
,
On My Way Here
,
Spamalot
,
Clay Aiken MySpace
,
QVC
,
Tyra Banks Show
,
geography
,
Official Fan Club
,
Clay Nation