PREPARING FOR THE GREENS -- Clay Aiken practices his golf stance at the 2008 Golfing for Inclusion event. Graphic by Amazing_CA.

100th Country Visits Blog

TBAF Sets Golfing for Inclusion

Clay Aiken and his fans are brushing up their golf swings in preparation for the second annual Golfing for Inclusion hosted by the singer and PGA professional Wayne Player.

Some supporters even admit to taking a few lessons prior to The Bubel/Aiken Foundation fundraiser slated for Monday, Jan. 26.

Golfing for Inclusion 2009 will feature prizes, hole-in-one contests, extraordinary cuisine, entertainment, and a competitive afternoon on the greens at Mirasol Country Club, Palm Beach Gardens, FL.

Online registration for The Bubel/Aiken Foundation event provides several avenues of participation, some of which are a foursome; individual golfer; dinner/entertainment only; as well as a variety of sponsorship or underwriting opportunities. The online auction concludes Jan. 24.

Following the 10 a.m. registration, brunch, and golf clinic, the main event begins at noon. Dinner and golf awards are slated for 5 p.m. followed by festivities, auctions, and a performance by Clay.

In these photos from the 2008 event, participants receive a golf lesson from Player; Clay is pictured with champions Craig Sanscrainte, Shane DiNatali, and Fred Rogers; Diane Bubel (second from right) and Clay present a check to the Peter Blum Family YMCA to expand inclusive projects. Photos courtesy of TBAF.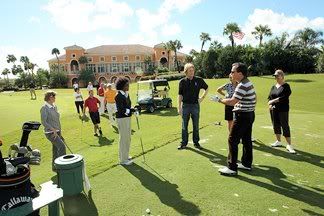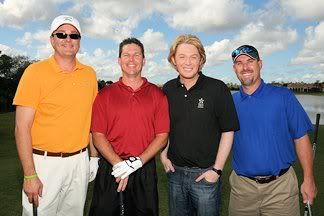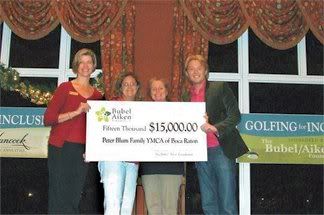 The 2008 Golfing for Inclusion event raised $60,000 towards inclusion. Additional highlights from the the First Annual Golf Tournament can be read at TBAF website.

A recap of 2008, the montage below by LovesClaysVoice, begins with images from last year's Golfing for Inclusion. Clay's performance of "Right Here Waiting" is from the October 2008 TBAF Champions of Change Gala.
The montage can be viewed at YouTube and downloaded with this Sendspace.



Everything in Its Time/Right Here Waiting
Montage by LovesClaysVoice
Listen to Clay on the Radio
Want to hear Clay Aiken on the radio? Go to
The Radio
, and you can listen to any song or any artist. All you need to do is enter either the song title or the artist.

Under "channel," you can select by All Channels, Genre, or Favorites. You can also view the "history" of the songs that you have listened to. The audio quality is very good.
On The Clay Aiken Channel, I have heard "Where I Draw the Line," "Something About Us," "Sacrificial Love," and "As Long As We're Here" from On My Way Here. There are also songs from Measure of a Man, A Thousand Different Ways, and the Christmas albums.
You be the DJ!
Carolina Welcomes Turkey as #100!
This week Carolina On My Mind was visited by its 100th country. According to the
Feedjit Live Feed
, a person in Mersin, Icel, Turkey, dropped by this blog to read about Clay Aiken's final bow at Spamalot.

In the
Everything I Don't Need
entry of 11/14/08, I published the then current listing of 96 countries. By 12/8, Feedjit had registered the countries of Mongolia, China, and Uganda, bringing the total to 99.

Archived in December,
ClustrMap
is already displaying 55 countries in the new edition. At last count, the running tally of visitors since 12/2/07 was 31,668.

Feedjit's Live Feed in "real time" not only indicates the graphics and photos readers open and save but also the wide range of topics -- Clay Aiken's career and new family, Spamalot's closing date, Martin Luther King Jr., Barack Obama, Loree oboe, trifocals, viral marketing, "Hurricane Kai," etc. -- that guide Google searches here.

Many thnx to those who leave comments with a screen name or as "Anonymous," the conventional moniker for non-Blogspot members. It's always great to hear from you.
PHOTO INTERLUDE
: Featured in this clickable collection are graphics by

Amazing_CA

, 1;

Fountaindawg

, 2; and

cindilu2

, 3.
A Teacher's Heart
All teachers cherish the special moments we in the profession have with our students. Occasionally I include my experiences, past and present, in this journal. The incident below was relayed by

amazed_in_nj

in December:
While shopping, I ran into the parent of a student that I taught in second grade. She gave me a big hug, wished me a Merry Christmas, and thanked me for what I did for her son three years ago. How sweet is that!

She said that her son, now in fifth grade, still has the picture of Clay and me from my Beacon Theater M&G on his refrigerator. So excited at being that close to Clay and getting my picture taken, I had given the picture to all my students that year.

When this student was in the third grade, his class had to make a time-line. On his time line for the year he was in second grade, he included the picture of Clay and me, under which he wrote: "Mrs. A taught me how to read. Mrs. A loves Clay. She loves me, too." Melted my heart!
Mine, too. Below is a clickable of

Amazing_CA

's opening graphic: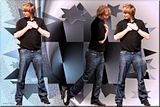 Have an awesome weekend, Clay Nation!

Caro
TECHNORATI TAGS:
Clay Aiken
,
On My Way Here
,
The Bubel/Aiken Foundation
,
Wayne Player
,
Diane Bubel
,
montage
,
Right Here Waiting
,
TheRadio.com
,
ClustrMap
,
Feedjit Live Feed
,
teacher
,
Official Fan Club
,
Clay Nation