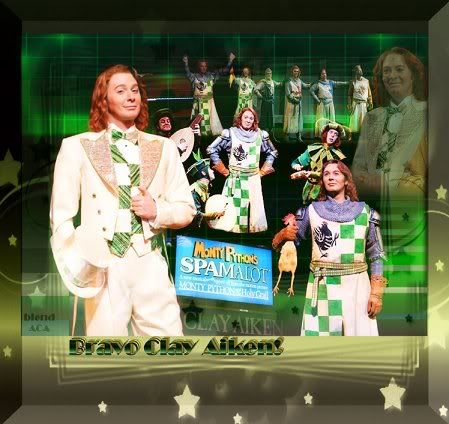 BRAVO! -- Amazing_CA's design recollects Clay Aiken's Broadway run as Sir Robin in Spamalot.
Hilarity, Magic, Ovations

A Memorable 'Spamalot' Finale

During Clay Aiken's final Spamalot performance Sunday, The Lady of the Lake sang "Invisible"; the The Knights of Ni incorporated "As Long As We're Here" into their amusing ad-lib; and the singer's fans packed Shubert Alley for his post show appearance, some intoning "Right Here Waiting" in the interim.

Reportedly, the last performance was extraordinary, magical, rollicking fun throughout, filled with hilarious cast-audience interactions and deviations from the scripted flow, thunderous applause for the ensemble, deafening ovations for Clay, and gracious acknowledgement from the stage for the special appreciation.
As confetti and applause rained down, "Always Look on the Bright Side of Life" rang throughout the theater.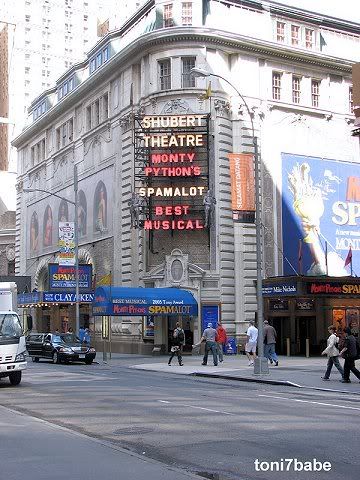 Shubert Theatre, photo by toni7babe
Clay took his triumphant Spamalot bow minus the Sir Robin wig. As the applause ended, Clay knelt down, reached into the orchestra pit, and shook the conductor's hand.
After the show, he appeared briefly on the roof of the Shubert Theatre, waved, blew kisses, and signed "thank you" to those gathered below.

While Clay returns to North Carolina for down time with Jaymes Foster and their son Parker, Spamalot will run one more week before the show's final curtain Sunday, Jan. 11.

Special memories of Broadway continue in prime time on fan message boards. Welcome back, Clay Aiken. The best is yet to come!

A FINAL WEEKEND OF SPAMALOT: Featured in this clickable collection are graphics and photos from the finale weekend. They include Amazing_CA, photo by MBLovesClay, 1; Saturday stage door photo by shineinnc, 2; the opening graphic by ACA, 3; Saturday stage door photo by Invisible926, 4; and ACA, the immediate future, 5.


ADDENDUM
: In my normal routine of googling "Clay Aiken" (blogs), Tuesday morning I discovered that part of this blog has been quoted at
LALATE
. When I clicked on the link for "Clay Aiken SPAMALOT End," I landed in the middle of the piece and casually began reading.

My jaw went into a "slo-mo" drop as I started recognizing my own words. I scrolled back up; and, sure enough, LALATE had quoted a section of this blog. Actually, it's one of my favorite parts from the finale -- where Clay knelt down and shook the music director's hand.

Yesterday I described this gesture to the head of the music academy where I teach twice a week. Orchestral musicians appreciate that kind of thing, and this trombonist's reaction was, "What a class act!"

Have a wonderful week, Clay Nation. The best is yet to come!

Caro
TECHNORATI TAGS:
Clay Aiken
,
On My Way Here
,
Monty Python's Spamalot
,
final show
,
Shubert Theatre
,
Invisible
,
As Long As We're Here
,
Right Here Waiting
,
Official Fan Club
,
Clay Nation