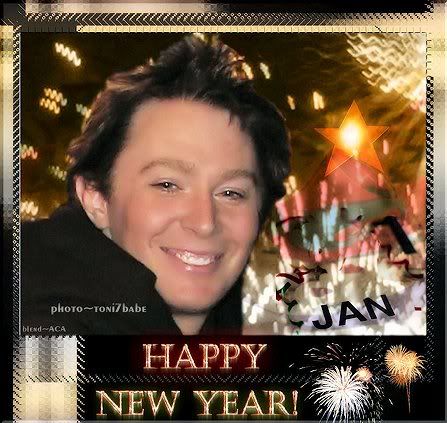 NEW YEAR FIREWORKS -- Amazing_CA's New Year greetings feature a stage door photo of Clay Aiken by Toni7babe.

In Sold-Out Shubert Theatre

Fans Bid Farewell to Sir Robin

Playing to sold-out audiences who know most of his lines and could no doubt step in for Sir Robin's famous "Bottle Dance," Clay Aiken is this weekend performing the final shows of his Spamalot run on Broadway.

The singer's last show will be Sunday, Jan. 4, and closing curtain for the award-winning musical is slated one week later. No more current event exchanges by the ad-libbing Knights of Ni, no more swallows carrying coconuts on the Great White Way -- at least not at the Shubert Theatre.

For a few more days, Spamalot performance and stage door recaps will cycle through Clay Cyberspace during intermission and post show times. Some are detailed laptop reports, others are quick summaries relayed via iPhones, Blackberries, and cell phone calls.

Thnx to Scarlett, SueReu, and Zippy, this is a sample of the latter, minus the message board requisite recapping color of red:


Sold out ... they were turning people away at the box office ... a lot of fans in the front but otherwise NJU [Not Just Us] ... place packed ... changeup on the very last line of YWSOB ["You Won't Succeed on Broadway"] ... peasant semi-fan but a real fan now! ... no woos on the huge tunic flip -- maybe all the Clay fans were still in mid-gasp ... good applause from mostly NJU crowd ... very cold in Shubert Alley ... no stage door.


Clay in 2008 Broadway Wrap-Up

Broadway.com's Year End Wrap-Up put Clay in the spotlight of three Favorite Feature listings: Q&A, Star Files, and Photo Op. Below is the introduction to the Q&A segment.


Everybody knows that Clay Aiken can sing, but -- surprise! -- he can also hold his own on a Broadway stage. To be more precise, he can hula, ogle scantily clad girls, discuss flying coconuts in a British accent, pretend to poop in his tunic, do a Cossack-style line dance and perform a lightning-fast patter song ("You won't succeed on Broadway if you don't have any Jews") without dropping a syllable.

As Sir Robin in Spamalot, the 29-year-old American Idol runner-up appears perfectly at ease in the world of Monty Python—which, he recently claimed, he thought was a person until he saw the show.

The "fish out of water" angle of Clay Aiken starring in Spamalot has already led to a couple of snarky magazine articles, including one in New York in which the writer recorded Aiken's quotes in an exaggerated imitation of his North Carolina accent.

No wonder his personal publicist now keeps a sharp ear (and a stopwatch) on Aiken's interviews. The truth is, Clay is smart guy who knows what works for him, and he was shrewd enough to realize that Spamalot, in its own nutty way, would be a good match for his talents and his sunny sensibility.

"If somebody said to me, 'Who in this cast has never done theater?' he is the last person I would have chosen," says Hannah Waddingham, the Olivier Award-nominated British musical star who joined the Tony-winning musical as the Lady of the Lake the same night Aiken debuted.
Three weeks into his run, Broadway's new Sir Robin shared his impressions of life in Spamalot. The Q&A interview follows and can be read here here.
PHOTO INTERLUDE
: Featured in this clickable interlude are graphics by
Amazing_CA

, photos by

Dancerdad

, 1; January 2009 calendar by

cindilu2

, 2
; 2008 "Moments in Time" collage by

Fountaindawg

, 3; no-date version of the January calendar,

cindlu2

, 4; and

Karen4Clay

, 5. For widescreen versions of the calendar graphics, see Cindy's Yuku page. You can view previous Moments in Time collages here.
'Spamalot' Cast Greets Soldiers

Making the rounds at Clay Aiken message boards is a blog by SGM Troy Falardeau, who described his army reserve unit's trip to New York City prior to leaving for Iraq. For the full account, see Blogs Over Baghdad: New York City loves miliary.

Previously validated for deployment, the unit was given permission for a field trip to the Big Apple and last week took in a mix of cultural, military, economic, and entertainment sites, including a performance of Spamalot.


By 7 pm, all had gathered back at the USO before the final major event of the day — a Broadway show! When the staff of "Spamalot" heard about our trip to Manhattan before our deployment, they offered us free tickets to see this Tony Award-winning show.

After nearly four years, the show was scheduled to close on January 11, 2009, so each of the last shows was already sold out. The addition of American Idol star Clay Aiken to the cast added to the draw, and made the offer of free tickets even more amazing.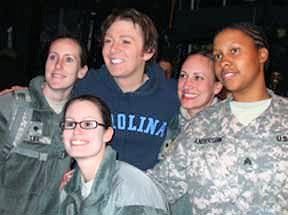 Clay with soldiers of the 314th.
Photo by PFC Christine Bernat.
An hour before the opening curtain, members of the production team called and invited the soldiers to stay after the show to meet the cast onstage.
As the curtain came down at the end of the show, I could see the anticipation of our Soldiers. With only a few people left, we ventured down to the stage. Within minutes we were talking to Michael Siberry, Merle Dandridge, Clay Aiken and the rest of the cast. It was a once-in-a lifetime experience for all of us.

I was particularly impressed by their desire to make us feel special that night. Clay Aiken told us that he had talked to his brother, a U.S. Marine who happened to be in the audience that night, about what to say to a group of Soldiers.

After practicing "hooah" a few times, he decided instead to ask the cast to change one of the lines in the play to have them sing some of "Sweet Home Alabama" to honor our Birmingham, Alabama unit location. When we told him we were from Birmingham, he joked and said "oh…that's where Ruben [Studdard] is from."
The complete blog and accompanying comments can be read
here
.

Below is a clickable of

ACA

's opening graphic: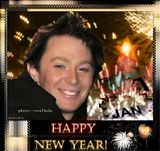 Happy New Year! Have a wonderful opening week of 2009, Clay Nation!

Caro
TECHNORATI TAGS:
Clay Aiken
,
On My Way Here
,
Monty Python's Spamalot
,
final show
,
Shubert Theatre
,
stage door
,
Broadway.com
,
Year End Wrap-Up
,
January calendar
,
314th Army Reserve Unit
,
Iraq
,
Official Fan Club
,
Clay Nation