What Are You Doing New Year's Eve? - LovesClaysVoice
Rewinding a Memorable 2008

Clay Fans Fete 2009, Spamalot

As Times Square prepares for the annual New Year's Eve countdown and ball drop, Broadway is gearing up for a massive invasion of Clay Aiken fans planning to celebrate the singer's final week of performances in "Monty Python's Spamalot" at the Shubert Theatre.

A scroll through CA message boards nets travel and performance attendance plans, even an extended weather report leading into Clay's final curtain as Sir Robin on Jan. 4.


Featured above is a montage of What Are You Doing New Year's Eve? by LovesClaysVoice, who merged several Joyful Noise tour concerts in which Clay not only sang the Merry Christmas with Love song but also danced with a lucky lady in the audience at each performance.

LCV provided a Sendspace download for the WAYDNYE montage.
So how are you marking the week the old year greets the new? In less than 10 minutes, I scrolled through this blog's 2008 entries, month by month, and was amazed at all that has happened on the Clay Train.

2008 a Momentous Year

Among the memorable events of 2008 were Clay's Spamalot debut, the anticipation and arrival of the singer's On My Way Here CD, the TV promos that followed, American Idol 2 Rewind, "viral marketing" with fan montages of OMWH tracks, the UNICEF trip to Somalia and Kenya, the Ford Gala, a five-year anniversary for TBAF, the Champions of Change Gala, OMWH at the Olympics, Parker's birth, a father's responsibility, his return to Spamalot, the Sardi's caricature, "The Waiting List" special.

On a personal note, in May I finally met my grandson Kai, then eight months old. During his month-long visit, he became acquainted with several members of the Carolina clan, learned to crawl, rearranged at least one shelf of piano music daily, took over the blog a couple of times, and taught his grandmother all about "monkey mail."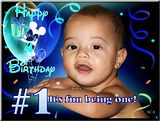 Kai on Being 1
Clickable by Amazing_CA
Now at 15 months, Kai is walking, talking, turning on computers every chance he gets, and discovering something new everyday.

The complete Carolina On My Mind "virtual tour of 2008" includes an opening graphic, headline, lead, summary, and the link for scrolling through each month. That version follows.
For the abbreviated, morning coffee take, here are the links. Either route, for best results, right-click and open each month in a new tab or window. Happy Trails!

January 2008 Headlines

February 08 Headlines

March 2008 Headlines

April 08 Headlines

May 2008 Highlights

June 2008 Headlines

July 2008 Highlights

August 2008 Highlights

September 08 Headlines

October 08 Highlights

November 08 Headlines

December 08 Highlights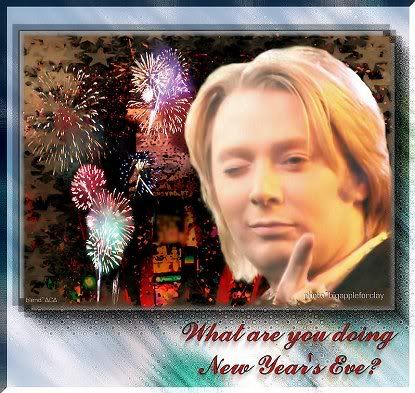 Graphic by Amazing_CA, photo by BigAppleforClay
Clickable follows 2008 Virtual Tour.
During 2008, readers from 99 countries dropped by this corner. Thank you for your visits and many wonderful comments. I look forward to your coming back for the 2009 editions, too.
Best wishes to you and yours for health, happiness, and success!

Caro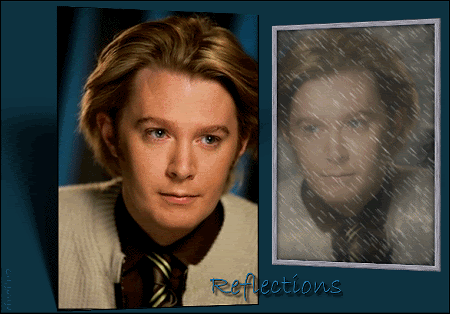 REFLECTIONS -- Clay Aiken fans this week commemorate the night they first heard his voice in the Jan. 28, 2003 telecast of American Idol Season 2 Atlanta Auditions. Graphic animation by Cindilu2.

From Atlanta to Broadway

Aiken Fans Mark Five Years



Every year at this time, Clay Aiken fans stop and commemorate the anniversary of The Vox. On Jan. 28, 2003, American Idol telecast Season 2's Atlanta Auditions in which the North Carolina singer's glorious pipes were first heard in homes throughout North America.

For countless fans, now known the world over as Claymates, the beautiful strains of "Always and Forever" were just the beginning. Many have been riding the Clay Train ever since. Recollections honoring the occasion appear throughout message boards and in CA-related blogs.



January 2008 Highlights

Textisms Huge Headache So Far / Clay Aiken, TBAF in the News
Talking-a-Lot About 'Spamalot' / $50,000 Goal for TBAF
Clay Aiken Debuts in 'Spamalot' / Ovations Rock Shubert Theatre
Clay Aiken Debuts as Sir Robin / New CD Slated for Spring
'Spamalot' Curtain Rises Jan. 18 / Aiken Fans Counting Down
'Spamalot' Rehearsals Resume / LAP & LACIE to the Rescue
Aiken Fans Set for 'Spamalot' / Countdown to Broadway Debut
Soup Recipes Ease Winter Chill / Fans Replay 2007



COOL BEANS -- Clay Aiken's hometown station, WRAL-TV of Raleigh, NC, helped him spill the news about his upcoming CD in a special report by Lynda Loveland. WRAL Photo by Geof Levine.

Thrills Fans with CD News

Clay Aiken Spills the Beans



Days later, it still feels like Christmastime in Clay Cyberspace with the extensive revelations about the singer's new CD and the backstage glimpses at the Shubert Theater provided in Lynda Loveland's special reports aired on WRAL-TV this week.

February 08 Headlines

Newsday Critic Lauds Sir Robin / More Praise for Clay on Broadway
AP Drama Critic Applauds Clay / New CD Makes Headlines, Too
Clay, Quiana Capture Broadway / A Mailbag of Treasures
Clay Fans Tuned into 'Spamalot' / LAP & LACIE in Charge
Spamalot's New Star Speaks Out / Broadway Article Tops with Fans
Valentine, 'Spamalot' on Tap / A Splash of Rewind
Clay Intros 'Spamalot' Dresser / At Shubert Stage Door
Kai Ready for UNC-Duke Game / Props for Clay's Performances
Fans Celebrate Wildcard Week / Clay Triumph on 'AI2 Rewind'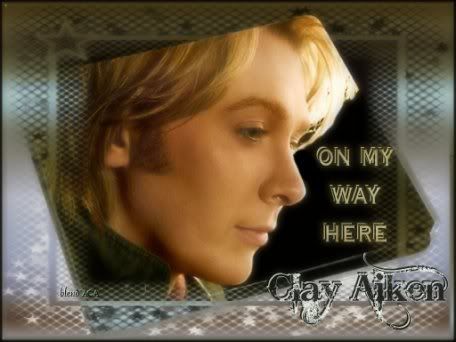 ON MY WAY HERE -- Amazing_CA's graphic spotlights an image from the photo shoot for Clay Aiken's upcoming CD.
'Sleuths' Share CD Finds

Aiken Fans Track Down Playlist

Clay Aiken often brags about the detective abilities of his fans, never more on display than this week's discoveries of the track list for his new CD, On My Way Here, as well as video and audio demos by songwriters.

Some fans choose to remain "CD virgins." Not me -- I listen to every little snippet and link that comes along because I know these songs will be brand new when Clay sings them.

March 2008 Headlines
Fans Embrace New CD Promos / OMWH on its Way!
Clay Nation Celebrates CD Cover / Album in the News
Clay Talks 'Tap' for UNICEF / 'Spamalot' Marks 3rd Year
'Spamalot' Green for St. Pat's Day / Happy St. Patrick's Week!
Clay Aiken's New CD Hits Home / Very Special Journey
Aiken's 'TBD' Album Tops Charts / Amazon Pre-Orders Roll
Clay Aiken's Musical Journey / A Star on His Way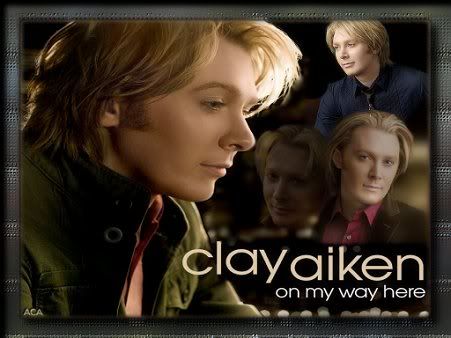 ON MY WAY HERE - Four Eric Ogden photos from the CD shoot are featured in Amazing_CA's handsome graphic.
Fans Applaud OMWH Songs

Aiken Debuts New CD at QVC

"People smile when they walk by; there's too much magic to deny."
The "Something About Us" lyric from Clay Aiken's new On My Way Here CD capsulizes the sentiments of the singer's devoted fans. Following the QVC debut of five OMWH songs Monday night, the phenomenon known as "the Aiken Fog" has once again overtaken the Clay Nation in epidemic proportions.

Fortunately, there is a "recovery day" in Clay's CD promo rounds between Q Sessions Live and his next TV appearance, the Tyra Banks Show on Wednesday.


April 08 Headlines
CD Promos Fill Clay's Calendar / Here, There, and Everywhere
Clay Nation Celebrates CD Finds / 'AI Rewind' Spotlights Top 2
Recital, Visit View with Aiken Blog / Spring Calendar Overload
Savvy Aiken Fans Go 'Viral' / Sharing OMWH Excitement
OMWH To Feature Originals / Aiken Fans Plan Festivities
CD News Permeates Web / Clay On His Way Here!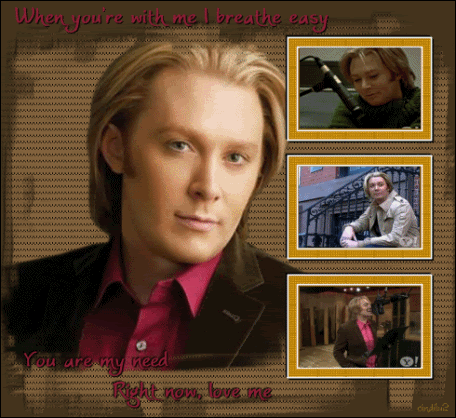 Animated design by Cindilu2 spotlights OMWH webisode promos.
OMWH Songs Run Gamut

AOL Session Surprises Viewers
When Clay Aiken took a much-deserved "couple" of days' rest, he left his fans a very special parting gift to tide them over until the possible fall tour -- a five-song live performance from his new CD, On My Way Here, airing now on AOL Sessions and surprising many new viewers with its variety.

May 2008 Headlines

Grandson Meets Carolina Clan / 'Thumbs Up' for OMWH
Montages Feature OMWH Songs / LAP & LACIE Take Charge
Aiken Shines on Leno Show / OMWH Debuts with 94k!
A Mother's Day Remembrance / Sail On, Silver Girl, Sail on By
Aiken Fans Celebrate OMWH / May Promos Fill Calendar
Spamalot, OMWH in Spotlight / 'Clayapalooza Weekend'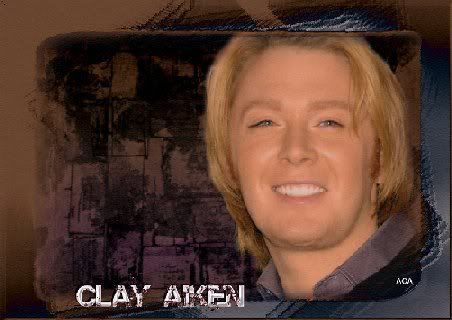 ON MY WAY HERE - All 12 tracks of Clay Aiken's new CD, On My Way Here, have been ranked in AOL's Top 20 Songs this weekend. Graphic by Amazing_CA.
Montages Market CD Songs

All OMWH Tracks in AOL Top 20
Friday all 12 tracks from Clay Aiken's new CD, On My Way Here, lined up on the front page of AOL's Most Played Songs. The list changes constantly with the latest streams, but early Saturday morning the tracks were still there.

June 2008 Headlines

Clay Aiken Appeals for Somalia / Following UNICEF Mission
OMWH Songs Chug Up Charts / 'Little Engine That Could'
Kai Celebrates Nine Months / 'Our Kind of Love'
Celebrating Our 'Father Lions' / Three Very Special Dads
Clay Aiken's OMWH Hits Charts / #1 Track at AOL Music
TBAF Presents $500k in Grants / 30+ Let's All Play Camps
Clay Aiken Performs at Ford Gala / 'An American Celebration'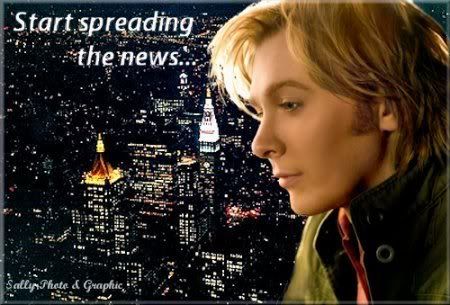 SPECIAL OCCASIONS - New York City skyline photo and graphic by Sally.
Bubel/Aiken Gala Sells Out

TBAF Celebrates Five Years
The Bubel/Aiken Foundation celebrated its fifth birthday with a bang Monday as individual tickets for the 2008 Champions of Change Gala sold out in little more than an hour.

July 2008 Highlights

In Place of a Summer Tour / Clean Houses + New Montages
Rewind: 'Listen' Duet & Bugs! / Field Notes Focus on Kenya
OMWH Songs, Olympics a Match / Aiken Fans Create Special Montages
Aiken Fans Recall 'Clayisms' / International Fans Finding Clay
Fans Link Others to OMWH / Share Somalia Mission Reports
Varied Trails Lead to Aiken Blog / Accidentally, On Purpose
UNICEF Special Hits Home / Somalia Field Notes Blog Now Up!
Fans Replay 2007 Tour Opener / 'The Survival Project' Sunday
Aiken Slated for UNICEF Special / 'The Survival Project' on CNN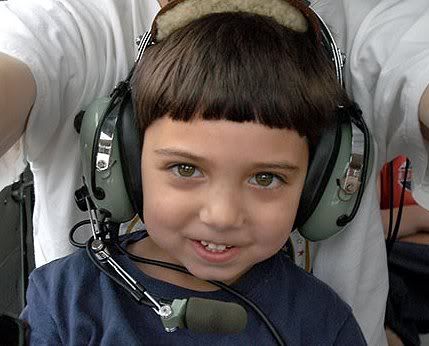 TAKING FLIGHT -- Samuel Habib sits on his father's lap behind
the controls of his grandfather's sea plane, as the two
prepare for a flight. Photo by Dan Habib.
Spotlight on 'Including Samuel'

TBAF Champions of Change

Before his son Samuel was diagnosed with cerebral palsy, photojournalist and 2008 Champion of Change honoree Dan Habib rarely thought about the inclusion of people with disabilities. Now he thinks about inclusion every day.

Shot and produced over four years, the 58-minute award-winning documentary film,
Including Samuel
, honestly chronicles the Habib family's efforts to include Samuel in every facet of their lives.

Dan Habib and wife Betsy McNamara will be among four honorees presented The Bubel/Aiken Foundation Champions of Change Award at the organization's 2008 October gala in Raleigh.
August 2008 Highlights
Aiken Fans Order Spam 2 Pins / A Reprise Wardrobe Must
Montages Link Others to OMWH / In Olympic, Political, Social Arenas
Beijing Olympics Remembered / Festivities, Montages Celebrate Games
Pass the Popcorn, Please / Clay Aiken Goes to the Movies
SRHP Reprise a 'Favorite Thing' / TBAF Announces 'Change' Honorees
Recollections of Orlando Concert / 2007 Summer Tour Finale
Clay Fans Applaud 'FOURIDA' / Tampa, West Palm Revisited
OMWH Anchors Olympics Album / Rewind 2007: Atlanta, Ft. Myers
Proud Papa Takes Parker Home / 'Spamalot' Reprise, Knoxville Rewind
Clay Fans Share NC Concerts / Via Global Aiken Network
Aiken, Cheek Make a Difference / China Revokes Olympian's Visa
CA Concerts Capture New Fans / Spotlight on 2007 LA, Indio
West Yields Special Moments / Popular 'CA 4-fer' Remembered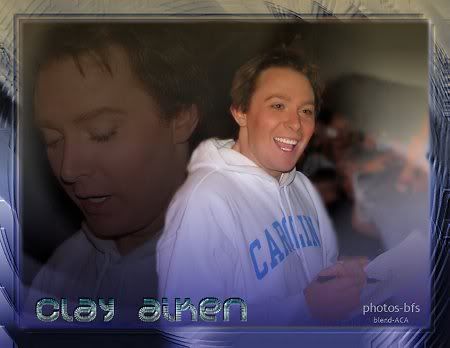 AIKEN GREETS FANS -- Clay Aiken signs autographs and visits with fans following Spamalot performances. Graphic by Amazing_CA, photos by Butterflyshine.
Stage Door Photos Shared

Parker Stars in New Montage

The "queen of procrastination," I am knee deep in income tax preparation while keeping up with the American political scene, college and NFL football, as well as the latest Clay Aiken news. [snip]

SueRue's latest montage, A Thousand Days, features images from the Thursday-Friday GMA interviews during which Clay and Jaymes Foster introduced their son Parker.


September 08 Highlights
Aiken Tells His Story on GMA / Responsibilities of a Father
Aiken, Fans Conquer 'Spamalot' / Weekend Invasion of Broadway
Spamalot Crowd Crowns King Clay / Fun Begins Anew
Clay Aiken Returns to SPAMALOT / This Is the Knight!
Aiken To Take Manhatten Again / Clay Nation, Too!
Aiken Heads Back to Broadway / Ike Triggers F-5 Tornado Trials
Aiken Aids 'Gift of Growing Up' / Global Fight Against Malaria
OMWH Still Elates Aiken Fans / Love Song a Classic
SPAMTASTIC Reprise Nears / Counting Down to 9/19!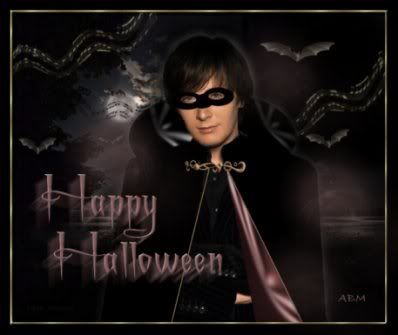 VINTAGE CLAY -- Bats and musical notation accompany "Count Clay" in this handsome Halloween graphic by ABeautifulMind.
Halloween Greetings

Goblins Invade Clay Cyberspace
A brief tour of Clay Aiken blogs and fan websites reveals that ghosts and goblins are this Halloween Weekend possessing the Internet landscape as well as real life terrains.

The same talented graphic artists who treat fans to handsome designs year round have taken the lead in decorating Clay Cyberspace for Halloween 2008. Seasonal decor in Clay Land features creative banners, avatars, as well as graphic designs.

October 08 Headlines

Clay Aiken, Politics Face Off / Campaign for Computer Space
Fan Boards Replay Aiken Gala / Lopez Pens Clay's Playbill Bio
Gala a Reunion for Aiken, Fans / A Memorable Evening in Raleigh
Aiken Site Awards 08 Claymmys / Interview Clay at Broadway.com
Aiken, Fans Celebrate Inclusion / Champions of Change Gala
Aiken Inspires Aid for Children / Fans Host Baby Showers
October Honors Clay, Parker / New Beginnings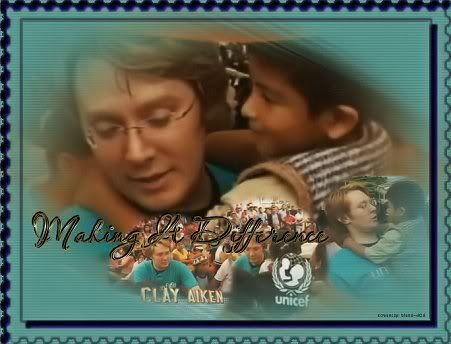 What a Difference a Year Makes - Happy Birthday, Clay! -- Graphic by AmazingCA
Amidst Spamalot 'Extemporania'

Sir Robin Adds 30th Candle
For the past five seasons, holiday tour audiences of Clay Aiken fans have commemorated Nov. 30 waving glow sticks and serenading their favorite singer.

It's anyone's guess what will occur when the singer adds his 30th candle in the extemporaneous stratosphere of the Spamalot stage Sunday.

The birthday day montage by Luluaast -- What a Difference a Year Makes -- features "Seasons of Love" by the cast of Rent.

November 08 Headlines

Week Yields Aiken Appearances / Fans Celebrate, Set DVRs
Holiday Commemorations Merge / Merry Thanksgivoween!
An Unfortunate Friday the 14th / Everything I Don't Need!
Aiken Fans Wrap for Inclusion / Holiday TBAF Fundraiser
America Remembers Veterans / Ceremonies of Tribute
Clay Fans Creative Fundraiser / Spur Spamalot's BC/EFA Goal
US Chooses Obama, Change / Shared Destiny: Yes, We Can!
Americans Celebrate Democracy / Historical Election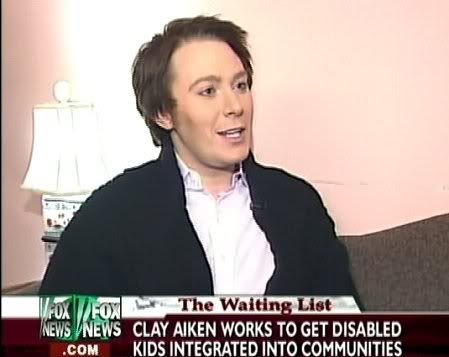 Clay on 'The Waiting List' special. - Screen cap by Gerwhisp
Singer on Sardi's Wall, in People Yearbook

TBAF History, Goals Showcased
In an interview on this weekend's Geraldo At Large, Clay Aiken talked about his passion and projects for the inclusion of children with disabilities in mainstream America, as well as the story behind the creation of The Bubel/Aiken Foundation.

December 08 Highlights

Sardi's Caricature Honors Clay / UNICEF Inspired Gifts Blog
Clay Relishes Father-Son Time / Kai Discovers Christmas
Recitals Herald Holiday Season / No Clangs, No Clack!
Radio Spins Mesmerize Fans / An Unexpected Serenade
Clay Aiken #1 Man at Lycos / Celebrations in Shubert Alley
Christmas Music Fills the Air / CA Songs, Student Recitals
SueReu's Montage Places 1st / MOAM Connection Rewind
TECHNORATI TAGS: Clay Aiken, On My Way Here, Monty Python's Spamalot, What Are You Doing New Year's Eve?, Merry Christmas With Love, montage, 2008 rewind, New Year celebration, The Bubel/Aiken Foundation, Official Fan Club, Clay Nation