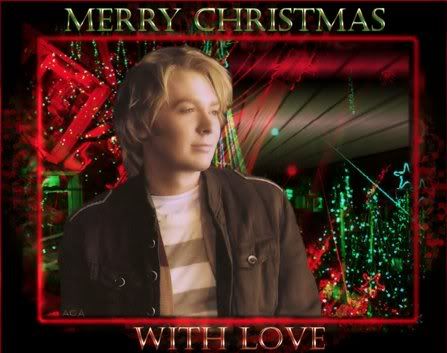 MERRY CHRISTMAS WITH LOVE -- Graphic by Amazing_CA.
UNICEF Inspired Gifts Blog
Sardi's Caricature Honors Clay
Finally, I'm first at something! -- Clay Aiken
Joining an impressive circle of celebrities, Clay Aiken became the latest entertainer honored with a caricature to be hung at world-famous Sardi's Restaurant in New York City later this week.

Accompanied at Tuesday's unveiling by SPAMALOT cast members, Clay autographed his caricature "Finally, I'm first at something!" and mugged for photographers from various wire services.
Paul Hodgins of the OC Register's
Arts Blog
wrote:


Yet another sign that Clay Aiken has arrived as a serious Broadway star: yesterday he got his framed caricature installed at Sardi's. That's the Big Apple equivalent of a star on the Hollywood Walk of Fame.
The story can also be read at
Theater Mania
. The post at
Just Jared
includes 15 pictures from the event. Additional photos can be viewed at
Getty Images
,
WENN
, and
Wireimage
.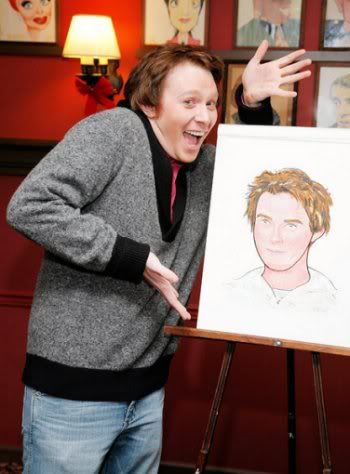 Clay poses with Sardi's caricature. - Amy Sussman
According to Sardi's management, Clay's caricature will be hung on the right wall behind the desk of the maitre'd near the restaurant entrance -- no doubt the scene of many fan photos prior to Clay's final Spamalot performance on Jan. 4.

Celebrity listings at Wikipedia include the date or year each caricature was added to Sardi's and also mentions the production or play that included the performer's definitive role at the time of the unveiling.
Congratulations, Singerman!
PHOTO INTERLUDE: This clickable holiday interlude includes graphics by Amazing_CA, photos ClayIzzaQT, 1; cindilu2, 2; as well as ACA's opening design.
Clay Blogs on Christmas Day!
As part of the Inspired Gifts project, UNICEF ambassadors and supporters are posting messages at the Field Notes site during the final 12 days of 2008. On Christmas Day, Clay's blog topic was Help Kids in Emergencies Stay in School:
Every child has a right to an education.

Often times in emergency situations, it becomes harder than ever for children to go to school. Natural disasters and conflict often destroy schools and supplies, leaving children without a place or the tools to learn.

UNICEF works hard to make sure that children receive an education no matter what the obstacle. For just $186 you can send children in need a School-in-a-Box kit, offering an opportunity to an education that otherwise wouldn't exist.




Just think—one kit provides a temporary school for up to 80 children at a time in an emergency!
The entire blog and information about Inspired Gifts can be read
here
.
With this special Christmas graphic by

Auntie Ashes

, grandson Kai and I wish you and yours the happiest of holiday seasons!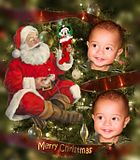 Santa and Kai
Clickable by Ashes
Thank you for visiting the Carolina and OFC corners throughout the year. Your comments especially make the process worthwhile.
Caro

TECHNORATI TAGS: Clay Aiken, On My Way Here, Monty Python's Spamalot, Sardi's Restaurant, caricature, Wikipedia, Getty, WENN, Wireimage, Merry Christmas With Love, UNICEF Inspired Gifts, Official Fan Club, Clay Nation