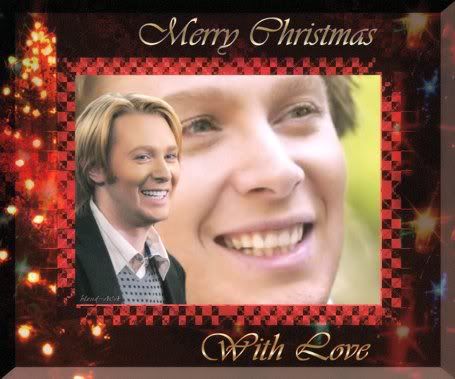 SEASON'S GREETINGS -- Wishing you and yours the happiest of holidays! Graphic by Amazing_CA.
Kai Discovers Christmas
Clay Relishes Father-Son Time
As December draws to a close, people the world over tend to reflect upon changes in their life during the outgoing calendar year. Sunday Clay Aiken told
People
that, of the many major developments in 2008, becoming a father was the most memorable.

Upon completion of his run on Broadway as Sir Robin in Monty Python's Spamalot, Clay plans to return to full-time fatherhood, joining son Parker and his mother, Jaymes Foster, in North Carolina.
"At the end of the day, Parker is the most important thing of the year, and of my life, without question," Aiken, 30, tells PEOPLE. "Having a son and that type of responsibility is obviously going to be something that I remember forever."

Still, Aiken, is mindful of the widespread support he received after coming out. "We've been very impressed and my heart has been thoroughly warmed to find people very supportive," he says.

"I want to spend time with Parker. He's still uber-dependent," Aiken says, laughing. "I'm ready for him to start talking. I'm ready for a little action!"

But Claymates need not worry: Aiken will return to his singing roots: "We'll take a little bit of time, we're not quitting or anything, we're just gonna take it slow for a month or so and recollect once I get back," he says. "I may never have any free time once Parker starts walking and talking.
The article can also be read in its entirety at TV Guide,
The Insider
,
Huffington Post
, and several other sites.
Fans have embraced news of Clay's return to his singing career, with celebrations taking form in prolific message board posts, graphic designs, and montages.

Fountaindawg

's clickable "Living the Dream" graphic highlights events from 2002 - 2008.

Filled with memorable photos, videos, and extensive creative techniques, Gerwhisp

's

latest montage

traces the past six years.
On My Way Here
can be viewed here and at YouTube.


On My Way Here - Montage by Gerwhisp

Nineteen Minutes

According to fhmmany2 ("Frankie") of the Aiken News Network on the Claymaniacs board, the three-part series about the beginning of the The Bubel/Aiken Foundation can be viewed in 19 minutes, start to finish.

Curl up with a cup of hot chocolate, cider, or java, and view the foundation's fledgling, momentous steps:

Look What Love Has Done, Part 1

Look What Love Has done, Part 2

Look What Love Has done, Part 3
Clay To Appear on Fox Special
On Dec. 27 at 10 p.m. EST, Clay will appear on "The Waiting List", hosted by Geraldo Rivera on the Fox News Channel. The show will be dedicated to the American heroes who live with and care for the 54 million people with developmental disabilities in the US.

According to Aaron Hall, Clay was included because of his work with children with special needs through TBAF and the inspiration it has brought and can bring to people around the country.
"We are excited about the opportunity to be a leading voice in what could turn out to be a groundbreaking program," he wrote to supporters in a newsletter.

PHOTO INTERLUDE: Amazing_CA's holiday graphics extend season's greetings to all stopping by the Carolina corner. Photographers include PermaSwooned, 1, and Kareneh, 2.


Kai Enjoys Holiday Experience
This year Grandson Kai is enjoying Christmas every step of the way. Besides pulling the tree on his head and bouncing the glass balls on the kitchen floor, as reported in the 12/10 entry, he has also discovered the joys of shopping this time of year. So many colorful sights and interesting activities to explore ... and new friends to meet!

After trying to rearrange a holiday wrapping paper display, Kai moved on to a huge stuffed animal, not for himself but for a little girl also discovering the delights of the "playground" that is a superstore.

Man on a Mission

The fun was just beginning, as Kai took several turns on the store's merry-go-round. In addition to remote controls and computer keyboards, he is very much into steering wheels and vehicles of all types.

His mother captured some of the special moments with her camera. Special thnx to Sally for photo editing, 1, and ACA for the Christmas magic graphic, 2. Possible captions for the two clickable photos are "Wow, I wonder if this will fit under my bed!" (1) and "Reckon Grandma Caro's friends can see my new front teeth?" (3). Reader suggestions welcomed.
For this southerner, the snowflakes falling in the Carolina blog are my kind of winter storm. Clay's opening phrase of "Merry Christmas With Love" is coming from the greeting card posted in the 12/10 entry. I suspect he will sing to us all the way down the page.

Below is a clickable of the

ACA

's opening graphic: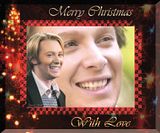 Happy Hanukkah and Merry Christmas Week to all this blog's visitors! Thank you for dropping by throughout the year. It's especially gratifying when you stop and say hello.
The happiest of holidays to you and yours!



Caro
TECHNORATI TAGS: Clay Aiken, On My Way Here, Monty Python's Spamalot, People, Jaymes Foster, Parker Foster Aiken, montage, The Bubel/Aiken Foundation, Aiken News Network, Claymaniacs, Look What Love Has Done, grandson, Merry Christmas With Love, Official Fan Club, Clay Nation