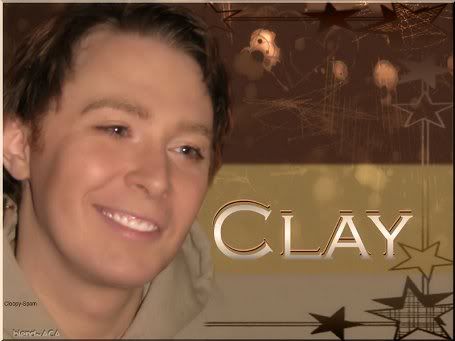 STAGE DOOR FESTIVITIES -- Clay Aiken greets fans in Shubert Alley following a performance of SPAMALOT. Graphic by Amazing_CA, photo by Cloopy. (For clickable, see 12/7 blog entry.)
No Clangs, No Clack!

Recitals Herald Holiday Season

CLANG, CLANG, CLANG went my damper pedal ... almost!

Hours before my string ensemble's holiday performance, the temporary fix my piano technician had put on the pedal the day before just wouldn't hold; so he ended up taking the mechanism home to repair for 2009.

Curious to see what would happen if I forgot and depressed the damper during the concert, I gave it a whirl while practicing my accompaniments.

Sure enough, CLANG, CLANG, CLANG would have been the result. So, added to the intros, downbeats, cut-offs, and varied arrangements the students and I had planned for our program of 14 holiday tunes, I had to remember NOT to put my foot near this important pedal.

Priceless 'Silent Night' Clack

Life is never dull when presenting concerts with young people. For the most part, we were spot on through all 14 selections. However, there is one piece of video clack I wish were availabe. On the first verse of "Silent Night," six students performed consecutive eight-measure duos before the group repeated the carol in three-part harmony.

As the middle duo was concluding their section, I glanced toward the first stand where the inside player was poking her partner with her bow to let her know it was almost their turn. Pan back to the teacher's expression, and that would have been one hilarious piece of clack ... had Scarlett or SLC been in the vicinity, LOL!

With an audience of 15-plus parents and siblings, the seven-member string group played to a packed living room. All available seats -- and floor pillows -- were in use.

Even a stool that once belonged to my late mother was called into duty. A music teacher in her day, Mama Mac would have enjoyed the afternoon.



Piano Duets Rock the House

Wednesday eight of my younger piano students "concertized" in the same living room, sharing their holiday repertoire duet style. Most are in the same books, so we boldly programmed for our family-friendly audience "multiple verses" of such traditional favorites as "Good King Wenceslas," "We Three Kings," "Frosty the Snowman," and "Rudolph the Red-Nosed Reindeer."

Special renditions of the less familiar "The Coventry Carol," "The Snow Lay on the Ground," and the finale, "Do You Hear What I Hear?" completed our program. My duet partner for the latter showed amazing control, as for weeks we have awaited his audition results for an upcoming production of "The Music Man."

The final crescendo still filling the air, Joseph turned to me and mouthed, "I got the part." And his older brother will play the music man!

My tow-haired partner is going solo when he accompanies his own "God Rest Ye Merry Gentlemen" vocals at a Christmas Eve service. Brothers Zach and Matt are on tap to perform violin and piano selections for their father's annual office party, and Lauren provided a violin obligato for her school choir program.

All, I hope, will share their Christmas repertoire with family and friends throughout the holiday season.



Blend of 'Mary, Did You Know?' -- Claysidney

One of my favorite Christmas songs is Clay Aiken's version of "Mary, Did You Know?" In this 2007 montage,

Claysidney

blended several performance videos by

SecretlyLovesClay

and

Scarlett

. You can also view MDYK at YouTube.


PHOTO INTERLUDE

: Featured in this clickable collection are graphics by

Amazing_CA

, photo by

Claydreamer

, 1;

Artz11

, photo by

suzyque

, 2; and

ACA

, photos by

toni7babe

, 3.



12 Days of UNICEF: 'Inspired Gifts'




In a 12/19

press release, UNICEF outlined "12 Days of UNICEF," a blogging campaign to encourage Americans to give back this holiday season with "inspired gifts" and their impace on children around the world.

Beginning today and running through 12/31, UNICEF celebrity ambassadors and supporters, including Lucy Liu and Clay Aiken, will post daily blogs at the site's Field Notes about inspired gifts. The first blog by Marcus Samuelsson is entitled "Give the Gift of Nutrition."


From nutrient enriched food, medicines and immunizations, to wool blankets, tents and school supplies, UNICEF's Inspired Gifts can mean a world of difference to children living in harsh circumstances due to poverty, exploitation, armed conflicts and natural disasters.

Participants in the program choose an item from the collection of life-saving gifts to be shipped to children in need in one of over 150 countries and territories where UNICEF works. Recipients receive a UNICEF Acknowledgment Card identifying the item that was sent and how it will be used to save children's lives.
For more information, visit
Inspired Gifts
or call 1-866-237-2224.


Clay Named 'Best Humanitarian'

Between arranging furniture and music, I did take notes on some Clay Train stops this week. A couple of days ago, LALATE NEWS named Clay the Best Humanitarian Celebrity for 2008.
While several celebrities donated proceeds of profitable years to charities, Aiken physically did something, joining forces with UNICEF this summer. Aiken's field visits, and subsequent blog posts, yielded an incredible $50,000 in donations for the impoverished region just after one report.

Aiken would join UNICEF for efforts battling problems in Kenya and Somalia. His efforts raised awareness, educated a nation, and used his status as a celebrity to improve the lives of others.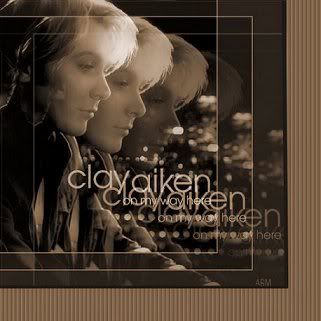 OMWH graphic by ABeautiful Mind
OMWH on Top 10 Album List

This week the editors of American Songwriter published their individual lists for Top Ten Albums of 2008, and On My Way Here was the #3 pick by Evan Schlansky:

The contributing editor's honorees include:
1. Miley Cyrus, Breakout
2. Wynton Marsalis, He and She
3. Clay Aiken, On My Way Here
4. Dem Franchize Boys, Our World, Our Way
5. Sixpence None the Richer, The Dawn of Grace
6. Boz Scaggs, Speak Low
7. Cyndi Lauper, Bring Ya To The Brink
8. Tom Jones, 24 Hours
9. Barenaked Ladies, Snacktime
10. My Morning Jacket, Evil Urges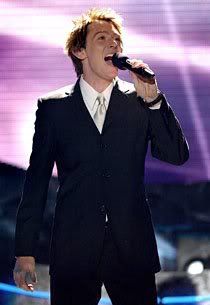 Clay on American Idol
Wild Card To Return to Idol

According to a TV Guide story by Matt Mitovich -- Can Blasts from the Past Amp Up Idol's Future -- AI is "plumbing its past to bolster its future."
Season 8, premiering Jan. 13, will reinstitute the Wild Card round, in which singers who don't make the Top 9 are afforded one last chance to improve their fortune and thus comprise the Top 12.

"We want to change things up a bit," exec producer Ken Warwick tells TVGuide.com. Though the exact process has yet to be cemented, he says, "The judges can pick anybody they like that they thought maybe was better but just off form and then decide on three" from that group. Such a "save" is what kept eventual second-placer Clay Aiken in the Season 2 mix.
Hansbrough Breaks UNC Record
Icing on the cake to this busy week came Thursday night when senior Tar Heel forward Tyler Hansbrough eclipsed a 30-year record held by alumnus Phil Ford, now an assistant coach with the Charlotte Bobcats, to become the new leading scorer in Carolina basketball.


As soon as the record-setting shot went through the net, officials briefly stopped the game to allow Ford, coach Roy Williams and athletics director Dick Baddour to present Hansbrough with the game ball. Students who carried small signs saying "Phil Ford 2,290" on one side turned it around to reveal "Tyler 2,291+" on the other.

I wasn't the only Carolina fan applauding and cheering the events as they unfolded on my den TV. For more visuals, see photos by Jim Bounds and Jeffrey A. Camarati at Tar Heel Blue.

Congratulations, Tyler! Go, Heels!

Have an awesome, musical holiday weekend, Clay Nation!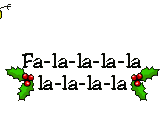 Caro
TECHNORATI TAGS:
Clay Aiken
,
On My Way Here
,
Monty Python's Spamalot
,
holiday recitas
,
damper pedal
,
Mary, Did You Know?
,
montage
,
12 Days of UNICEF
,
Inspired Gifts
,
Best Humanitarian Celebrity
,
LALATE NEWS
,
American Songwriter
,
Wild Card
,
American Idol
,
Carolina basketball
,
Tyler Hansbrough
,
Phil Ford
,
scoring record
,
Official Fan Club
,
Clay Nation