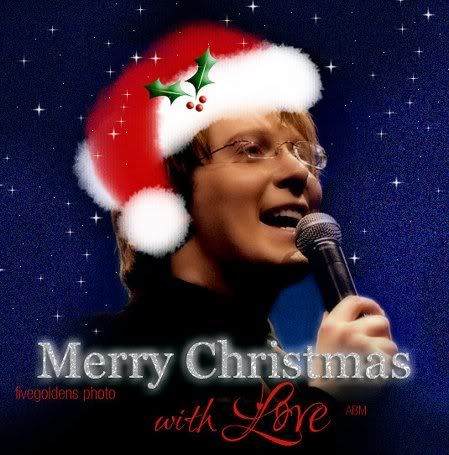 ABeautifulMind's graphic, photo by fivegoldens, captures the spirit of the season -- Merry Christmas with Love!

CA Songs, Student Rehearsals

Christmas Music Fills the Air
On my corner, holiday music profusely fills the air, the air waves a symphony of the beautiful strains from Clay Aiken's "Merry Christmas With Love" CD, "All Is Well" EP, and seasonal rehearsals for our upcoming piano-string class performances.

The young musicians are preparing for next week's all-Christmas performance classes, so polishing correct notes, musicality, and "living room" stage presence have become bywords of December lessons.

The violin/viola group also participated in finalizing arrangements for their 12/18 performance. We have planned a varied program of 15 songs, mixing solo, duet, unison, and harmony passages; an all-pizzicato "Up on the Housetop"; and a fugal finale with our version of "We Wish You a Merry Christmas."

The teacher must soon access "serious mode" for cleaning the premises and rounding up every possible seat in the house. A packed living room is expected for both gatherings with the youngest on a set of colorful floor pillows.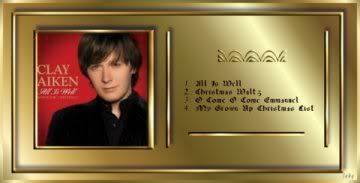 Graphic by Claystruck
MCWL, AIW Garner Holiday Spins
Staples of adult contemporary recurrent charts this time of year, Clay's Christmas tracks have become synonymous with the season and are spinning on radio and personal playlists throughout the land, according to fan board reports.

During Wednesday's telecast of the Rockefeller Center Christmas Tree lighting, I listened to every performer's opening phrase before muting the TV and returning to my MCWL-AIW playlist as accompaniment for the festivities.
Setting just the right tone for Saturday's online holiday shopping were Clay's exquisite stylings of "Don't Save It All for Christmas Day," "Winter Wonderland," "Mary, Did You Know," and "All Is Well."

Cole, Crosby, Aiken, and More!
Associated Content is spotlighting Clay's 2004
Merry Christmas with Love
among holiday CDs for less than $11. Here's the site's promo for MCWL:
Clay Aiken-Merry Christmas With Love (2004): Combining one of the most powerful voices heard in recent years with traditional Christmas songs, "Merry Christmas With Love" is the perfect blend of traditional holiday music and pop music.

Clay Aiken delivers a powerful performance on songs like "Don't Save It All For Christmas Day", and on the same turn, offers a more gentle approach to songs like "Silent Night" and combines gentle and powerful on the track, "Mary Did You Know."


At around $9.99, this album is perfect for pop fans and Christmas music aficionados alike!
MCWL is also available at
Amazon
($9.97),
CD Universe
($9.19),
Tower Records
($7.99), and other online sites.
PHOTO INTERLUDE

: This Christmas 2007 interlude features clickable graphics and photos from last season's holiday tour, including

Amazing_CA

, photos by

Riversend

, 1;

ACA

, photos by

KarenEh

, 2;

Ashes

, photo by

fivegoldens

, 3;

ACA

, photos by

ClayIzzaQT

, 4; and

Ambassador of Love

, photo by

toni7babe

, 5.
AIW, GoodShop, TBAF Promoted

American Idol News
is spreading the word about Clay's AIW, along with GoodShop and The Bubel/Aiken Foundation.
Clay Aiken has more than proven himself in the Christmas music realm, and fans will be thrilled to know that he's added to his extensive holiday catalog.

He has released an EP, All Is Well-Songs For Christmas, that features the classic "O Come O Come Emmanuel," along with some with a more modern spin, like "All Is Well," "Christmas Waltz," and "My Grown-Up Christmas List".

Care to buy it AND spread goodwill? If you access iTunes via GoodShop, 3.75% of your purchase price will go to Clay's foundation for inclusion, The Bubel/Aiken Foundation, or a charity of your choice.
AI5 Finale Heads Top 40 List

Clay Aiken's appearance on the American Idol 5 Finale ["CA surprises admirer"] tops the list of the 40 Greatest Reality TV Moments 2 Show airing in my area at 1 p.m. Thursday, Dec. 18.
Check local VH1 listings for the show, which will include new, exclusive interviews with a plethora of A-list reality stars and the shows' producers and creators, plus an exciting assortment of comedians, writers, and reality TV "experts," all backed by insanely captivating footage.
Moments from American Idol, The Amazing Race, Flavor of Love, Project Runway, Big Brother, America's Next Top Model, The Real World, Deadliest Catch, Hell's Kitchen and many more will be featured.

Whether you missed them the first time around or are just incredibly psyched to see them again, you won't be able to turn away from VH1's 40 Greatest Reality TV Moments 2.
Fans Enjoy Final SPAMALOT Shows
Monty Python fans are flocking to Broadway's Shubert Theatre for the final month of SPAMALOT shows, scheduled to close on Jan. 18. Clay's run as Sir Robin will end Jan. 4.
From this weekend's Shubert Alley stage door gatherings, here are clickable photos by dancerdad and Amazing_CA's graphic of a photo by Cloopy.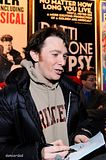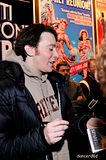 Stage door photos by dancerdad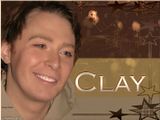 Graphic by Amazing_CA,
Photo by Cloopy
A special thank you to Rosaratana for the handsome surprise in my mailbox this week. I will cherish and put to good use the 2009 Clay Aiken Calendar, which arrived in the midst of five overlapping violin-viola lessons.
A violin mom placed the mail on the end of my grand, and I didn't see the special package until the rehearsal's end. Many thnx!
Have a wonderful week, Clay Nation!
Caro
TECHNORATI TAGS:
Clay Aiken
,
On My Way Here
,
Monty Python's Spamalot
,
Christmas music
,
Merry Christmas With Love
,
All Is Well
,
holiday performance class
,
Associated Content
,
Amazon
,
CD Universe
,
Tower Records
,
American Idol News
,
GoodShop
,
The Bubel/Aiken Foundation
,
40 Greatest Reality Moments TV 2
,
Official Fan Club
,
Clay Nation