Clay Aiken, an Amazing Five Year Journey (Redeux)
MOAM Connection Rewind

SueReu's Montage Places 1st

The montage Clay Aiken, an Amazing Five-Year Journey (Redeux) by SueReu has been named winner of the Clay Aiken Birthday Fan Video Contest by LALATE2 and is currently featured at the sponsoring site.

In her description of the video, SueReu wrote, "Clay, it's been an incredible five years. Here's to another 50!" The montage can also be viewed at You Tube, and fans can download it with this Sendspace link.

Other entries included Clay Aiken - That's What It's All About (Luluasst); Can You feel the Love Tonight? (LovesClaysVoice); and Clay Aiken Fan (Lee).
Congratulations to SueReu and all the entrants!

The winning montage inspired a rewind of a blog I wrote in 2005: Nashville Connection to IWCY and ISY. As you watch the video, notice the songwriting credits scrolling across the screen when Clay is presented the double platinum award for his first album, Measure of a Man.

From Nashville to MOAM

During my life I have known lots of musicians, many from the 17 years I called Nashville, TN, home. However, a fateful meeting there led to a "Clay Aiken connection" several years later and proved once again we live in a small world.
My husband and I moved to Nashville when the combination of genes and band directing sent his high blood pressure through the ceiling and his doctor insisted he must change his lifestyle. We visited musician friends in Nashville during Spring Break 1972 and decided to sell our home "lock, stock, and barrel" and make the move.

An outstanding percussionist, Mr. Caro had played everything from 60s rock, R&B, society trios to musical shows and symphonic orchestras -- but never country. This was quite a gamble, but we were young, ambitious, and confident we were taking the right steps.
Of course, both our families thought we had lost our marbles, but we went ahead and moved to Music City, splitting the difference between West Texas and coastal Carolina.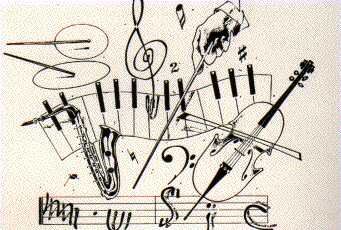 Microcosm of Music City
Our apartment complex was literally a microcosm of Music City. Besides a country singer, our immediate upstairs neighbors were Bill and Linda Cates, who had successfully toured with Up With People and were now trying to start a family and make it in the music business. Linda has a beautiful soprano voice, and Bill was a songwriter.

One of his greatest coups was landing a hymn in the 1975 Baptist hymnal, "Do You Really Care?" Other pre-Finale compositions included several full-length religious music dramas, the recordings for which often involved his new downstairs neighbors on oboe and drums.

Bill composed on an electric piano with headphones. This setup was quite handy for apartment living, as well as the first months of the couple's young son's life. However, as the downstairs neighbors, we could always hear a muffled version of his work along with his habit of singing the melody lines in nonsensical syllables: "na na naa nah nuh naa."


Drummer to the Rescue
When Bill hit a rhythm snag, the routine was always the same: abrupt slamming of door, songwriter running down the stairs, pen and papers flying, followed by a loud knock at our door, mad dash to our piano where the passage in question was played, "na na naa" melody sung, and the drummer asked how best to write the rhythm.

Bill and Linda eventually moved to a home in the Bellevue area, had two more children, and continued working in music. After the birth of our daughter, we also bought a home in the area and continued working in music, the drummer on the road with various country artists and I as a full-time piano/wind teacher in my home studio, working as a freelance musician on the side.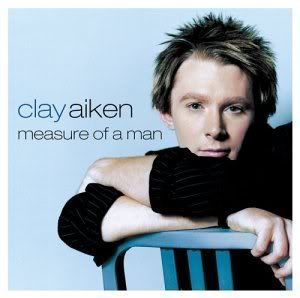 Liner Note Surprise

Fast forward to October 2003 when, as a dedicated Clay Aiken fan, I purchased seven or more MOAM CDs for holiday gifts to friends and family. Judy, a very good friend I met through Bill and Linda, and I raised children, taught piano lessons, and played in a trio together.

A couple of weeks after receiving her MOAM Christmas gift, Judy took great delight in calling me with some info she knew I surely had not noticed -- or I would have told her first.

"Did you realize you know one of the songwriters on Clay's CD?"

"No way!"

"Have you read the liner notes carefully?"

It's a Small World

It was obvious she had, though I later learned my friend had also received a "guess what" type phone call from Linda. "Judy, you've probably never heard of him, but Clay Aiken .... "

After Judy refused to fill in the blanks, I had to promise to call her right back once I checked MOAM's liner notes. Sure enough, big as day (actually the print is tiny), one of the writers of "I Will Carry You" and "I Survived You" is Jess Cates, Bill and Linda's second son.

I knew Jess as a young kid growing up in Nashville, and Judy taught him and his siblings piano. Besides IWCY and ISY, Jess has co-written Nick Lachey's smash "What's Left of Me," the Backstreet Boys' hit, "Incomplete", as well as many top tunes in the Contemporary Christian arena.

He often collaborates with his older brother, Chad, who won a Dove award for the Avalon song, "Everything to Me." Their younger sister, Laurieanne, is a singer-songwriter with collaborations in jazz, R&B, folk, as well as Christian music.

It is indeed a small world!

Photo Interlude
: This clickable interlude features a graphics from Clay's career, the A Thousand Different Ways cover by Cindilu2, 1, and

Amazing_CA

's renderings from the present, 2 and 3. Photographer of the middle graphic is

PermaSwooned

.
Clay Aiken a Total Hands-on Dad
People
magazine is featuring an online synopsis by Jessica Herndon of Entertainment Tonight's Monday piece on Clay and his new "doting daddy" role. If you missed ET, here is a

Sendspace

download.

Settling into his role as a doting dad, Clay Aiken says he's been a complete hands-on parent.

"It was probably a week before [the baby's mother] had to change a diaper at all!" the American Idol favorite tells Entertainment Tonight. "I'm trying my best to be the one who doesn't always let him get what he wants, but he own us."

Back on Broadway as Sir Robin for the final weeks of Monty Python's Spamalot, Aiken, 30, says returning to the stage will afford him more time with 3½-month-old Parker and good friend – and the baby's mother – Jaymes Foster.

Though the singer says he was "terrified" to take the Broadway stage shortly after coming out, he admits that he went from being "sure I'd get booed off the stage" to feeling comfortable thanks to the crowd's positive reaction.

Aiken says he could no longer be in denial about his sexual orientation once fame took over. "I'm from the South, and we don't talk about our problems," he says. "We sweep them under the rug."

But now, the singer says his life feels "natural."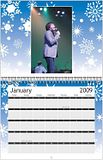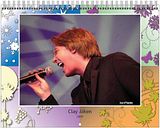 Clickables of January and cover
2009 CA Calendars Shipped

In a fundraiser for The Bubel/Aiken Foundation, 90 orders were placed for the 2009 Clay Aiken calendars featuring performance photos by toni7babe. Completed orders were shipped Monday, according to Rosaratana, designer and project chairperson.
Ten
standard calendars
have been posted for bids on Ebay through 12/8. Printed on standard paper rather than the premium glossy cardstock of the original order, the results are still amazing, according to Rosa, and include a "five years at a glance" feature. Upon payment, they will ship via priority mail.

Donations from the project will be sent to TBAF on Jan. 1 as part of the 2009 "Together for Inclusion" fundraising.

At that time, Rosa will provide a final report on the monies earned. She thanks all who participated and hopes you enjoy your 2009 calendars. For previous calendar info, see 11/13 and 11/20 entries.
Have an awesome week, Clay Nation!

Caro
TECHNORATI TAGS:
Clay Aiken
,
On My Way Here
,
Monty Python's Spamalot
,
montage
,
30th birthday
,
LALATE2
,
Measure of a Man
,
I Will Carry You
,
I Survived You
,
songwriter
,
Jess Cates
,
Entertainment Tonight
,
People
,
calendars
,
The Bubel/Aiken Foundation
,
Official Fan Club
,
Clay Nation