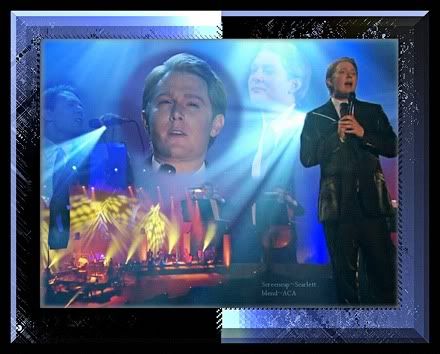 TRIED & TRUE MAGIC-- AmazingCA lived up to her screen name when she took several of Scarlett's T&T ~ LIVE screen caps from the previous entry and produced this handsome graphic. There's another one at the bottom. Both are double-clickable.

National Inclusion Grant 'Official'

Clay To Sing SSB for NHL All-Stars

Clay Aiken will take a break from Tried & True Tour preparations to sing the American National Anthem at the National Hockey League All-Star Game Sunday at the RBC Center in Raleigh, NC. The Canadian Tenors will perform their country's anthem.
A longtime hockey fan, Clay has sung the "Star-Spangled Banner" to open numerous hockey games since the Carolina Hurricanes arrived in Raleigh in 1997.

Like most residents of the Triangle area, he is excited that his hometown is hosting the all-star game. "We built a brand-new airport. It specifically opened Sunday to be ready for the all-star game," he said.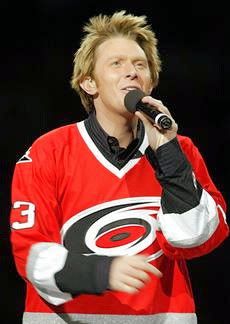 AP Photo by Karl DeBlaker
In addition to Sunday's festivities, Brian Mansfield's story for
USA Today
also includes previews from Clay about the T&T Tour:
"I like being relatively laid-back and casual," he says. "This is Moon River, Unchained Melody and What Kind of Fool Am I. These songs don't need a lot of flashy light stuff. I like to come out and sing the songs, and I like talking to the audience."



Most of Clay's set will focus on tunes from his recent albums of standards, but he says he has a few surprises up his sleeve.

"Most of these songs are big-band types songs," he says. "I think we're going to do a medley of songs that are on the radio today, but we're going to do them in a big-band style."

Such as? Lady Gaga's Poker Face is on the short list. So is Kenny Chesney's She Thinks My Tractor's Sexy.

"They're definitely songs you would not expect to hear in big-band style."

WKNO: A Conversation with Clay Aiken
View Pierre Kimsey's interview full screen at YouTube.
Memphis PBS Chat Covers Bases


WKNO producer Pierre Kimsey's interview with Clay Aiken was a hit when it first aired on the Memphis PBS station last fall. Already on YouTube, the interview has this week begun airing on other stations throughout the PBS network.

Kimsey's chat with Clay covers all the bases -- performing, sudden fame, the National Inclusion Project, UNICEF, family, fans, connection with former teachers, the

Tried & True

PBS Special, Broadway -- and much more.

Promo for the interview provides an excellent overview of the chat between Clay and the WKNO producer:
WKNO Producer Pierre Kimsey talks with singer Clay Aiken. The North Carolina native was beginning a career as an educator working with special-needs children when he took an opportunity to audition for the TV show American Idol, then in its second season.



His life was transformed as a finalist, and he has emerged as one of the most successful singers to have been launched by the show.

Aiken has used his celebrity on behalf of the international charity UNICEF and has traveled to Somalia, Afghanistan, and other countries where children have been impacted by war.


IT's OFFICIAL! The National Inclusion Project has been informed
that December's $50k Pepsi grant win was certified Friday.
Double click on the NIP Pepsi banner to view full size.
NIP Pepsi Grant Win 'Official'
Throughout Clay Cyberspace, fans are "dancing in the streets" with news that the National Inclusion Project's December $50k grant win has been declared official.
Jerry Aiken, executive director of the foundation, received word of the certification on Friday and shared the news with supporters via Facebook:
Thanks so much to everyone that helped us win. We will hold the drawing for the iPad early this week!
Most Inclusion Project supporters are still voting -- for the alliances and partners who helped bring home the $50,000 grant. As this sampling from the NIP Pepsi page shows, the daily votes have not gone unnoticed:
SHENAN ARTS

: Hello, National Inclusion friends! Shenan Arts appreciates your continued support! You're the best. Thanks for any additional votes you can send. Congrats again, and thanks for all the support!



CRAVEN ARTS COUNCIL

: Craven Arts Council thanks you, thanks you for your support!!! We so appreciate you continuing to vote for us. We need it!



VOMA

: The Venue of Merging Arts can't thank you enough for remembering us and continuing to support our efforts.



LONG ISLAND RIDING for the HANDICAPPED

: Hello, National Inclusion Project! Thanks so much for your continued support of LIRHA. We're now at #11!!



ROBERT MORRIS ELEM SCHOOL

: On behalf of Robert Morris, I would like to Thank all who have been coming back and voting for us. You guys are the BEST!!!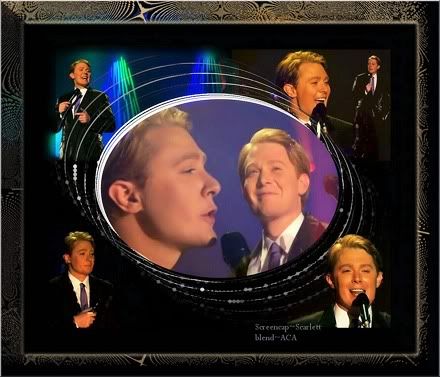 Double clickable graphic by AmazingCA, caps by Scarlett.

Unlimited Clack Now on Facebook

There's a new "face" at the popular social networking site that should keep fans rolling in videos of the singer's performances. Visit the growing Unlimited Clack wall at Facebook, and join the fun.

Scroll through the Unlimited Clack widget in the Carolina sidebar that continuously reflects the latest additions with a page refresh.

Have an awesome week, Clay Nation!

Caro