Clay introduces signature 'Unchained Melody' version.
View 'Tried & True LIVE' PBS performance full screen at YouTube.
'Unchained Melody' on Tour
Aiken Programs Signature Song
For many fans, the highlight of Clay Aiken's February-March 2011

Tried & True Tour

will be the nightly performance of "Unchained Melody, a song in the singer's repertoire for years but now with his own spectacular signature arrangement.

Clay's new interpretation of "Unchained Melody" was scored by his friend Ben Cohn, arranger, musical director, keyboardist, for the 2010

Tried & True

album and PBS Special.

For many, UM became a favorite during Clay's

American Idol 2

run in 2003. Most CA fans have external hard drives that chronicle the UM saga dating back to his teen aged years in Raleigh. Below is the singer's Top 3 AI performance of the song.


Clay singing 'Unchained Melody' during AI Top 3 Finals.

Fair warning -- once you link to YouTube for the above performances, be prepared to also view the Hollywood Week montage by

Wowzers4Clay

, which includes the a Capella/pitch pipe version; DWTS Season 11, UM montage by

LovesClaysVoice

; and ... and ... Have fun!!!



UM Boasts 500+ Versions



Unchained Melody, 1955 popular song with music by Alex North and lyrics by Hy Zaret, has become one of the most recorded songs of the 20th century, by some counts having spawned more than 500 versions in hundreds of different languages.

Theme music for the 1955 prison movie "Unchained," the song was recorded by various artists prior to the July 1965 version by the Righteous Brothers that became the jukebox standard.

Featured in the 1990 blockbuster movie

Ghost

, the song is slated for

GHOST The Musical

this year.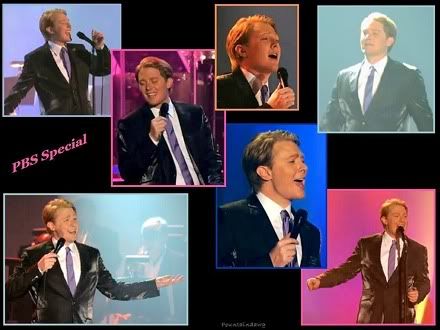 Photos by Jim R. Bounds from the Tried & True ~ LIVE Special
complete this graphic design by Fountaindawg.

Since the Ben Cohn chart debut at the March 2010 PBS Special taping, Clay's "Unchained Melody" has made an impression on many. Below are four examples from previous Carolina blog entries.



Moonhead

: Clay's own version of "Unchained Melody." Wow, he owns this song!!! And he really changed up the last third of it. His own version indeed! What he did with this was quite spectacular. -- March 15, 2010 (just after the PBS taping).

The next two appeared in the June 9, 2010 Carolina blog: Clay Aiken CD Charts in Top 10.



adrienne1954

: My husband, who is not a fan, went to work out in our home gym. He put on the TV, and it wasn't working. He called me downstairs and, with panic in his voice, asked me to fix the TV. I tried to figure out what the problem was and couldn't.
Instead, he decided to listen to a CD. While fiddling with the cable remote, I jokingly asked, "Do you want to listen to Clay's new album?" "OK." (Words I never thought I would hear in a million years!)

I can't tell you how fast I ran upstairs to grab the CD before he changed his mind. In the old Bose CD player, Clays T&T went right to "Unchained Melody." I waited for his reaction.

"I love this song. This is one of my favorite songs," he said. (Who knew?) "He really does have a great voice. Oh, and shut if off."

I reached to turn off the CD, not wanting to push my luck or Clay's voice.

"No," not the CD player -- the TV! I want to listen to the whole album."



amazed_in_nj

: I let my second graders listen to TnT today while they were working. After "Can't Take My Eyes Off You," I had to replay it again for them ... and again and again. By the third time, they were all singing along.
They loved "Unchained Melody," would wait the THE NOTE, and then take their hands from low to high in the air as Clay went up on that note. Again, when it was finished, they said, "Play it again!" So, of course, I did.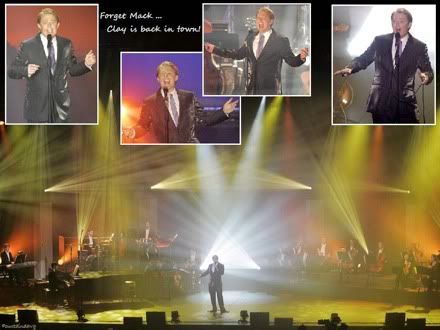 CLAY IS BACK -Graphic by Fountaindawg, photos by Jim R. Bounds.
Couple Plans Valentine Concert



During Houston's PBS Special debut, several CA fans assisted with phone pledges. This incident was retold in the Sept. 9, 2010 entry, Clay Aiken Dazzles Houston PBS Audience:



jtgranny

: One of the most amazing calls I received was from an older gentleman planning a special Valentine evening. When I asked him how much he wanted to pledge, he said "Well, I guess I'm going to have to pledge $300 so I can go see this Clay Aiken and take my wife."

After I took all of his information, I was informed by him and his wife, who had by this time picked up on the other line, that they had followed Clay when he was on American Idol and thought he was great.

They have been married for 54 years, and "Unchained Melody" is their song. When Clay sang it on the TV special, they both sat on the couch and cried because it was so beautiful. She also told me she thought that was the best version she has ever heard.

By this time I was trying not to get all weepy myself, so I just told them I hoped they had a wonderful evening, thanked them for their donation, and said I would pass along this information to Clay.

I wished them a Happy Valentine's Day. This call definitely made my night even more special!




Clay Aiken: 2011 Winter Tour Preview

Tried & True Classics To Tour



"Unchained Melody" is not the only song that will be heard during the February-March

Tried & True Tour

. Get ready to experience the incredible pipes singing "Mack the Knife," "It's Impossible," "Can't Take My Eyes Off You," "Suspicious Minds," and other classics

Sample tour selections from the Tried & True CD and Tried & True ~ LIVE DVD at Amazon. Below are the tour dates with links to the venue or ticket sales.



2011 Tried and True Tour





2.10.11

Miami, FL Arsht Center, 7:30 pm


2.11.11

Orlando, FL Hard Rock, 8 pm


2.12.11

Sarasota, FL Van Wezel Performing Arts Hall, 8 pm


2.14.11

Houston, TX Jones Hall, 7:30 pm


2.16.11

Atlanta, GA Cobb Energy Center, 8 pm


2.17.11

Knoxville, TN Bijou Theatre, 8 pm


2.18.11

Pittsburgh, PA Carnegie Music Hall, 8 pm


2.19.11

Cleveland, OH Playhouse Square, 7:30 pm


2.20.11

Waterbury, CT Palace Theater, 7:30 pm


2.22.11

Baltimore, MD Kraushaar Auditorium, 7:30 pm


2.23.11

Charlotte, NC Blumenthal Center, 7:30 pm


2.24.11

Greenville, SC The Peace Center, 7:30 pm


2.26.11

Westbury, NY NYCB Theatre at Westbury, 8 pm


2.27.11

Glenside, PA Keswick Theatre, 7:30 pm


3.01.11

Cincinnati, OH Taft Theatre, 7:30 pm


3.02.11

Fort Wayne, IN Embassy Theatre, 7:30 pm


3.04.11

Waukegan, IN Genesse Theatre, 8 pm


3.05.11

Minneapolis, MN State Theatre, 8 pm


3.07.11

Memphis, TN Minglewood Hall, 8 pm


3.08.11

Grand Prairie, TX Verizon Theatre At Grand Prairie, 7:30 pm


3.10.11

Mesa, AZ Mesa Arts Center, 8 pm


3.12.11

San Francisco, CA The Warfield

,

8 pm



Decca, My Space Herald T&T Tour



Concerts through March 1 are mapped on the Decca Label Group site in Clay's Events column. The singer currently holds the Decca site record for most CD/DVD comments/reviews/page views. You can add to them in the Releases column. The same goes for comments at the linked You Tube videos.

If you haven't visited Clay's My Space page lately, you are in for a treat, as it is loaded with tour dates/links, T&T photos, music to stream, videos, an excellent bio, info about the National Inclusion Project, etc.

"Unchained Melody" is a great accompaniment for Pepsi Refresh voting. You can link to the National Inclusion Project's alliances and partners via the

NIP Thank You Widget

in the Carolina blog sidebar. The alliances can be accessed at the Vote For Kids link.

Have a wonderful week, Clay Nation!

Caro