DWTS Season 11 - Viennese Waltz
'Unchained Melody' Vocals by Clay Aiken.
View montage by LovesClaysVoice full screen at YouTube.
Clock Ticks Toward Miami Concert
Montages Celebrate Aiken Vocals
With the Feb. 10 Miami opener for Clay Aiken's

Tried & True Tour

less than a month away, fans are completing travel plans while taking intermittent "rest stops" at YouTube to view the latest videos and montages from previous performances.

The opening montage by

LovesClaysVoice

partners the Viennese Waltz routines of

Dancing with the Stars 11

contestants accompanied by Clay's

Tried & True

"Unchained Melody." Dancers include Jennifer Grey and Derek Hough, Rick Fox and Cheryl Burke, Brandy and Maksim Chmerkovskiy. You can download the montage with this Sendspace file.

Fortunately, the CA fandom is filled with fans who share their talent for creating, capturing, and rendering montages and videos from the singer's performances.
The same can be said for the handsome graphics visual artists create with photos from previous events.

Below are blends by

AmazingCA

that expand to wallpaper size with a double-click. The first two feature photos by

PermaSwooned

while the third incorporates photos by

toni7babe

.

CA Fans Keep YouTube Buzzing



While there is nothing like seeing Clay Aiken perform live, it's for sure aficionados help keep YouTube in business. Based in San Bruno, CA, the video-sharing website was created in February 2005 by three early employees of Pay Pal -- Chad Hurley, Steve Chen, and Jawed Karim, design and computer science majors.

Six months before YouTube made its official debut, the public was given a sneak preview of the site in May 2005. Due to its immediate popularity, the angel-funded enterprise quickly grew from an "office in a garage" to a multi-million dollar company.

YouTube was purchased by Google in November 2006. To learn more, read History of YouTube at Wikipedia.

Montages are often created from special tracks by Clay. An excellent example is "Something About Us," a video blending music and art from the recent engagement announcement of Prince William and Kate Middleton. To save, download with this Sendspace

file.



Prince William and Kate - Something About Us
'On My Way Here' Vocals by Clay Aiken
View montage by LCV full screen at YouTube.

For the Clay Nation, there are never enough reruns of the singer's tours. Below is a widget loaded with 27 videos recorded by

Scarlett

at last summer's Los Angeles Timeless Tour Concert. You can watch the entire concert in the widgetbox or open the links on YouTube.



The show's all there! The scroll on the right will take you from the "Flying Without Wings/This Is the Night" opening number by Clay and Ruben Studdard through the various decades and hilarious banter between the two good friends right on into the "Time of My Life" finale.





Widgetbox Features Complete LA Concert
Timeless Tour videos by Scarlett

Calendar Deadline This Weekend
An order deadline of Jan. 15 has been set by
Rosaratana
, who annually produces a Clay Aiken calendar as a fundraiser for the Inclusion Project.
The 2011 wall and desk calendars, feature photos by
toni7babe
from the summer's popular Timeless Tour, have been well-received by CA fans.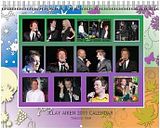 Clickable Cover
All proceeds after costs will be donated to the foundation in February. Cost of the calendars, which are printed on premium glossy card stock are $12 for the desk size (8.27" x 3.74") and $25 for the wall model (11" x 8.5").

Currently, a total of 143 calendars (86 wall, 57 desk)
have been sold. The remaining six desk and five wall calendars will be donated for Spring Fan Fest fundraising if not ordered this weekend.
To place an order, Paypal or email Rosa at rosash@comcast.net by Saturday, Jan. 15. Checks are accepted, and she will email you her address. For additional information and photos, see the Nov. 2 Carolina entry: Clay Aiken Fans Go to Bat for Inclusion Project.
Christmas Clock Insures Grins
Snow and ice have held Triad school calendars hostage most of the week. Mother Nature also put a "fermata" (hold) on music lessons; but warmer temps are on tap and makeup sessions are in the works.

My students were very generous with holiday remembrances for their teacher, everything from gift cards to sweets that are being carefully rationed. As a Carolina basketball fan, who knew Buckeyes could be so enticing?!?

Putting a reverse spin on a Clay Aiken favorite, "Don't Save It All for Christmas Day," however, is a clock that plays a phrase of a seasonal song at the top of each hour.

I have had more fun watching unsuspecting students (even the pianist who gave it to me!) stop and grin when they suddenly hear the music box-like hourly greeting in the middle of a lesson. Among the 12 songs heralding new hours are "Jingle Bells," "Adeste Fidelis," "O Tannenbaum," "The 12 Days of Christmas," and "Joy to the World."

Soon the two batteries that instigate the holiday songs will be removed; but for now, we are getting a real good jump on "Don't Save It All for Christmas Day."

Use the sidebar widgets to continue voting for the National Inclusion Project's Pepsi alliances and partners. Have a wonderful weekend, Clay Nation!

Caro