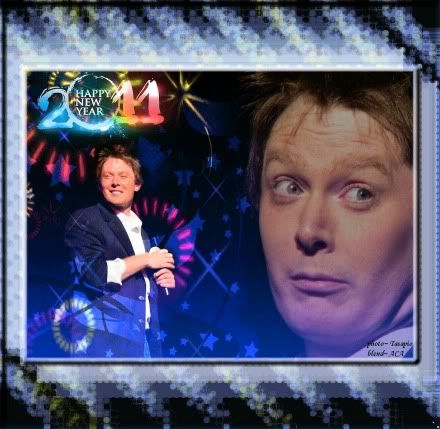 GREETINGS to 2011! - New Year's graphic of Clay Aiken expands
to wallpaper size. Design by AmazingCA, photos by Tasapio.
Inclusion Project Wins $50k Grant

What Were You Doing NY Eve?

Taking liberties on the tense of a longtime Clay Aiken holiday favorite ... What Were You Doing New Year's Eve?

Members of the singer's fan club not out partying spent the evening watching festivities on TV, listening to music, and casting final votes all the way to midnight ET so that the National Inclusion Project would land a Pepsi Refresh grant.

Maybe this doesn't register very high on the "fun chart," but it certainly is gratifying after a four-month long campaign.

The Pepsi board closed promptly at midnight and will remain silent until January's campaign begins on Monday. From final 2010 postings, it appears the foundation wound up in first place and will receive a $50,000 grant so more children with and without disabilities can participate in Let's ALL Play summer camps.

At the stroke of midnight, unofficial grant celebrations immediately joined New Year festivities on message boards throughout Clay Cyberspace.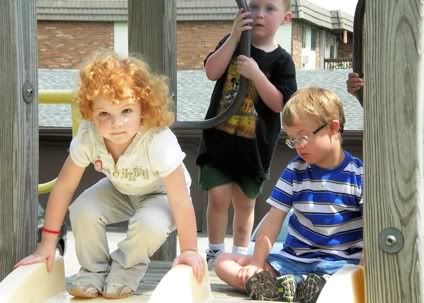 Pepsi grant assures inclusive programs for more children.

Inclusion Project Celebrates Success

Special thanks to Inclusion Project directors Jerry Aiken, Aron Hall, and alliances; Royalle, who guided supporters with additional charity partnerships; Scarlett, who kept the plan in view with daily widget updates; and all who helped vote, enlist new supporters, teach others to text, etc., to put the foundation over the top in December.

The final day of voting was made much more enjoyable by EZ Does It Net Radio, an Atlanta-based station dedicated to memorable music from the decades of the last half-century. The clickable is a cap of of a 10-song span that included "Here You Come Again" from On My Way Here and "Unchained Melody" from Tried & True.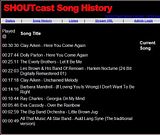 New Year's Eve Playlist
HYCA and UM in one set!


Turns out Lane and Martha Wells, EZ Radio owners, became fans of Clay during American Idol 2. They were delighted when CA fans discovered their site and began requesting music. On New Year's Eve, the station incorporated a steady lineup from the singer's albums dating back to Measure of a Man in 2003.

Grateful listeners from several countries (Scotland, the United Kingdom, New Zealand, United Arab Emirates) and states have posted platitudes and thank you messages to the station. See the latest comments here.

Contact EZ Radio and make requests via email -- EZDoesItRadio@aol.com -- or on the station's Facebook wall.



Clay Aiken: 2010 Recap
View montage by SueReu full screen at You Tube.
Download with this Sendspace file.

Montage Recaps Aiken's 2010

Before the first strains of Auld Lang Syne were sung in the continental US, SueReu uploaded one of her special montages recapping Clay Aiken's 2010 season.

The video, which begins with the Tried & True preview at Golfing for Inclusion 2010, spotlights the PBS Special taping in Raleigh, Phineas & Herb, the Timeless Tour with Ruben Studdard, the Gala, TV appearances, the Chicago benefit concert, Bringing Broadway Home, the VOX, the impeccable comedic timing and laughs that natural components of a CA concert.

A Scots poem written by Robert Burns in 1788 set to a traditional folk tune, "Auld Lang Syne" is the song most frequently played and sung to celebrate the start of the New Year.

Carolina readers, be sure to click on the Happy New Year banner above for a special Jacquie Lawson greeting card featuring the song and its Scottish heritage.

Bidding 2010 a fond farewell and welcoming the infant 2011, the lyrics of the first verse and chorus of "Auld Lang Syne" are printed below. Learn more about the song's background here.

Auld Lang Syne (Old Long Since)

Should auld acquaintance be forgot,
and never brought to mind?
Should auld acquaintance be forgot,
and auld lang syne?

For auld lang syne, my dear,
for auld lang syne,
we'll take a cup of kindness yet,
for auld lang syne.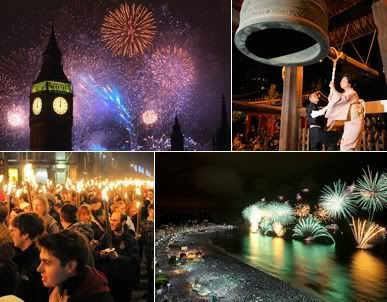 WORLD WELCOMES 2011: Photo links to a slide show of New Year celebrations around the globe, from Australia to Time's Square to Hawaii. Shown above are London, Japan, Scotland, and Brazil. (From The Daily Beast).

Wishing the Clay Nation a blessed 2011 filled with happiness, health, and many magical Clay Aiken concerts!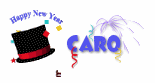 Signature by Linda/A Beautiful Mind