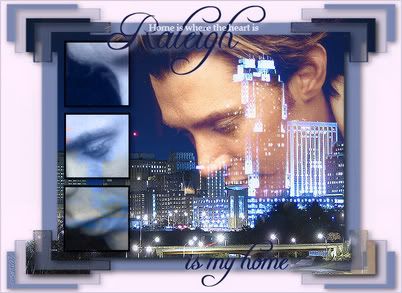 RALEIGH IS MY HOME - Double clickabe graphic by cindilu2.
Clay Aiken Nails National Anthem
Hometown Performances Special
When Clay Aiken performs in his beloved hometown of Raleigh, NC, it's always a special "This Is the Moment" kind of event.

Like when he returned on June 21, 2010, to help raise money for Raleigh's theater arts in the "Bringing Broadway Home" benefit concert. The performance of "This Is the Moment" was videoed by

Scarlett

.



THIS IS THE MOMENT - Clay Aiken
View 'Bringing Broadway Home' video full screen at YouTube.

True to form, Sunday's rendition of the US national anthem will be, too. Be sure to check back later for a report of the "Star Spangled Banner" from pregame festivities.

UPDATE: Clay hit the banner out of the RBC Center!!! The announcer commented that he brought down the house. Here are Sendspace downloads for audio and video files (Canadian feed). The photo below links to the Canadian telecast on YouTube.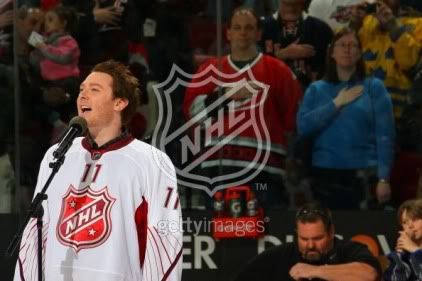 Clay sings national anthem at 58th NHL All-Star Game.
Click photo to view Canadian telecast on YouTube.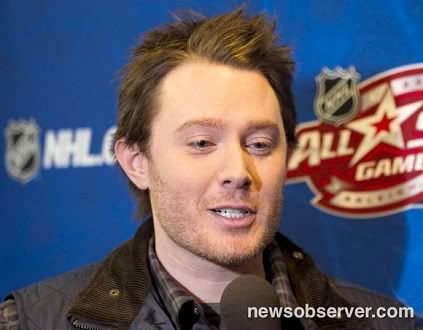 Click to enlarge this News & Observer photo of Clay.
To view more photos, see Getty Images.
Meanwhile, here are other memorable Raleigh performances -- not all, but a few. Take, for example, the unforgettable moment when the
American Idol 2 Tour
played Raleigh and the first runner-up took the stage.
Captured by an unknown graphic artist, the moment when Clay stood before a packed hometown crowd in the Raleigh Municipal Auditorium is preserved on countless CA fan hard drives.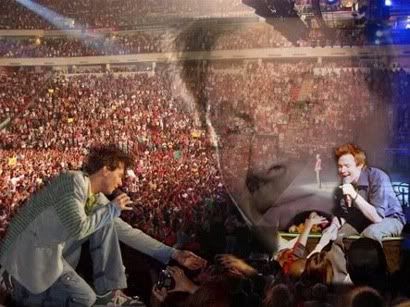 RALEIGH TOUR PERFORMANCES: For the American Idol 2 concert
in his hometown, Clay appeared in a Carolina Hurricanes shirt.
Montage Presents NIP Overview
Featuring the dedication to humanitarian work that has always defined Clay Aiken, the final montage in the four-part 'Memories of 2010' series by

LovesClaysVoice

rewinds the latest Champions Gala of the National Inclusion Project, charity co-founded by Clay and Diane Bubel in 2003.

Included are portions of the singer's speech, live and Dutch auctions, and the treasured finale, "Both Sides Now," performed as a duet with Debra Leisey signing the lyrics.

Making a Difference - Memories of 2010, Part 4
View montage by LovesClaysVoice full screen at YouTube.
'Retro 3' Spotlights Appearances
The third montage in

SueReu

's Retrospective series features an overview of Clay's 2003-2009 special appearances.
Among the highlights are several national anthem performances, including the "Skate with Clay" National Inclusion Project fundraiser at a 2003 Carolina Hurricanes game.

Also featured are Christmas specials, Are You Smarter Than a 5th Grader?, Capital One Holiday on Ice, Ed ("This Magic Moment" and "Ebay gold"), Scrubs ("Isn't She Lovely?"), Days of Our Lives, A Capital 4th on PBS, Saturday Night Live and the "Aiken wink," 30 Rock, and "Solitaire" from

American Idol 3

and the 2007

Neil Sedaka Tribute

.

Clay Aiken - A Retrospective, Part 3, A Special Guest
View montage by SueReu full screen at YouTube.
This overview of the Raleigh native's hometown performances would be incomplete without the PBS special taped last March. From

Clay Aiken: Tried & True ~ LIVE

, here is the big band arrangement of "Mack the Knife," a track from the singer's latest Decca release.

Songs from

the Tried & True

CD and special, promptly dubbed by fans as the "OMG Concert," are set to go on tour in selected cities Feb. 10 - March 12. For concert dates and times, see the Jan. 11 Carolina blog entry.


BACK IN TOWN: Clay sings "Mack the Knife" in Raleigh taping.
View PBS concert full screen at YouTube.
Another sing-it-to-the-rafters Raleigh performance! Have an awesome week, Clay Nation!
Caro

P.S. Thanks to Sandy Hall, Clay Aiken and hockey enthusiast extraordinaire, here is a very complimentary take on the All-Star weekend from the

Ottawa Citizen:

Pressure's on Ottawa to keep the Raleigh going

.