T&T SAMPLER
-

This PBS concert promo provides an excellent sampler of the romantic classics Clay Aiken will sing on the Tried & True Tour. View full screen at

YouTube.

For Spring-Like Tried & True Tour
Fans Praise Phil's Prognostication


With much of the US in the throes of a massive winter storm, Punxsutawney Phil provided a weather prediction that pleases Clay Aiken fans preparing to hit the road for the singer's T

ried & True Winter Tour.



For 125 years, this country has taken note of a certain groundhog's early morning activities in Punxsutawney, PA. If Phil sees his shadow on Feb. 2, then (some believe) the forecast is for six more weeks of winter weather. If he doesn't, then spring temperatures are just two weeks away.

Well,
Punxsutawney
Phil did not see his shadow. However, according to the National Climatic Data Center (NCDC), the weather-prognosticating rodent is correct only 40 percent of the time. To read more about the Groundhog Day tradition, see the National Geographic News.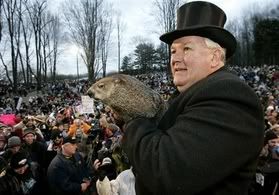 Prognosticating Phil on Groundhog Day.

T&T Tour Begins in Sunny Florida



The much anticipated 22-city Tried & True Tour is just single digits away from its opening curtain in Miami, Fl, on Feb. 10. With the first three dates in the Sunshine State, the tour is sure to start in spring-like weather. And, if this is a good year for ole Phil, there's also hope for the remainder of the tour.

A special surprise is planned for the Valentine's Day Concert in Houston's Jones Hall. For the T&T tour schedule, see Krule Music's Front Stage article by George Lurker. Dates, locations, and times are printed in the Jan. 11 Carolina blog entry.

In addition to

Tried & True

tracks in which Clay gives classics a new feel, the singer plans to incorporate favorites from previous albums, as well as the entertaining banter tour audiences enjoy so much.
Borrowing from a reader comment below, concert goers are hoping for mild temps outside; but inside they are sure to be "sizzlin' hot"!

Below are expandable screen caps by

Scarlett

from the PBS concert special

Clay Aiken: Tried & True ~ LIVE!
2011 Calendar Nets $965.62
In her blog, Together for Inclusion,

Rosaratana

this week posted a final statement for the annual Clay Aiken calendar fundraiser. Featured in the calendar are Timeless Tour concert photos by

toni7babe

.

During the calendar drive, 147 wall and desk models were sold and 30 were donated for charity auctions at the October Gala. Less printing expenses, a check for $965.62 was mailed to the Inclusion Project on Tuesday.

Got your bags packed? Here is a video of Clay performing my favorite, his signature version of "Unchained Melody," in an appearance on

The View

.


View 'Unchained Melody' performance full screen at YouTube.

If the videos buffer, that's because fans are apparently camped out at YouTube enjoying a winter storm "snow day."

Have an awesome week, Clay Nation!

Caro