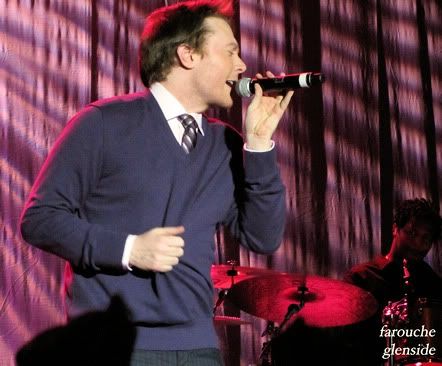 Expandable photo by farouche from Sunday's Tried & True Concert.
Glenside Tried & True Concert
Show Spotlights Vocals, Humor
The versatility of Clay Aiken and his back-up musicians was on sparkling display at the Glenside, PA, Tried & True Concert in the Keswick Theatre Sunday night.
Magnificent vocals from the powerful to the delicately etched, the singer's humor and quick wit shared more each performance with the similar good temperament of his musicians, and a "stump the band" segment that retains a near-perfect score for the tour were all part of another entertaining show along the T&T trail.

The talented musicians accompanying Clay on the 22-city tour include Quiana Parler, vocalist; Ben Cohn, keyboards/arranger; Adam Fallen, guitar; Del Atkins, bass; and Felix Pollard, drums.

Since I have young musicians anticipating afternoon lessons, this blog will no doubt be of the progressive variety; so check back. Below are glimpses of Sunday night's performance from fan recaps, photos, and videos.

C finger
:

This evening was just splendid. Clay is a superstar. My husband commented on how easy and relaxed he is on stage; how quick witted he is, how beautifully he sings,; how wonderful the arrangements are; how talented Quiana is.
A woman, probably in her 80s, sat behind us; and we had a conversation with her. I don't know if she is a NJU or relative of a fan, but she was a lovely, delightful woman.

As Clay was singing I heard her say to the person she was with, "Oh, this takes me back to my youth." Then when he would start a song she was familiar with she would sigh or say "ohhhh" or gasp. She had a great time.



Clay said at one point that he was losing his voice and had a couple of problems. But he sang through it, around it and was as always, my absolutely favorite Singer Man. No one like him!
The photo interlude below contains four expandable pictures by

farouche

surrounding a graphic by

cameocat

.
casso
: What an overly super-talented, a growl in the voice, caring and loving man we are following! His change up with emotions from one song or banter to another are truly outstanding.
Met two NJU men at the ticket window who won tickets for another show and asked if they had ever been to a Clay concert and they said this was their first. They said they LOVE his music and will be attending more.





I HAD THE TIME OF MY LIFE once again thanks to Clay and Company!
WSN Segment Yields Variety in PA
Among the genres covered in the Glenside 'Who's Sorry Now' segment were yodeling, Argentine tango, and scat singing.

The videos by

farouche

,

canfly172

, and

jars9203

below also include band intros, torn pants/clack banter, and the songs 'In My Life' and 'Both Sides Now.'

'Whose Sorry Now' Tango, Scat Segments
View video by farouche full screen at YouTube.

'Who's Sorry Now' request medley, pants banter.
View video by canfly172 full screen at YouTube.

Clack banter with Scarlett and 'In My Life.'
Video by canfly172 can be viewed full screen at YouTube.

Clay performs 'Both Sides Now' in Glenside.
Video by jars9203 can be viewed full screen at YouTube.
Have an awesome week, Clay Nation! The remaining tour schedule was printed in the previous
Carolina entry
. See you in Cincinnati Tuesday!
Caro