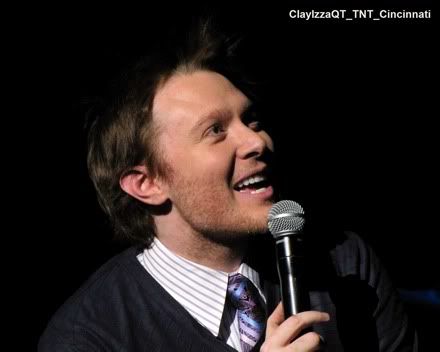 Clay Aiken takes Tried & True show to Cincinnati.
Expandable photo by ClayIzzaQT from Cincinnati Concert.
It's a Clay Aiken Show!
Unexpected Abounds in Cincinnati
No matter how you slice it, Clay Aiken's Tried & True concerts are an entertaining two-hour ride, and Cincinnati spectators were presented another exceptional show in the Taft Theatre Tuesday night.

The set list is anything but "set," and surprises abound, especially when the singer takes genre suggestions from the audience for "Who's Sorry Now." Tuesday Clay & Co. performed the classic in five different styles.



Singer Stuns with 'The Real Me'



Clay's unexpected performance of "The Real Me," a fan favorite from the singer's fourth studio album,

On My Way Here

, was accompanied by paramedics successfully treating a medical emergency in the pit.

Fan recaps, photos, and videos will rewind the show. In the first report, note that

artz11

and her concert buddy encountered a few surprises even before the show.

artz11
: My friend

Nuts4anerd
discovered that no matter how many times you cross the Ohio River you always end up in Kentucky. We came into town from Indianapolis and traveled through Ohio, Kentucky, and Indiana, then again through each before we finally parked right next to Clay's bus.
Not really -- we were six blocks away from Clay's real bus and the concert we were getting very close to missing.

We quietly took some seats in the back because our third row seats were already taken, and we didn't want to cause a stir. We did take an opportunity to move a bit closer while Quiana was singing her first song.

It only took one song to completely forget all the troubles we had getting there. Clay's charm cannot be denied. He is so utterly connected to his audience, so sweetly funny, and so darn cute that sometimes I forget that I'm also listening to an incredible voice.

Two men in front of me pumped air after Clay gave his grungy twist to 'Who's Sorry Now"and were the first to stand after UM. UM gave me goosebumps tonight and I heard it at the OMG concert. I think Clay is really enjoying his phone conversations, and he knows how much we love it.

Ft. Wayne tomorrow! I truly don't think we can get lost
there ...
No wonder the two men helped give "Unchained Melody" a standing ovation! Below is

Scarlett
's video of Clay performing his special version of the song in Cincinnati.

Clay sings signature version of 'Unchained Melody.'
View Cincinnati concert video full screen at YouTube.
ClaysTouch
: My friend Shari and I hadn't seen Clay live since 2007. Life and geography made it impossible for us. We decided living so close to Cincinnati, that this show was a MUST for us. I pulled up seats in the pit and when we got to the show, we saw we were actually in first row!
We had a hard time hiding our appreciation. We were in shock at how amazing he looked and sounded and how real and close he was. It didn't take long for Clay to notice the effect he had on us, especially Shari.

I think after he looked her dead in the eyes and sang "There's something 'bout the way your lips invite" and she literally fell over on me, he knew it was "on." He was going to drive us all crazy that night ... and he did.

He sat at the end of the stage for something like 12 minutes. He finally took Shari's phone and filmed himself thanking her for coming and for boosting his ego seven points.

He was so tickled by her. He said, "Do you see the tape on the bottom of my shoes? I'm just normal." The banter was amazing!
Below are three photos/screen caps from the Cincinnati Tried & True Concert by photographers

ClayIzzaQT

, 1;

LauraQ

, 2; and

ianaren

, 3. All are expandable.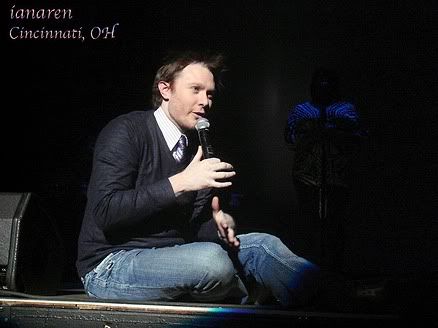 Cincy
: Right before Clay sang "The Real Me," a woman in our row had some sort of medical emergency; and Clay did a little Q&A in hopes that the paramedics could help her. They were not able to fully assist the woman until midway through "In My Life," the final song. Clay moved to the other end of the stage, so audience attention was facing that way.
The concert was very upbeat, funny and comedic Clay at his very best. The fourth genre on "Who's Sorry Now" was grunge, and he really got into it!

Three people from my office, my son and my daughter-in-law are all Clayverted. They said they now see why I love him so much!

Clay sings 'The Real Me' from 'On My Way Here.'
View full screen version on the Wowzers4Clay Channel at YouTube.
Creativity of Musicians Spotlighted
The 'Tried & True' concerts spotlight the creativity and talent of Clay's backup musicians: Quiana Parler, vocals; Ben Cohn, keyboards/arranger; Adam Fallen, guitar; Del Atkins, bass; and Felix Pollard, drums.

Clay & Co. performed 'Who's Sorry Now' in five audience-suggested genres at the Cincinnati Concert -- do wop, Yiddish, Gregorian Chant, beach music, and the grunge. The last two are presented in these videos by

Scarlett

.

Clay & Co give 'Who's Sorry Now' beach music styling.
View video in a full screen version at YouTube.

Clay goes grunge with 'Who's Sorry Now' in Cincy.
View video full screen at YouTube.
For video/audio downloads, check message board vaults,
Clack Unlimited
, and Scarlett's
Cincinnati
doc.
The tour continues tonight at 7:30 p.m. ET at the Embassy Theatre in Fort Wayne, IN. Have a wonderful week, Clay Nation. Catch you after the show!
Caro