Clay Aiken opens concert with 'Love Story' theme.
View video by Scarlett full screen at YouTube.

Memorable Show in Minneapolis

Clack, Recaps Replay T&T Show
While I was cheering the Carolina Tar Heels to victory over arch rival Duke, Clay Aiken and the Tried & True musicians were presenting a memorable concert 1,199 miles away in the State Theatre in Minneapolis, MN.
Normally, I listen to the tour concerts via a message board cellcert; but there was no way to combine the two this weekend. I had faith there would be clack to tell Clay's concert story, so I waved Carolina blue pom-poms from my den and "helped" the Tar Heels win their final regular season game.

Fortunately, there is wonderful clack rewinding Saturday's show in the Midwest.

Hope

, who nightly uploads

Scarlett

's videos to YouTube, posted an excellent account of the performance.



Playlist Presents Complete Show



She has also arranged the Minneapolis videos in a playlist at her YouTube Channel. To view the entire concert start to finish, link to the Minneapolis set here.

The concert opener, "Theme from Love Story," combined with selected videos at the end provide a cliff-note version of the concert.

Hope

's recap will include an intermission of clickable Minneapolis photos by

farouche

and

toni7babe

.
As I expected, Clay knocked me back in my seat with his powerful vocals, touched my heart with his beautiful interpretive skills as a vocalist and artist, and made me laugh harder than I have in a long time.

I had viewed enough Clack to know that as soon as Clay hit the word "hello" in the song "Where Do I Begin," that the spotlight would appear to highlight the solitary figure on the stage and signal the start of a wonderful evening with Clay Aiken. Still, knowing it and experiencing it are two completely different things.

From darkness to light, from quiet murmurings to thunderous applause, the moment was Clay's and the moment was ours. It was a thing of sheer beauty.

And lest people think that I am just being "fangirly" in my poetic waxing, my husband, who is a big, burly, "macho" truck driver, had the exact same reaction.
Clay owned the stage and the audience. He was captivating, he was funny, he was beautiful, he was snarky. A highlight for me personally, was to see the concert from the vantage point of a 7th row seat.

It's the closest I've physically gotten to "meeting" Clay, and it very much felt like I was at home in my living room spending a wonderful evening with an outrageously talented and comedic friend.

And as Clay himself once mentioned during a Q&A, Quiana Parler is/was his best kept secret. Like Clay, Quiana has terrific comedic timing. Quiana's vocals on "A Foggy Day In London Town," and "Cry Me A River" were saucy, sultry, and smooth.

All too soon the concert ended. After his drop-dead gorgeous performance of "Unchained Melody," Clay talked for a bit about his career post-Idol; and about how much he appreciates his fans' dedication.

He then performed a beautiful rendition of "In My Life," ended the song, flashed us one of his best Clay Aiken smiles, bowed and quietly left the stage, leaving those in the audience a lifetime memory.
The selected clips below highlight the Minneapolis Concert. View all of

Scarlett

's videos at the Wowzers4Clay Channel

on YouTube and/or downloaded them from the

Minneapolis doc.



Clay & Co. perform 'Suspicious Minds' in Minneapolis.


'Who's Sorry Now' in the yodeling/Alpine style.


Clay and Quiana blend on 'Crying' duet.


Clay's signature version of 'Unchained Melody.'


Singer closes with fan dedication, 'In My Life.'
Hope

's Minneapolis story continues in the State Theatre parking lot and on the drive home. Many thnx to her for sharing her concert experience with Carolina readers.
I finally met Scarlett! We managed to get lost in the parking lot of all places, so we didn't get back home until close to 1 a.m. It was a quiet ride home.

When I asked my husband if he wanted to listen to the radio, he said, "You've got your iPod with 20-something performances of Clay's 'Bridge Over Troubled Water' on it, don't you?"

"Yes," I replied.

"What do you say you plug it into the cassette do-higgy there and we listen to all 20 of them? I'd really like that."

"Sure," I said. And so we did.
The photo below links to
Clay Aiken at State Theatre
, a 15-picture
City Pages
slide show by Sandy Schwartz.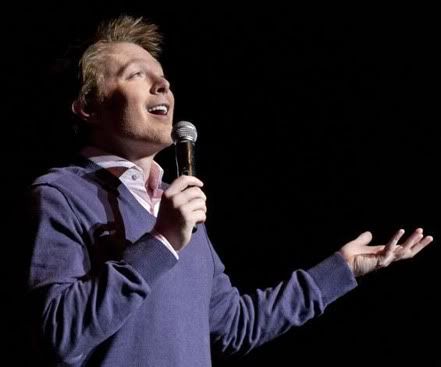 Sandy Schwartz photo links to Minneapolis Slide Show.
Minneapolis, MN, Set List
Where Do I Begin - Love Story Theme




Mack The Knife




There's a Kind of Hush




You Don't Have to Say You Love Me




What Kind of Fool Am I





Jazzy Medley

-

The Way, This is the Night, Measure of a Man, On My Way Here, A Thousand Days, Invisible





Something About Us





Foggy Day In London Town

(Quiana)



Auto Tune

: Only Girl


Suspicious Minds




Build Me Up Buttercup




Moon River




It's Impossible





Who's Sorry Now

(Genres: Bollywood, yodeling/Alpine, Christian rap, Hawaiian)


It's Only Make Believe




Can't Take My Eyes Off You




Cry Me A River

(Quiana)


Crying

(Clay and Quiana)



Unchained Melody




In My Life
The Tried & True Tour heads west for three final concerts in Texas, Arizona, and California:



3.08.11

Grand Prairie, TX

Verizon Theatre At Grand Prairie

, 7:30 pm


3.10.11

Mesa,

AZ Mesa Arts Center

, 8 pm


3.12.11

San Francisco, CA

The Warfield

, 8 pm

Have a wonderful week, Clay Nation!
Caro