Final Tried & True show begins with a twist!
Magical Vocals, Lots of Laughs
San Francisco Finale a Treasure
Closing concerts are generally sprinkled with playful antics, but Saturday's Tried & True finale in San Francisco's Warfield Theatre will also be treasured for the magical vocals, quick-witted banter, and intimate dialogue.



SueReu

's "Fan-Flippin-Tastic" description is not only perfect but headline worthy.

The concert opened with Clay singing "Theme from Love Story" offstage, but the spotlight that normally propels him into view surprisingly revealed burly Jerome Bell lip-syncing the song.

A few minutes into the personable bodyguard's pantomime, Clay strolled onto the stage, dismissed Jerome, and completed another powerful performance of "Theme from Love Story."
Glow Sticks Applaud Clay & Co.
Backed by five talented musicians -- Ben Cohn, Adam Fallen, Del Atkins, Felix Pollard, and Quiana Parler -- the singer presented a memorable final concert that audience members are still praising.

In a special "thank you" gesture, Internet fans organized a glow stick salute for Clay & Co. during "In My Life," final selection of the Tried & True Tour.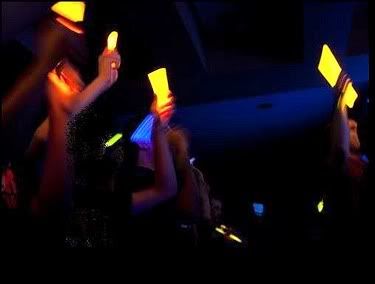 SueReu
: That was FAN FLIPPIN TASTIC!!! I think Clay was genuinely touched when the glow sticks were lit.
As I was leaving, I looked at the security guard and had to do a double take. Sure enough, the woman had tears streaming down her face - our man had moved her to tears. She said he was fantastic.



Copingincali
: It was like the closing night of "Spamalot." Clay was shown the love tonight with lots of Standing O's and hoots and hollers ALL NIGHT LONG!
I sat next to a lovely 20-something gal on one side who was having a great time and the other 20-something gal on the other side was from Japan. She literally left the day the tsunami hit. She knows all his songs, but this was her first concert.

We had a great time being 12 together!
In one of the most entertaining segments of the show, "Who's Sorry Now" was performed in five genres: psychedelic, bollywood, Sesame Street, hip hop, and Disney.

Video of the Disney style is below. View all of
Scarlett
's videos at the Wowzers4Clay YouTube Channel. You can download them from the San Francisco doc.

Clay & Co. perform'Who's Sorry Now' in Disney style.
susandavis
: The show was wonderful, and Clay was in great voice. "Unchained Melody" was flawless, and Clay wore the mic stand out.
He was so cute talking to Blaine, who was four and had a front row seat. He complimented Blaine on his behavior and was so funny about how four must be a good age.

Jerome standing behind the mic lip syncing was unbelievably funny. He is a good sport.

Clay sings signature version of 'Unchained Melody.'

IML banter: 'It's like a Radio Shack [here] tonight.'

Singer dedicates 'In My Life' to his fans everywhere.

artquest
: When Clay began to sing "In My Life," the glow sticks appeared. Looking back from the front row, I was really impressed.
Hundreds and hundreds of beautiful lights, moving in the darkness, saying, in their own way, "We love you." He kept looking around at them. You could tell he liked it very much.

I'm still blown away by "Unchained Melody." I can't even figure out how he finds his note to begin with. Hits it every time, though.

What a great night. Thanks to my friends and, most of all, to Clay, I had the time of my life.
Below are four expandable photos by
nickiwiki
accompanying an image of the Warfield Theatre. View more photos on at Niki's Facebook wall.
Fond memories from the 21-city Tried & True Tour are plentiful and show little sign of fading in the near future.

Have a wonderful week, Clay Nation!
Caro