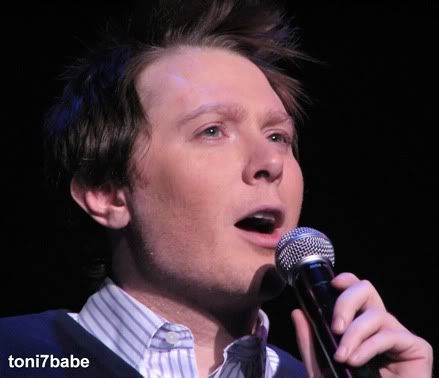 Expandable photo by toni7babe from the Waukegan T&T Concert.
Audience Scores Creativity Points
Clay & Co. Wow Waukegan Crowd
Clay Aiken & Co. wowed the Waukegan audience at the Genesse Theatre Friday night, and the audience returned the favor with its creativity during the "Who's Sorry Now" genre suggestions.

From early reports, there were many highlights, one of which was drummer Felix Pollard and his wife dancing on stage while Clay serenaded them with their wedding song, "Something About Us."

By necessity, this has been a progressive blog because I had a date with Best Buy the minute the store opened. In this part of the country, tonight marks the ultimate in Tobacco Road basketball rivalries, and my TV heaved its final breath in the middle of a movie Friday night.



TV Death Ushers in Techno 2000's



Apparently, the picture tube of my dinosaur-aged set gave up the fight and, in a last gasp, the screen shrank to 1/3 its original size. In Carolina country, the Tar Heel-Blue Devil match-up is a must-see game, plus I was way overdue to enter the new century.

My good friend Chris, who accompanied me to Best Buy, remarked that with my new iPhone and now an LED TV, I have finally fallen off the fence onto the techno side and am no longer teetering on the 1900/2000 edge. LOL, bring on the Carolina-Duke game AND the Minneapolis Concert!

But back to the Waukegan story. Below are expandable photos from Friday's concert by

toni7babe

from the concert. The final two are a preview of the pole dancing in the burlesque version of "Who's Sorry Now."

Jazzy Medley Features Aiken Hits



Videos by

Scarlett

help rewind the Waukegan Concert. In the first, Clay & Co. perform a jazzy arrangement of some of his earlier hits: "The Way," "This Is the Night," "Measure of a Man," "Invisible" from the

Measure Of A Man

album; "On My Way Here" from

On My Way Here

; and "A Thousand Days" from the

A Thousand Different Ways

CD.



Jazzy medley is a hit with audience.
View video by Scarlett full screen at YouTube.
One of the special moments of the Waukegan Concert was the singer's intro and performance of "Something About Us."

Drummer Felix Pollard and his wife celebrated their second anniversary on Feb. 28. Serenaded by Clay, they reenacted their wedding's first dance on stage Friday night.



Clay serenades Pollards with 'Something About Us.'

According to Clay, Waukegan concert goers were the most creative yet, suggesting four new styles for "Who's Sorry Now": burlesque, Disney, New Age, and Russian folk. Below is the burlesque version, complete with pole dancing by Clay and Quiana.

All uploaded videos by Scarlett can be viewed at the Wowzers4Clay YouTube Channel and downloaded at the Waukegan

doc. Check both sites for new additions throughout the day.


'Who's Sorry Now' burlesque style.

Having sung "Unchained Melody" since his teen years, Clay is most pleased to have his signature version, arranged for the Tried & True album by his keyboardist Ben Cohn. The Waukegan performance was incredible.




Yaknelle
's recap at the Clayversity message board covered several aspects of the Waukegan concert. With her permission, here are excerpts that touch on Clay's humor, his friendship and duet with Quiana, and the singer's amazing rendition of "Unchained Melody."

The man is funny and, of course, he knows it and controls it. He throws barbs out to the audience, but it's his facial antics that makes it funny. He rolls his eyes. He drops his head. He pauses and zing, bang boom he connects. The audience roars. Quiana is the perfect foil and she gives him the grief we wish we could. She is his accomplice.

Clay adores Quiana, and no place does it show as much as when they sing "Crying." The wailing of their voices mingle and the sound is other-worldly. This is their masterpiece together.

The sensuality of "Unchained Melody" overwhelms me. He sings it with his entire body. He forces the notes, the lyrics, and the emotions through his body and soul and out of his lips.

I don't think I listen to this song as much as my total being is en wrapped by it. I feel it like a waves hitting the shore. Over and over the sound hits me until I finally soar out of my body with that amazing note. A tour d' force or is it a force of nature?

The songs and antics fly by, and I find my self wanting to slow the man down. Talk a little longer, sing another song. ...and another. Please don't stop.

But he does...

"In my life I love you more."

...and then I breathe.

An amazing 'Unchained Melody' performance.

Have an awesome weekend, Clay Nation! Don't forget the Minneapolis Concert -- 8 pm CT at the State Theatre. See you after that ...

Caro