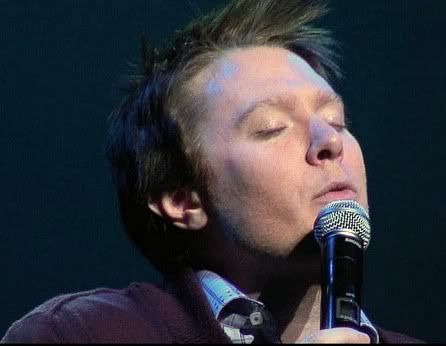 CLAY AIKEN IN MESA -- Screen cap links to the complete Mesa Tried & True Concert recorded in high definition by Scarlett. The performance has been arranged in a play list on the Wowzers4Clay Channel on YouTube. Link to "Love Story, sit back, and enjoy the show!

Dancers Raise Dollars for Inclusion
Videos Replay Mesa in High Def
The intricacies of gathering, rendering, and uploading clack are beyond me; but, thankfully, they are mainstream for countless Clay Aiken fans who, because the singer generously allows videos and photographs during his shows, leave concert halls with memory sticks and tapes loaded to the brim and ready to share.
One of the most productive teams during the Clay's 21-city Tried & True Tour has been the duo of

Scarlett

videoing shows and

Hope

uploading completed files to the Wowzers4Clay Channel on YouTube.
During the February-March tour, they provided almost "instant" clack for fans back home. Ten days past the tour, their routine is as intense as ever but has switched to high definition videos, mp3 and mp4 files, all of which are linked at the Wowzers channel.
Tuesday night yielded a complete play list for the Mesa T&T Concert, the first of many to come. The opening Mesa screen cap links to "Theme from Love Story" and continues through the entire concert of high def videos.
Fans can download the files from the shared Tried & True Mesa HDV doc on Google, Clack Unlimited, or various message board vaults.
Below are two expandable screen caps from Scarlett's Mesa concert videos.
Fans Share Not.Just.Us Stories
During the tour, my Not.Just.Us file expanded almost nightly; but the concert recaps/clack more than filled blog entries. Fortunately, CA fans enjoy NJU stories anytime; so here is the next edition of the current three-part series.

Claystruck

created the accompanying clickable graphic.
peeko4clay
: Before the Houston show started, I introduced myself to the ladies on each side of me. Neither one of them had been to a Clay concert before. However, they both came with friends that were CA fans.
The gal on my right was a joy to watch. First thing she said was "he's adorable." She kept on saying "I love this song" and clapped along to the more upbeat songs with a huge smile on her face. I could tell she was caught hook, line and sinker!





At one point she waved to Quiana, who waved back with a big a smile on her face. At the end of the concert, she told me that it was the best concert she had ever attended and she planned to go out and buy everything Clay has recorded! This statement was made with no prompting from me.





The other gal seemed to really enjoy herself as well, but was just not as vocal about it.

MagicalMusic
: I want to share a NJU story that is no longer a NJU story because she's one of us now. Last weekend a college gal who's a new fan went to her first Clay concert.
This weekend she went to Westbury and Glenside with two friends and me. She had a PBS meet and greet and got a handshake by the bus. She told us she was afraid she was hooked and kept saying how great Clay was.





We played MOAM in the car several times during our travels, and she loudly sang along. Her boyfriend is also a big fan. He attended his first concert last night and remarked that he wished he had been to one sooner.
cablegirl
: One of the first friends I ever made in the fandom joined me for the Minnesota concert. She had not seen Clay in 3-4 years. Not because of lack of interest but because of difficult family issues. She was thrilled to be going, and we were celebrating a sort of "reboot" of her life.
We had been to many concerts before and always had a wonderful time I glanced at her a few times during the show last night, and she just looked so happy.

When it was over she turned to me and said, "He's just as wonderful as I remembered him."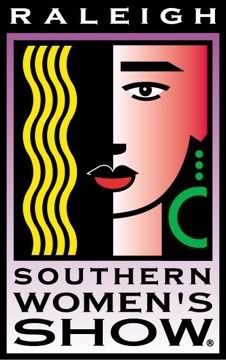 Raleigh Celebs Dance for Inclusion
In an annual benefit, the National Inclusion Project and Arthur Murray Dance Studio of Raleigh are co-hosting "Dancing Like the Stars" at the Southern Women's Show on Sunday, April 10, at 1 pm.

Local celebrity participants have been practicing with their professional dance partners to provide great entertainment for the show attendees. Complete bios of the celebrity participants and their dance partners, as well as each couple's practice video, are provided here.

DLTS participants include Joseph Callender (actor, model, comedian) and Erin Smith; Barbara Gibbs (ABC Eyewitness News) and Arthur Soroker; Donna Gregory (community relations manager, North Carolina Theater) and David Cox; Dan Schwenneker (meteorologist for ABC 11 Eyewitness News) and Stephanie Ferrell; Sharon Tazewell (anchor for NBC-17 Today) and Arthur Soroker.

After viewing the practice videos, use this link to vote for your favorite couple. Donations are 100 percent tax deductible.

Voting will end at 11:59 EDT Saturday, April 9, so make a donation to the National Inclusion Project. Every dollar donated counts as a vote towards the contestant of your choice (minimum online bid of $10).
DLTS concludes with an entertaining performance by the contestants at 1 pm Sunday, April 10, during the Southern Women's Show. The National Inclusion Project was co-founded by Clay Aiken and Diane Bubel in 2003.

Below is a clickable of Scarlett's opening screen cap: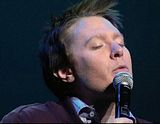 Have an awesome week, Clay Nation!
Caro