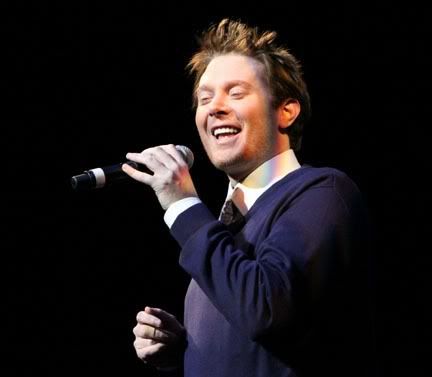 Photo by Robb Cohen links to 14 picture-slide Atlanta show.
Cobb Concert Intimate, Powerful
Clay Aiken & Co. Wow Atlanta
Clay Aiken's Tried & True Concert in Atlanta's Cobb Energy Performing Arts Centre Wednesday will be remembered for many reasons; but for the countless fans listening around the globe via cellstream, it was the night they received a shout-out from the stage.

In typical Aiken shtick, the singer inquired if someone was typing at the other end of a certain cellphone. "Oh, no," replied the flustered cellcerter, "she's broadcasting it all over the Internet."

Clay then dedicated, "In My Life," the first of two encores, to all who have been with him for eight years in the audience and/or listening via the Internet.

According to early recaps, there's still nothing like being in the hall when Clay presents a show.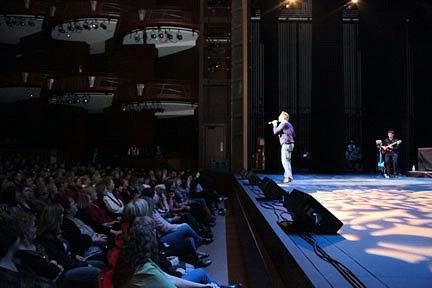 Clay performs in Atlanta T&T Concert. Photo by Cohen.
Brightstar
: The power and beauty of his voice is just magnificent. While a real gift, cellcerts just don't begin to communicate the rich, full, exquisite tones and nuances of his voice. Sounds nice on a cellcert, better on a video, but amazing in person. It's almost like a journey in itself.
The opening number is so beautiful it defies description. The notes and sounds just flow up and down and across and through the theater and into and around one's heart, flowing and growing ever more expressive and strong and moving until you forget anything and everything around you and just surrender yourself to the experience.

I loved the entire concert --the power ballads, the tender, soft songs, the lively ones alike. He's just so talented and versatile and has such power and beauty in his voice that he can successfully deliver almost any kind of concert.

I wish every person in the world could attend at least one show and experience his talent and versatility. He's a treasure, a gift, and he deserves to be heard. I'm glad I'm one of the lucky ones who gets to hear him.
Margaret
: Clay was wonderful last night. He has never been in better voice; he just keeps getting better and better. It looks like he bought some Texas boots. On to Knoxville, then to the Grand Ole Opry, then home for a week, and then we start again for three concerts. I love being a Clay Aiken fan!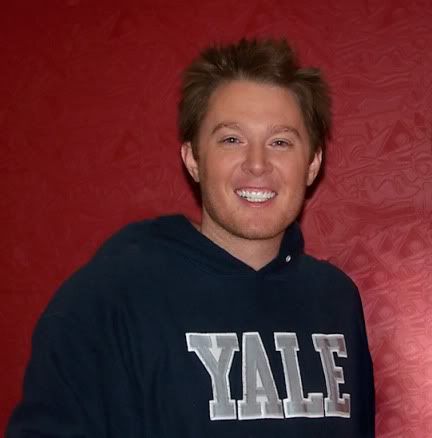 Click to expand photo of Singer Man at Atlanta Meet & Greet.
Sally
: This was a Clay I've never seen before. The large nearly empty stage was the perfect backdrop for this very intimate experience; Clay, singing songs he knows and loves.
He was relaxed and; for the first time, I could feel him inside the magic bubble that he always creates. It's difficult to describe; but this was definitely Clay unmasked, lost in the songs that were coming from deep within his soul.





I left the venue thinking about his lyrics from "The Real Me" and realized that for me at least, I saw the real Clay. He enriched my life in a way that I'll never forget.
Scarlett
, currently en route to Knoxville to locate an inverter and upload Atlanta clack before the next concert, summed up the evening with one line:
How does perfection get better and better every time?

Clay sings signature version of "Unchained Melody."
View Houston video by Scarlett full screen at YouTube.
Knoxville Media Promotes Concert
The Tennessee media has featured two interviews promoting tonight's concert in the Bijou Theatre located in historical downtown Knoxville.

Built in 1909 as an addition to the Lamar House Hotel, the theater has, at various times in its history, served as a venue for live performances of both traditional theatre and vaudeville


For tonight's Tried & True Concert, the doors open at 7, and the show starts at 8 p.m. ET. Here are links to the Knoxville interviews:
Clay Aiken keeps his feet on the ground long after American Idol from

Knoxville.com

.

Clay Aiken shoots true with an album drawn from the classics

from

The Daily Times

.
Have an awesome week, Clay Nation! See you after the Knoxville Concert!

Caro