Clay Aiken rocks out on 'Who's Sorry Now?'
Orlando video by Scarlett can be viewed full screen at YouTube.
A Consummate Entertainer
Clay & Co. Present Superb Show

At the Orlando Tried & True Tour show Friday night, Clay Aiken once again proved he is the consummate performer.

The Hard Rock concert showcased many qualities that make the Carolina crooner an extraordinary entertainer in live performances. In addition to the magnificent vocals from the most tender phrasing to the powerfully compelling, there's hilarious shtick, some planned, some off the cuff; the ever-present quick wit; and Clay's uncanny ability to interact with audience members in any circumstance.


In addition to the rockin' "Who's Sorry Now?" and the "Solitaire" concert closer below,

Scarlett

has uploaded Bad Romance from the Orlando show to her YouTube channel.

Miami and Orlando audio and video files are available for download at Clack Unlimited.
Note that CU requests donations from those who frequent the site.

Clay displays his incredible pipes in 'Solitaire.'
View Orlando concert video by Scarlett full screen at YouTube.
Selected fan recaps help tell the Orlando story, but

Corabeth

summed up the evening with a statement that is bound to become a message board thread title throughout Clay Cyberspace:

Tonight I saw Clay Aiken ... the best that ever was.
You can read her full account at
The ConCLAYve
.
Here are portions of recaps posted by four fans:
Corabeth
:
[Clay] talked to the audience a bit more and then came over by us and sat down on the stage. He sang WKOFAI and Misty right there. An older couple in the second row about 6 seats down from me were filming and he asked the man about it. The man said Misty was their song. It was so nice that it worked out that way.
Quiana did her second solo and then he came out to do Crying. He looked at her with such tenderness and at the end, he said how great she was and he didn't know what he would do without her. They remind me of a doubles tennis team, always knowing where and what the other one is doing or going to do.





Vocally, he surpassed himself. It's funny, but no matter how much clack you watch in between tours, it simply doesn't compare to seeing him perform live and even then, it's still almost shocking at how well he can sing. He hit some low notes tonight that vibrated within me.
caperkeeper
: Of course rocker Clay brought down the house just as the softness and nuance of In My Life and the power and emotion of Solitaire did as well. This is part of what makes a Clay show so entertaining and bringing me back for more.
In Orlando, if you had been at the Miami show, you could tell the difference. It was tighter and flowed better. He tweaked the auto-tune business by using a real song to talk and with the added kick of Clay not knowing what song from show to show, it will be fun. Better than reading from the newspaper.

Loved Clay doing The Way and Invisible as big band. So funny and entertaining, and Clay performed them beautifully. Changing up the set list is fun as well. When he started "Breaking Up Is Hard To Do," I visibly sucked in a gulp of air and I am not sure when I released it.
roxylovesclay
: He cracked me up when people were suggesting musical styles. Someone yelled "Reggae," and he was so quick and witty: "Oh, we did that last night. You shoulda been there!" Bwah! Just the expression on his face alone was priceless!
Mee4clay
: As for the other person taping from the beginning, I talked to her and she is not on the boards. She is "new to all this", that's what she told me. I got her email address and will contact her soon.
The slide show below features Orlando photos by

dc4clay

,

gerwhisp

,

irishbookgal

, and

claytonsmyccf

.
To view photos full screen, click on "View All Images" tab.
Tried & True Set List – Orlando
Overture




Theme from Love Story




There's a Kind of Hush




Moon River




Can't Take My Eyes Off of You




Something about Us





Medley




The Way




Don't Stop Believin'




Vogue

(Quiana)




I Want It That Way

(Clay and Quiana)




The Right Stuff




The Glory of Love




Love the Way You Lie

(Quiana)




Baby One More Time

(Clay and Quiana)




Footloose

(Quiana)




Invisible





Cry Me a River (Quiana)




Bad Romance




Suspicious Minds




Buttercup




Breaking Up is Hard to Do




What Kind of Fool Am I




Misty





Who's Sorry Now?

(Clay and Quiana)




Mack the Knife




It's Only Make Believe




A Foggy Day in London Town

(Quiana)




Crying

(Clay and Quiana)




Unchained Melody




In My Life




Solitaire
The final Florida concert takes place at Sarasota's Van Wezel Performing Arts Hall at 8 pm tonight. The bus then heads to Houston, TX; Atlanta, GA; Knoxville, TN; and points north. The complete Tried and True Tour schedule is printed in the 2/10
Carolina
entry and in

Scarlett

's sidebar calendar.
Below is a clickable of

dc4clay

's opening photo in the slide show: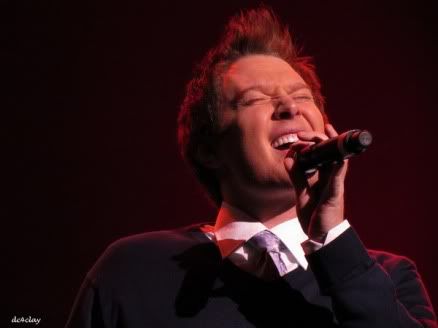 Have an awesome weekend, Clay Nation! See you after Sarasota!

Signature by Linda/ABM