Clay Aiken sings at Van Wezel Performing Arts Hall.
Sarasota Tried & True photo by irishbookgal.
Clack-Filled Florida 3-fer
Sarasota Show Tagged 'Best Yet'
In the past, Florida has been somewhat of a minefield for Clay Aiken photographers and videographers, but the singer's Tried & True Florida 3-fer completed at Sarasota's Van Wezel Performing Arts Hall
Saturday night can be described as a "clackapalooza."

Fan reports about the show are that is was the "best yet."
There are plenty of audio and video files making message board rounds, and the T&T directory at Clack Unlimited is filling up.



After the opening three concerts,

Scarlett

is wending her way home. During her layover in Tampa, she plans to upload Sarasota videos while she waits. Is there any wonder the Clay Nation deservedly puts "clack goddesses" on a pedestal?
[See video below.]
Below are some excellent photos of Clay and back-up singer Quiana Parler by

irishbookgal

, 1-3;

Invisible926

, 4-6; and

gerwhisp

, 7. All are double-clickable.
Tried & True Set List - Sarasota
Overture




Theme from Love Story


There's a Kind of Hush
Banter


Misty




Can't Take My Eyes Off of You




Banter




Something About Us




Banter





Big Band Medley

:

The Way

(Clay),

Don't Stop Believin'

(Clay),

Vogue

(Quiana),

I Want It That Way

(Clay and Quiana),

The Right Stuff

(Clay),

The Glory of Love

(Clay),

Love the Way You Lie

(Quiana),

Baby One More Time

(Clay and Quiana),

Footloose

(Quiana),

Invisible

(Clay)

Banter


Autotune Bit – F***(Forget) You





Suspicious Minds




Build Me Up Buttercup




Moon River




It's Impossible




What Kind of Fool Am I?




Who's Sorry Now?

- Rap, Spiritual, & Bollywood

(Clay and Quiana)





Mack the Knife




It's Only Make Believe




A Foggy Day in London Town

(Quiana)


Crying

(Clay and Quiana)



Banter




Build Me Up Buttercup





Banter




Unchained Melody





In My Life




Solitaire

Clay Aiken's version of 'F***** U' from Sarasota Concert.
View concert video by Scarlett full screen at YouTube.
'Forget U' **grin** uploaded in Tampa Airport.
Fans Share NJU Experiences
A highlight at any Clay Aiken concert is meeting Not.Just.Us (NJU) fans and reporting the episodes to Internet fans on message boards. Below are three from the T&T Florida 3-fer:
nsredclayrocks
: In Miami, a NJU gent sitting next to me with his teenage daughter and wife exclaimed, "That was wonderful"! when the concert was over. Later he was talking to another gentleman who said he was going to download the album when he got home. That made me smile.
Corabeth
: Invisible and I had pulled fourth row in the fan club pre-sale but she also ended up getting a single in the first row. Dc4clay offered me a second row next to her, so at the start of the show I went to the last row and spotted a couple who just looked like NJU and/or PBS newbies.
I asked if anyone had never seen Clay before and they raised their hand. I said, "Fourth row tickets for free; we upgraded and don't need them." The woman next to them asked if I had two more but sadly I only had one fifth row seat right behind them.

Her husband encouraged her to go, but she chose to stay with him. I love doing that. I only wish I could have found them at the end to ask what they thought.
Thankful4Clay
: There were a lot of NJU there at the Sarasota Concert. There was a lady behind me who kept going oooo and ahhhhh. She was having a great time. I also heard a lot of male laughter. It was a nice change to have men in the audience.



Houston Sets Valentine's Night Concert



The next T&T Concert will be at 7:30 p.m. Valentine's Night in Houston's Jones Hall for the Performing Arts. For more information, see David Goldberg's article: Clay Aiken's Valentine's Day Concert in Houston.

In addition to the tour and the special Valentine's concert, Goldberg wrote an excellent article about Clay, his fans, the responsibilities of fatherhood, etc. Click on the above link to read the entire piece.

The star is thankful for his fans that have supported him since the beginning, and to his new fans that are just discovering him. He believes that his Houston fans will be happy that they chose to see him on Valentine's Day.

"It's the Valentine's Day show for everyone, for all couples, of all stripes and varieties," he says. "Everyone is welcome and encouraged to come and show their love of the person that they are with, regardless of who they are and who they are with. I hope to see everyone there."

Happy Valentine's Day Eve, Clay Nation!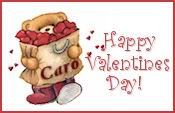 Signature by Linda/ABM